Tel Aviv, the cosmopolitan central city of Israel known for its vegan scene and vibrant culture, was ranked the 6th healthiest city in the world, according to a new report from Money.co.uk, a UK-based price comparison website.
The report looked at cities based on a wide range of factors that contribute to a healthy lifestyle including life expectancy, obesity levels, pollution levels, safety score, sunlight hours, and cost to be healthy.
Tel Aviv has some of the lowest obesity ratings and ranks 7th highest on the index for life expectancy with residents in the city living on average till 82.8 years old. The report also said the city is filled with "endless opportunities" to be active, with parks, outdoor gyms, and cycle routes available to the public, and "a lot of sunlight exposure."
A stellar vegan culture and the Israeli Mediterranean diet were said to be reasons for the city's low obesity levels and high life expectancy rates.
Valencia, Spain took the number one spot for the healthiest city in the world, followed by the city of Madrid, located in the same country. Lisbon (Portugal), Vienna (Austria), and Canberra (Australia) took third, fourth, and fifth place before Tel Aviv, followed by Tokyo in 7th place, The Hague (Netherlands) in 8th place, Ljubljana (Slovenia) in 9th place, and Zurich (Switzerland) in 10th.
The northern Israeli city of Haifa took the 12th spot on the list, just behind Adelaide, Australia.
Israel ranked 88th overall in the healthiest country index, with the report once again raving about its low obesity levels, high sunlight exposure, and greater life expectancies.
Israel was ranked as the 10th healthiest country in the world for the second consecutive year according to the Bloomberg Global Health Index, the latest of which was published last June. This index took in factors like low pollution rates, access to quality healthcare, clean drinking water, and life expectancy, to rank 169 of the healthiest and unhealthiest economies in the world. Each country was given a rating out of a possible top score of 100.
Spain and Italy ranked among the highest on the list, followed by Iceland, Japan, Switzerland, Sweden, Australia, Singapore, and Norway. The US ranked 35th.
SEE ALSO: A Taste Of Israel: Satisfy Your Craving With A Click
Related posts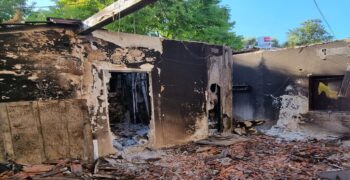 Burn Victims Of Hamas Terror Treated With Pineapple Protein
November 30, 2023