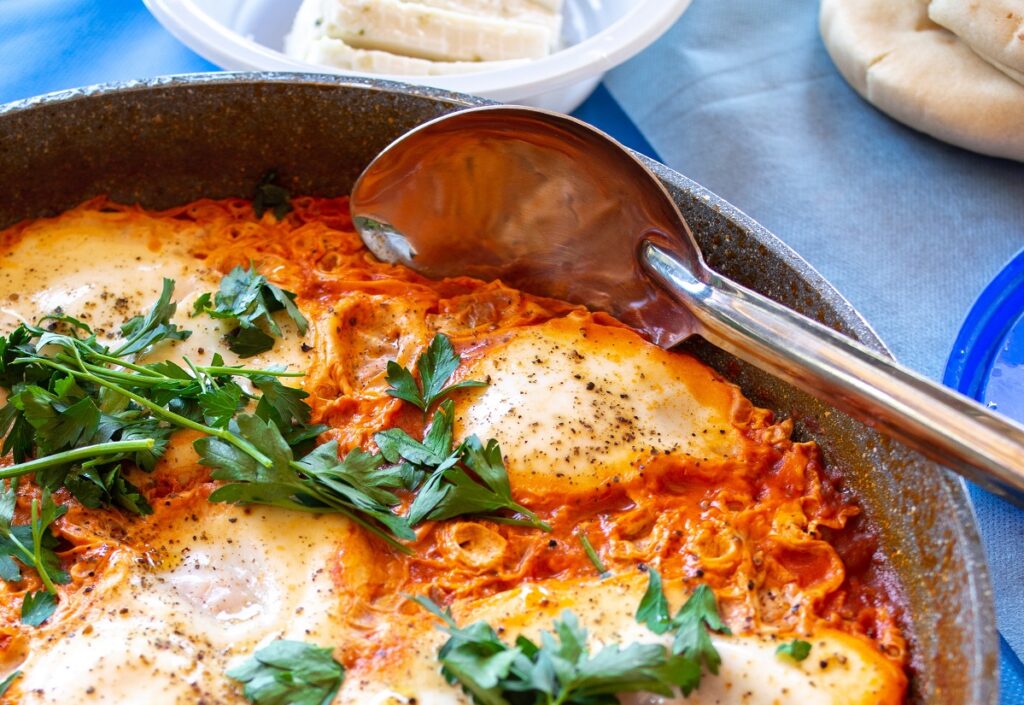 While traveling to Israel to sample exciting local flavors is on hold for the time being — as coronavirus lockdowns continue to restrict tourism – bringing the country's delicious tastes into your home is as easy as a click of a button.
Israeli cuisine initiatives are bursting with this country's traditional flavors in online cooking workshops, subscription snack boxes and follow-along video tutorials.
"You can't travel right now but you can still get the physical taste of Israel in your home kitchen," says Harry Rubenstein, a pastry chef and food tour guide who runs online Israeli cooking workshops. "During this time, when people aren't able to visit Israel, this is a great opportunity for them to get a taste of Israel in their own homes. And not by watching a YouTube video but by interacting with someone in Israel.
SEE ALSO: Delicious Experiences: Israeli Online Platform Brings International Cuisine To Your Home
"People are under lockdown and they want something to do. It's not like watching a video. You can ask questions in real time," he says.
Rubenstein's cooking workshops, which range from private to pay-as-you-can, include how to make Israeli dishes, tricks he has learned from his pastry chef studies, and the history of the dishes.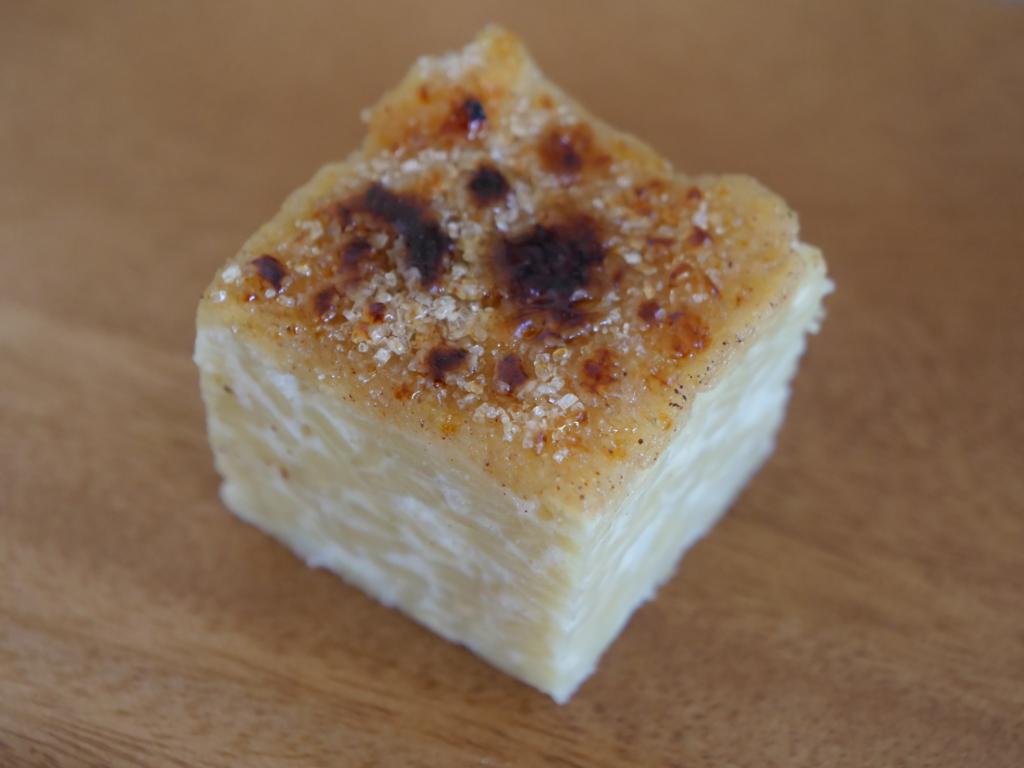 Most importantly, Rubenstein makes sure that everyone taking part in the online workshops can access all the ingredients from their home countries. "Using high-quality and accessible ingredients," he shows people how to create "authentic local cuisine."
Israel's food scene is famous, after all. The diverse food culture is bursting with flavors. Before the COVID-19 pandemic, Israel was listed by international media as a must-visit foodie destination for 2020.
"People miss travel. They are literally craving the tastes of their travels and the places they love," Inbal Baum, a foodie entrepreneur and founder of Delicious Israel food tours, tells NoCamels. "It's a hard time, people are thinking about where they want to be, where they had amazing memories with their families, where they got to have great experiences and Israel is at the top of the list for so many people."
Indeed, Israeli food is exciting, delicious, and memorable. NoCamels offers this list of how to enjoy a taste of Israel in your own home:
Harry Rubenstein – Harry's Baked
Rubenstein's cooking workshops spotlight the multicultural fabric of Israel. While he can teach how to make hummus or challah, Rubenstein prefers to present the history behind ethnic dishes that have become staples of the Israeli culinary scene and show how to make them.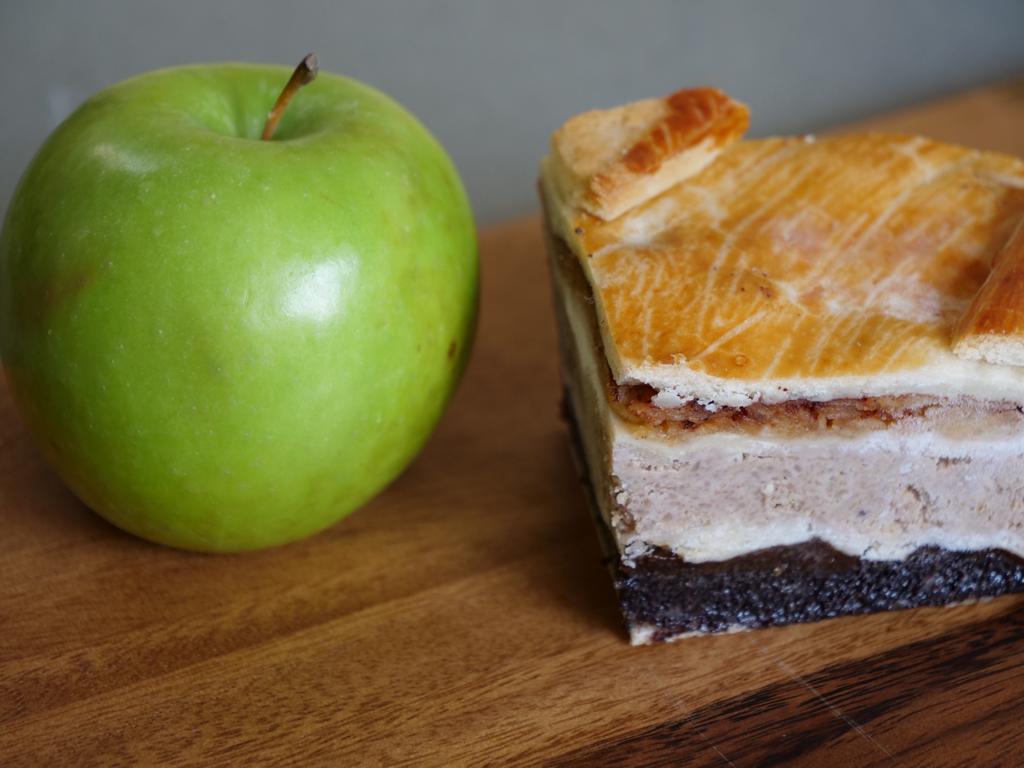 He has taught online classes on how to make arais/arayes (Middle Eastern meat-stuffed pita pockets), shakshuka (eggs poached in tomato-based sauce), and sambusak (savory stuffed pastries).
"I like talking about the history of the ingredient and how it came to be used in Israel, whether it is a local ingredient that the Palestinians have been using for many years or it's something that was brought from Iraq or elsewhere to Israel," he tells NoCamels. "I'm trying to bring that knowledge of the ingredients, not just how to use them but the history, too."
A food tour guide before Covid-19 hit, Rubenstein also shows and tells about local food items viewers can sample when the borders open once again.
His workshops are not just about eating but about learning, too.
"If there is a recipe that has pomegranate molasses in it, I'm clearly not going to have pomegranate molasses in the recipe because that's not so accessible, especially during the lockdown. But I will show what it is and talk about the specialty store at which I bought it in the Levinsky Market. I will show it to them and explain how it's made and how it's used," he says.
This inside knowledge is Rubenstein's calling card. And he's only too willing to share it with the online community.
Phyllis Glazer – Healthy Comfort Food
Repeatedly dubbed by local and international media as the Israeli guru of healthy cooking, Phyllis Glazer brings nutritious Israeli cuisine into your home via online cooking workshops.
Glazer – a chef, writer, TV personality, and best-selling cookbook author – tells NoCamels that her personalized workshops focus on the "healthy" aspects of "quality Israeli food [which is] delicious and interesting."
She builds vegan and vegetarian menus around Israel's ethnic and culinary traditions, adding "a touch of mom" to every recipe. That "touch of mom" she says, belongs to the multicultural roots of Israeli culinary traditions hailing from places as varied as Bulgaria, Morocco, Egypt, Iraq, Greece, Lebanon, Syria, Ethiopia and Europe.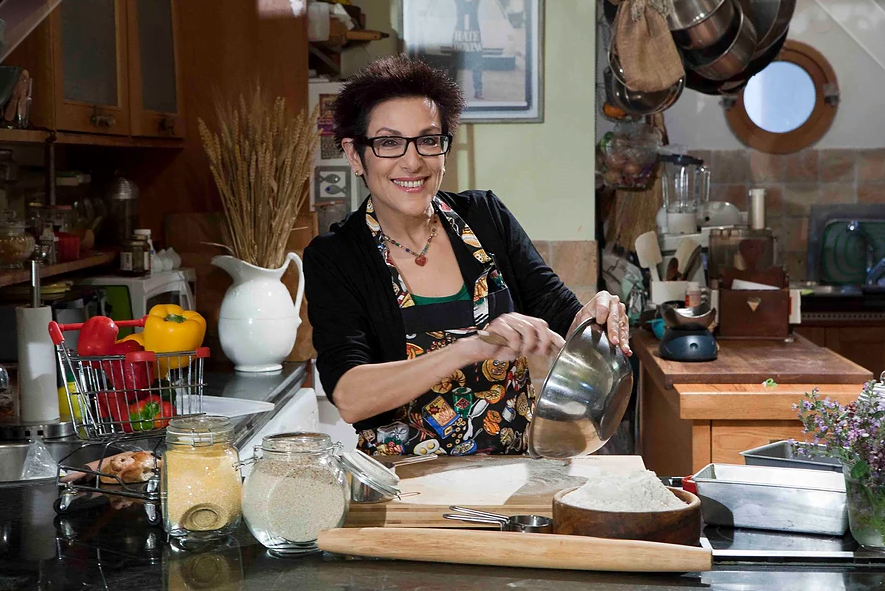 "There was a time when people were embarrassed by their mom's ethnic food. Today, what makes the food winning is that touch of mother's cooking," she says.
Glazer offers personalized culinary classes through her website and an Israeli Vegetarian Delights cooking workshop via Cuiline online cooking platform.
Instantly Israeli – Delicious Israel
Sign up for our free weekly newsletter
Subscribe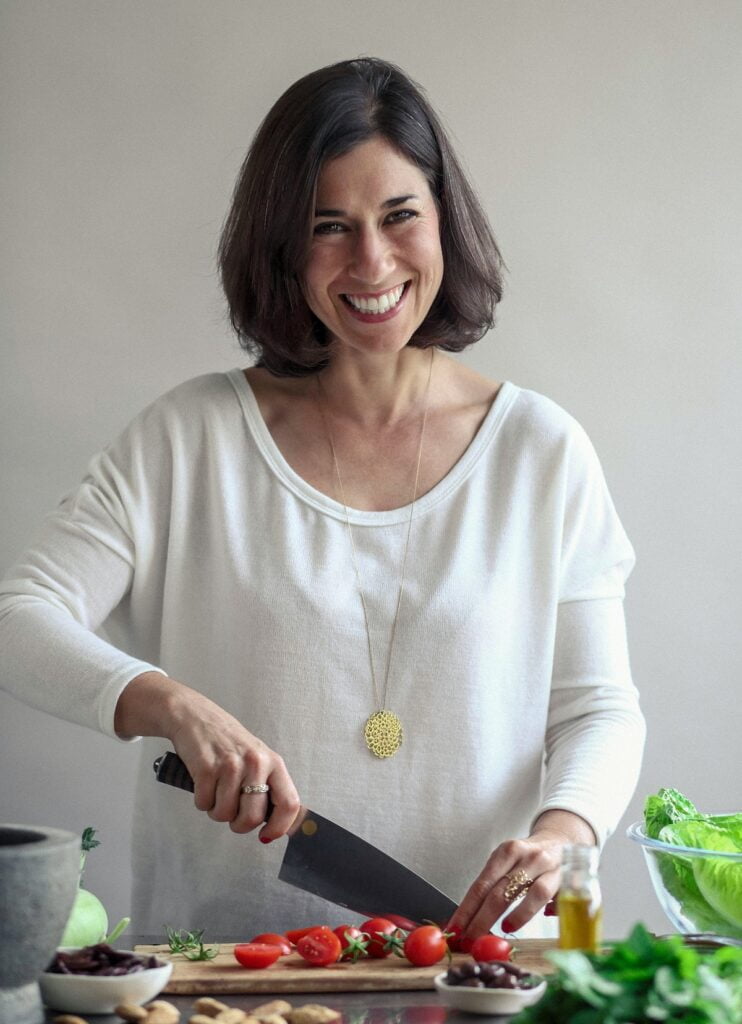 Delicious Israel, a culinary tour and tastings platform, brings the ABCs of Israeli food and spirits to the comfort of your own home or office environment.
From classic shakshuka to Israeli style whole-roasted cauliflower to sabich from scratch or chicken shawarma, the Delicious chefs offer online step-by-step guidance.
The online cooking workshops simmer memories of Israeli tastes for those who have been here before as well as stir up new foodie encounters for those who have yet to come.
"Food is memories, smells are memories and tastes are memories," says Baum, founder of Delicious Israel and Delicious Experiences platforms offering virtual food tours and online cooking workshops. "We're able to recreate those memories. We've also done food experiences for people who were supposed to come to Israel and aren't able to. We can create new experiences as an exploration for their future trip."
The Delicious Israel team has also put together whiskey tastings, working with Israeli craft companies to provide this distinctive sensory experience. Virtual tours of the distillery can be included.
Israeli snack subscription – Pinuk Box
Snack subscription boxes continue to hold popularity the world over, especially as traveling is on hold but cravings continue.
Pinuk Box is the newest Israeli initiative to offer monthly treats from Israel.
The Pinuk Box, 'pinuk' in Hebrew means 'indulgence,' is a parcel of goodies comprising a variety of snack foods from the country's top brands, nostalgic treats, classic chocolate bars and most loved varieties of chips.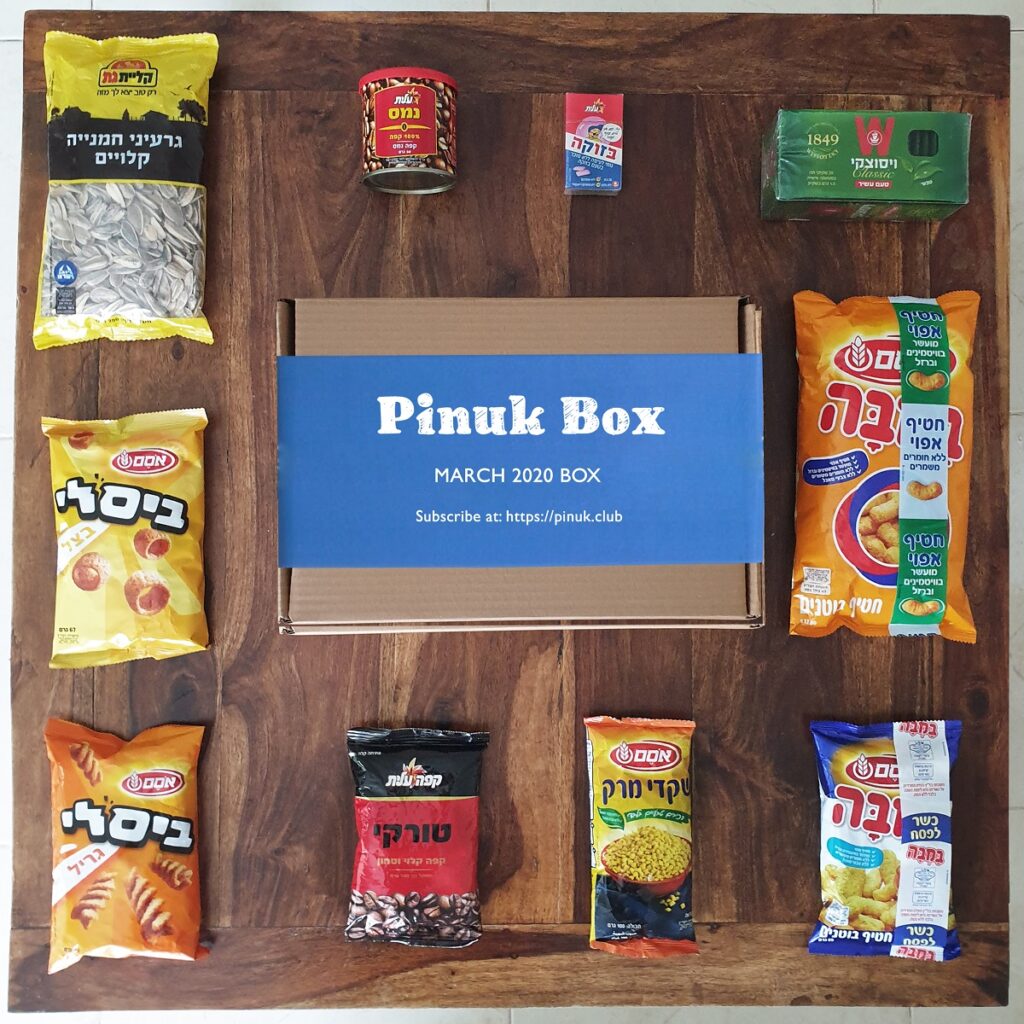 The Covid-19 pandemic has made delivering the packages a bit trickier but the service is running, with subscribers as far away as Aruba happy to receive their snacks whenever they arrive.
Matan and Yaniv, the two guys behind the new initiative, started Pinuk Box to "supply the Israeli taste to Israelis" living abroad who missed the "taste of home" and "anyone else who likes Israeli snacks."
Matan, who preferred not to share his full name, lives a digital nomad life and travels and works from around the world. Presently based out of Poland, he says that he really misses his "favorite tastes of Israel, such as Turkish Coffee, Bamba, Bissli, sunflower seeds, etc. I was looking for them everywhere, and it was very hard to find them," he tells NoCamels, noting he builds websites and runs social media ad campaigns for companies.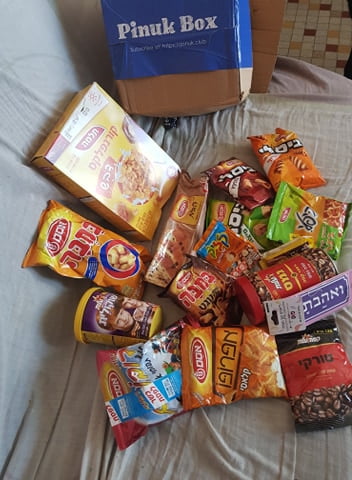 When COVID-19 hit, and his friend, Yaniv, lost his job due to the lockdowns, the two set out on an adventure to supply munchies-seekers with Israeli snack foods.
Like many other subscription snack box initiatives, Pinuk Box has linked itself to a charitable cause: lone soldiers. "Pinuk Box is pleased to offer support and donations as we stand strong with Israel and the IDF," reads the company's website.
Bamba, a peanut butter-flavored puffed maize treat, is the king of Israeli snack foods, with some one million bags produced every day. It is one of the many healthy snack food choices. Israel is also famous for its wafers, Milky chocolate pudding, flat pretzels and marshmallow chocolate Krembo treat.
Snack Crate, a global snacks monthly service, also includes Israeli snacks in its mix.
Artisan Assortment – Israel Pack, Mashu Mashu
The subscription box services go beyond snack foods. Israel Pack and Mashu Mashu offer curated boxes with an assortment of Israeli artisan-made honey, date spreads, teas, spices and oils. Many of the items are organic, and all are kosher.
Chef Mentor – Cooking Workshop Series
The cooking workshop video series, Chef Mentor, has a lineup of the best Israeli chefs offering secrets, tips and insights into how to make the creamiest mousse, juiciest hamburger, airy breads and cured meats.
A NIS 97 monthly ($28) fee grants viewers access to four half-hour-long videos (which are in Hebrew with English subtitles), focusing on the food style of their choice.
SEE ALSO: Israel's Only Food Tech Hub Has Something Cooking In The Kitchen
Among the chefs in the series are pastry chef Uri Scheft of Lehamim Bakery, elite cuisine chef Meir Adoni, and Kosher Elegance chef Efrat Libfroind, among others.
Viva Sarah Press is a journalist and speaker. She writes and talks about the creativity and innovation taking place in Israel and beyond. www.vivaspress.com
Related posts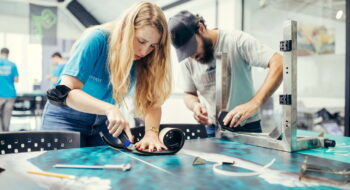 Tech Innovators Come Together To Help Israel's Wounded Warriors
September 18, 2023