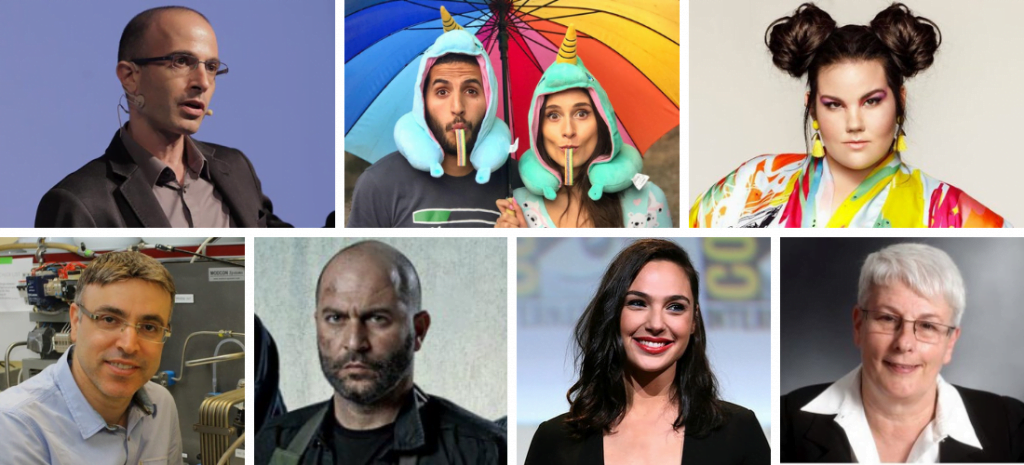 In memorium of Israeli literary giant Amos Oz, who passed away this weekend at age 79. His award-winning work will continue to touch people across the world for years to come.
It's been a big year for Israelis on the global stage. In the fields of science, sports, business, social media, technology, entertainment, and cuisine, Israelis have continued to make their mark on the world in 2018, bringing in awards, medals, and general international recognition for their achievements and innovations.
As the year winds down, NoCamels has put together a list of the people who had a big impact in 2018 not only in their own country but on the world. Here they are, in no particular order.
SEE ALSO: Best Of 2018: 15 'Superhero' Israeli Startups Changing The World
Nuseir Yassin, aka NAS Daily
With over 11 million Facebook followers, it's hard to miss one of the 1-minute, often-charming videos posted daily by Nuseir Yassin, better known as NAS Daily ("Nas" means "people" in Arabic). Yassin grew up in the northern Israeli-Arab city of Arraba and went on to study at Harvard before becoming one of the most successful content creators on social media over the past two years.
His visually engaging videos generate millions of views, if not billions. Initially conceived to document travel adventures, the project now delves into a wide range of topics, from environmental issues to social and cultural norms, racial tropes, and historic wrongs, to gender bias, identity politics, curious habits, relationship dynamics, culinary trends, and, of course, cool travel experiences. All the videos are made with simple, boiled-down but on-point observations about humanity in all its complexity, and they amount to wonderful glimpses into amazing, little-known stories from across the world.
Some of the videos have had real-life impacts. In September, Yassin covered the story of Syrian asylum seeker Hassan al-Kontar, who had been stranded at the Kuala Lumpur International Airport in Malaysia for seven months waiting for a country to give him refuge. "Our only option," Yassin says in the video, "is to tell the world that this guy exists, that there's a guy who is living in Terminal 2, in Kuala Lumpur, behind an escalator, with no bed, no shower, no freedom, and no future." The video angered Malaysia, and led Al Kontar to be detained and questioned by immigration authorities, but the exposure helped fast-track Al Kontar's asylum application to Canada and he landed safely in Vancouver last month.
Yassin has also made hard-hitting videos about his home country, Israel, and the complex realities of living in one of the most politically charged environments in the world. He identifies as Palestinian-Israeli.
Yassin plans to end the 1-minute video project after 1,000 days, a deadline which is fast approaching early next month. His next step is to build a creative agency headquartered in San Francisco and hire content creators across the world. But he's not leaving his social media empire just yet and still plans to make videos, just not daily.
Alyne Tamir, aka Dear Alyne
Any fan of NAS Daily has seen and heard Alyne Tamir, Yassin's American-Israeli girlfriend and travel companion, who appears in a majority of his videos. But she is also an authentic, master creator in her own right.
Tamir features in her own show, titled Dear Alyne, and tackles any number of topics such as feminism, sexism, materialism, vegetarianism, consumerism, female empowerment and, of course, travel. Her videos are not limited to a minute, nor does she post daily. One of her most popular videos is called "The Pink Tax" (with over 45 million views) and delves into how products and services are marketed to women at much higher prices.
A gifted storyteller, she has over a million Facebook fans and runs a popular, closed group called Girls Gone Global (by Dear Alyne) which has grown to over 100,000 members. In it, young women from all over the world post about love, loss, family obligations, travel, education and just generally about the joys and difficulties of life, to a receptive and very supportive audience.
Netta Barzilai, Winner of the Eurovision 2018
Israeli singer Netta Barzilai shot to international fame after clucking her way to first place in the 63rd annual Eurovision international song contest (much to the bewilderment of Americans). Her female empowerment hit "Toy" for the #MeToo era resonated with audiences and she earned Israel its 4th win in the contest since its debut in 1973.
The win came 20 years after Dana International took home the prize with her song "Diva" in 1998.
The 25-year old Barzilai, originally from Hod Hasharon, was roundly feted in Israel after the win and received a personal call from Prime Minister Benjamin Netanyahu who told her she was Israel's "best ambassador." Barzilai has been praised locally and internationally for her realness, confidence, and talent.
Her victory attracted the attention of international celebrities and she dominated the Twitterverse for some time. Her tweet thanking Europe became the most retweeted message in Israel in 2018, and she recently won a YouTube award for most-watched video in Israel for "Toy."
Now, Israelis and Eurovision fans are gearing up for the next contest in May which will take place in Tel Aviv.
Erel Margalit, Social and Tech Entrepreneur
Dr. Erel Margalit is one of Israel's most prominent social and tech entrepreneurs and venture capitalists. The founder and chairman of Jerusalem Venture Partners (JVP), which invests in and builds startups, he also served in the government as a Knesset member for the Labor party in 2015-2017.
In 2005, Forbes selected Margalit as the top-ranking venture capitalist on its prestigious "Midas (The Golden Touch) List," outside the United States. He and JVP have invested and built over 100 companies and were involved in over two dozen successful exits by Israeli companies. JVP currently has some $900 million in assets under management.
Beyond the business aspect, Margalit has an interest in backing startups and initiatives that can drive social change and serve under-developed areas through tech. He founded the social organization Bakehila ("In the community" in Hebrew) for disadvantaged children in Jerusalem in 2002, and the JVP Media Quarter, a technological incubator, in 2006, which serves as a center for engineers, artists, writers, and cultural influencers, among others. Margalit headed a similar initiative in the southern city of Beersheba years later, setting up a cybersecurity hub there.
JVP partnered this summer with the Israeli Ministry of Economy and Industry to establish a food tech accelerator in Kiryat Shmona in Israel's northern region, an area not usually identified with a significant tech scene. And in Haifa, Margalit is involved in the establishment of an international digital health center, set to open next month. These initiatives are part of Israel Initiative 2020 (ii2020), Margalit's vision to create dynamic centers of excellence in seven regions throughout Israel with the goal of raising the standard of living and attracting young professionals, and new families while also developing a regional ecosystem.
Earlier this year, JVP launched JVP Play, a program that connects between early-stage Israeli startups and leading multinational companies. More recently, JVP was selected to establish New York's first international cybersecurity investment and innovation hub in the SoHo neighborhood. JVP and the New York City Economic Development Corporation (NYCEDC) recently launched a cybersecurity competition with a $1 million prize.
Margalit also pursues "innovation diplomacy," creating bridges with world countries and with Israel's traditionally hostile neighbors through Israeli know-how and technology. He spearheads the Innovation Initiative for the Mediterranean Basin countries, engaging 14 Arab countries on projects around innovation and cybersecurity cooperation in the Euro-Med region, according to his bio.
Lior Raz and Avi Issacharoff, Co-Creators of 'Fauda'
Lior Raz and Avi Issacharoff are known to international audiences as the co-creators of the wildly popular, award-winning series "Fauda," which first premiered in Israel in 2015 and on Netflix in late 2016. The show portrays the complicated conflict between Israelis and Palestinians through the story of an Israeli counter-terrorism unit operating in the West Bank and trying to capture (or kill) Hamas terrorists.
Raz is familiar to international fans as Doron Kavillio, a moody, hot-headed member of the team who takes dangerous risks and leads a chaotic personal life. Issacharoff is an acclaimed journalist and Palestinian affairs expert.
Fauda has become a favorite with global viewers and was named among the best TV shows by the New York Times in 2017. The widely anticipated second season premiered on Netflix in May and the show's third season is in the works.
In 2018, the show took home no less than 11 awards at the Israeli equivalent of the Academy Awards, the Ophirs.
Fauda has been credited with breaking new ground in depicting the Israeli-Palestinian conflict, portraying both the Israelis and the Palestinians as real, deeply flawed human beings and showing the complicated reality on both sides.
Raz and Issacharoff are now developing two new original series for Netflix, one about a Mossad-CIA operation to capture a terrorist leader, and another, a political espionage thriller called "Hit and Run" about a man whose wife is mysteriously killed in an accident.
"I want to do what we did in Israel, creating shows and acting in international shows, bringing my point of view and Avi's point of view to people all over the world," Raz told the Jewish Journal in May.
Dr. Tal Rabin, A Forbes' Top Woman in Tech
Dr. Tal Rabin heads the Cryptography Research Group at the IBM T.J.Watson Research Center in Yorktown Heights, NY. She grew up in Jerusalem and earned a PhD in Computer Science from the Hebrew University of Jerusalem, after which she pursued an NSF postdoctoral fellowship at the MIT Laboratory for Computer Science.
She has co-authored over 100 papers, including one with her father, celebrated computer science and mathematician, Michael Rabin, also a recipient of the prestigious Turing Award.
Rabin's research, according to her bio, focuses on the design of efficient and secure encryption algorithms, secure distributed protocols and the theoretical foundations of cryptography, as well as number theory and the theory of algorithms and distributed systems. She is the founder of the Women In Theory (WIT) program, a biennial event for graduate and exceptional undergraduate students in the area of theory of computer science.
SEE ALSO: 5 Israelis Among Forbes Lists Of 'Top 50 Women In Tech'
This year, Rabin was named by Forbes magazine among the "World's Top 50 Women In Tech" and "America's Top 50 Women In Tech".
Hossam Haick, Award-Winning Scientist
Professor Hossam Haick of the Wolfson Faculty of Chemical Engineering at the Technion – Israel Institute of Technology is the developer of a unique technology enabling medical diagnoses based on breath.
Last month, he was awarded the European Commission Innovation Prize for his invention of the SNIFFPHONE, a device that uses nanotechnology sensors to analyze particles on the breath and is able to pinpoint to exact diseases, like certain kinds of cancer, pulmonary and even the early stages of neurodegenerative diseases. Haick was chosen by a prize committee as the most innovative scientist realizing an idea in the field of electronic systems.
The SNIFFPHONE includes the NaNose, developed in 2014 by Haick and Professor Nir Peled of Tel Aviv University's Sackler Faculty of Medicine. It is a microchip incorporated into a the breathalyzer-like device, capable of diagnosing various diseases. The device uses the presence of specific volatile organic compounds, which are unique fingerprints for various forms of diseases.
Born in Nazareth, Haick also holds dozens of patents, and made it into a number of notable lists, including the "World's 35 leading young scientists" by the MIT Technology Review for his research in non-invasive disease detection methods, and a list of 100 most influential inventors by several international agencies between 2015-2018.
The European Commission previously awarded him $6.8 million for further development of the NaNose.
He's also won an array of prizes and medals, including Knight in Order of the Academic Palms by the French Government, the Humboldt Award, the Bill and Melinda Gates Prize and the Herschel Ritz Innovation Award.
Orna Berry, First Lady of Israeli High-Tech
Dr. Orna Berry is an award-winning scientist, high-tech entrepreneur, and senior executive with over 30 years experience in the tech and science fields. A leading businesswoman dubbed the "first lady of Israeli high-tech," she was Israel's first (and only, so far) female chief scientist at the Economy Ministry's Israel Innovation Authority, serving in that role in the late 90s.
Throughout her career, Berry has been the recipient of various awards, including the "WITI Hall of fame" award by WITI Women in Technology International; the "Yakirat Ha'Negev" award from Ben Gurion University, for establishing an EMC R&D branch in the heart of Israel's desert; and the Viterbi Award from the University of Southern California (USC) for integrating entrepreneurship with professional excellence.
Earlier this year, she announced her retirement as corporate vice president and general manager of research and development for Dell EMC in Israel after eight years.
Berry holds BA and MA degrees in statistics and mathematics, and a PhD in computer science from the Univerity of Southern California. Berry is also a laureate of Ben Gurion University of the Negev. A member of the Board of Overseers at Brandeis International Business School (IBS), she received an honorary Doctor of Science degree from McGill University in Montreal, Canada this past May.
Berry suffers from cancer, a journey which she describes here (in Hebrew), and for which she receives treatment in Israel to be close to family and friends. This past month, Berry also revealed that she is a survivor of domestic abuse. The story was widely covered in the Hebrew-language press.
Sign up for our free weekly newsletter
Subscribe
Professor Yuval Noah Harari, Best-Selling Author
Professor Yuval Noah Harari is the best-selling author of the 2014 book "Sapiens: A Brief History of Humankind," which shot him to fame and is set to be adapted into a movie. The book focuses on human history within the framework of evolutionary biology, tracing the evolution of our species to the modern age and has sold some 10 million copies in over 50 languages.
"Homo sapiens rules the world because it is the only animal that can believe in things that exist purely in its own imagination, such as gods, states, money and human rights, he writes."
Harari followed that up with "Homo Deus: A Brief History of Tomorrow" in 2016, which "looks to the future and explores how global power might shift, as the principal force of evolution – natural selection – is replaced by intelligent design." In it, he asks questions such as "what will happen to democracy when Google and Facebook come to know our likes and our political preferences better than we know them ourselves? What will happen to the welfare state when computers push humans out of the job market and create a massive new 'useless class'?"
This year, he released "21 Lessons for the 21st Century," which focuses on what the future may hold for humans.
A tenured professor in the Department of History at the Hebrew University of Jerusalem, his books have been recommended by former US president Barack Obama, Microsoft co-founder Bill Gates, and Facebook founder Mark Zuckerberg.
Linoy Ashram and Sagi Muki, Star Athletes
Rhythmic gymnast Linoy Ashram thrilled Israelis in August this summer when she broke the world record in the clubs-handling round at the Rhythmic Gymnastics World Challenge Cup in Minsk, and then went on to win gold in the all-round phase of the competition which included hoop, clubs, ball and ribbon. She is the 2018 Rhythmic Gymnastics World Championships all-around Silver medalist.
Ashram, 19, was the first gymnast in the history of the Challenge Cup to win two gold medals in one season, after she won a gold medal at the 2018 FIG Rhythmic Gymnastics World Cup series in Mexico in May, the Israeli Olympic Committee has noted. Last year, Ashram made history as the first Israeli to win an individual all-around medal (bronze) at the 2017 World Championships.
She may be headed to the Olympics but so far she has helped put Israeli athletes on the map in a rather new field.
Israeli judoka Sagi Muki, meanwhile, generated headlines for two reasons this year. First, he won two gold medals, one at the 2018 European Championships for the under-81 kg class, held in Tel Aviv in April, and a second at the Judo Grand Competition held in Abu Dhabi in October. Second, he participated in the latter competition wearing an emblem of the Israeli flag in an Arab country (amid threats from the International Judo Federation), and for the first time ever, the Israeli national anthem was played – a historical moment for all Israelis.
"It was a moment I will never forget," Muki said after the medal ceremony. "I am very happy that I managed to finish with a gold medal and to have the anthem played in Abu Dhabi. It is a moving moment in my career."
Eyal Shani and Yotam Ottolenghi, Celebrity Chefs
Israeli celebrity chef Eyal Shani is world-famous for his signature dish – roasted cauliflower – and stands behind the Miznon, a popular Tel Aviv restaurant, which he then took to Paris, Vienna, and Melbourne. This year, the Miznon made its debut in New York, bringing Israeli high-end "street food" to the Big Apple.
"I decided to give them street food, pita, with a difference, not with the usual shawarma and falafel but with fillings like shrimp in cream sauce and seared rib-eye," he told the New York Times in January.
Shani has been a judge on the popular Israeli cooking show "Master Chef" for several years now, delighting and annoying Israelis with eccentric comments such as, "this tomato is speaking to me."
He is one of the most influential chefs in Israel and the world and has a unique take on what makes Israeli cuisine.
"Israeli cuisine is a form of 'chutzpa' ['impudence' or 'shameless audacity' in Hebrew]. Israelis have no borders, no laws, and no God when cooking. They take a thing and smash it. Most of the time the result is terrible. But because they are very fast and innovate all the time, even if they only succeed 5% of the time, they create a whole new language of cuisine," he told YomYom last month.
Shani says the revolution in Israeli cuisine started about 30 years ago when immigrants from the Arab and Muslim worlds started rediscovering their roots.
"People came to Israel from all around the world but the policy of the government in the beginning was to cut all the memories from Europe and from the Arab countries and to create a new Israel," he told Bloomberg. "So they created a new Israel but they forgot to create a kitchen for the new Israel, nothing to eat. Now, the Israelis are mixing between the (culinary) fashions that are happening all around the world and cooking their own small memories from their grandmothers."
Israeli-British chef Yotam Ottolenghi, who co-wrote the best-selling book "Jerusalem" with Sami Tamimi, has a similar take on the evolution of Israeli cuisine.
"Modern Israeli cuisine is interesting and exciting and it is happening mainly in Tel Aviv," Ottolenghi told the Vancouver Sun last month. "But it's a bigger story than that. It's also about the interaction between Palestinian cooking and the traditions of the Jewish immigrants, and you can experience that most clearly in restaurants in Jerusalem."
Ottolenghi released his seventh book this year, "Ottolenghi Simple," aiming to make the sophisticated cuisine that made him a culinary superstar more accessible.
He writes a regular (and very popular) food column for The Guardian.
Gal Gadot, Wonder Woman
Israeli actress and model Gal Gadot, famous worldwide for playing Wonder Woman, was selected by TIME magazine this year for its annual list of 100 most influential people of 2018
Gadot featured in our list of influential Israelis last year.
Her 2017 film Wonder Woman garnered more than $800 million at the box office worldwide, making it the 5th highest grossing US superhero movie of all time. Also in 2017, she was the sixth most searched person on Google, according to a Google Trends report, nestled between actor Kevin Spacey and US First Lady Melania Trump.
The actress has been making international headlines for several years now and is revered in Israel. Earlier this year, Gadot nabbed two prestigious new roles — as brand ambassador for multinational cosmetics giant Revlon, and Chinese phone maker Huawei – and a sponsorship deal said worth $10 million with US athletic apparel maker Reebok.
Gadot will star in the Wonder Woman 1984 sequel, which wrapped principal photography this month. The movie is set to be released in 2020.
Adam Neumann, 'We' Entrepreneur
Another return entry is Israeli-born WeWork co-founder Adam Neumann, who was also listed this year in TIME magazine's "100 most influential people of 2018" for "revolutionizing the way we work and reimagining how we live."
Workspace empire WeWork, founded in 2010 by Neumann and Miguel McKelvey, has come to be valued at a whopping $42 billion. It operates hundreds of co-working spaces in over 30 countries and counting.
Since 2010, WeWork has since embarked on offshoots, launching WeLive, an urban co-living community that provides furnished apartments, communal spaces, and shared amenities, in New York City and Arlington, Virginia, and Rise by We, a wellness club and "superspa" also in the Big Apple, that builds on the "We" concept of communal experiences.
Late last year, WeWork announced the acquisition of a private coding school in New York and launched a private children's school — WeGrow — for "conscientious entrepreneurs," headed by Rebekah Neuman, a founding partner of WeWork, its chief brand officer, and Neumann's wife.
In Israel, WeWork has 10 locations – a majority of them in Tel Aviv, and is said to be bringing its WeLive project to the city. Earlier this year, it announced a relaunch of the early-stage startup accelerator WeWork Labs.
SEE ALSO: Boost And Transform: Israeli Developers Are Building The Next Big Thing In Blockchain In 2019
WeWork was named among TIME Magazine's 50 "genius companies" of 2018, and Fast Company's "World's Most Innovative Companies" of the year. WeWork also hosts the Creator Awards, honoring companies and people making a difference across the world.
Neumann has invested in a number of Israeli startups,  including medical cannabis firm InterCure, and travel and hospitality startup Selina.
The top photo is a composite of Yuval Noah Harari (top left), via his website, Nuseir Yassin and Alyne Tamir (top center photo), via Alyne Tamir's Facebook profile, Netta Barzilai (top right), via her Twitter profile, Prof. Hossam Haick (bottom far left), courtesy of Yoav Beher, Lior Raz (bottom, second from left) as Doron Kavillio in a Fauda promo pic, Gal Gadot (bottom, second from right),  in photo taken by Gage Skidmore via Flickr (CC BY-SA 2.0), and Dr. Orna Berry (bottom far right), in a photo courtesy of EMC.
Related posts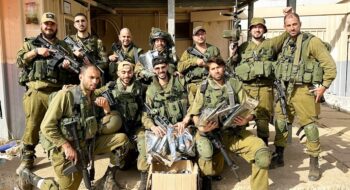 'Startup On Steroids': Civilians Raise $3.7M To Equip IDF Troops
October 29, 2023