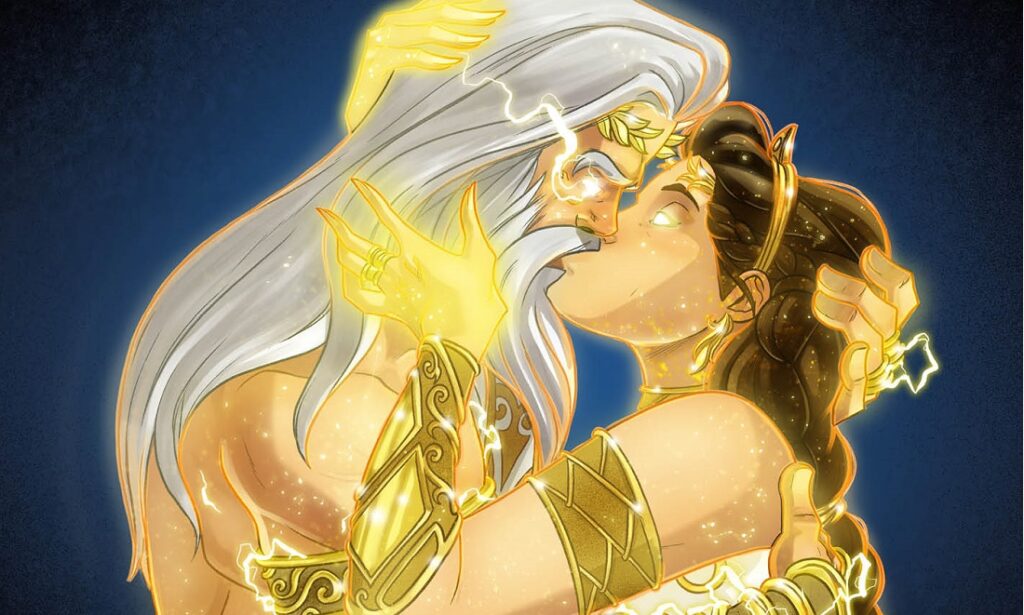 Maya and Yehuda Devir, the popular artists who have gone viral with their humorous and poignant relationship webcomics, announced in December they were taking a break from posting on social media, with the promise to come back shortly with "something big." Their millions of followers (5.7 million on Instagram, 1.3 million on Facebook, ), eagerly awaited their return and were not disappointed.
In February, the married couple and parents of two revealed to their community that they are launching an NFT collection. NoCamels has learned that the collection will be launched in two exclusive drops — one in mid-June and the other in mid-July.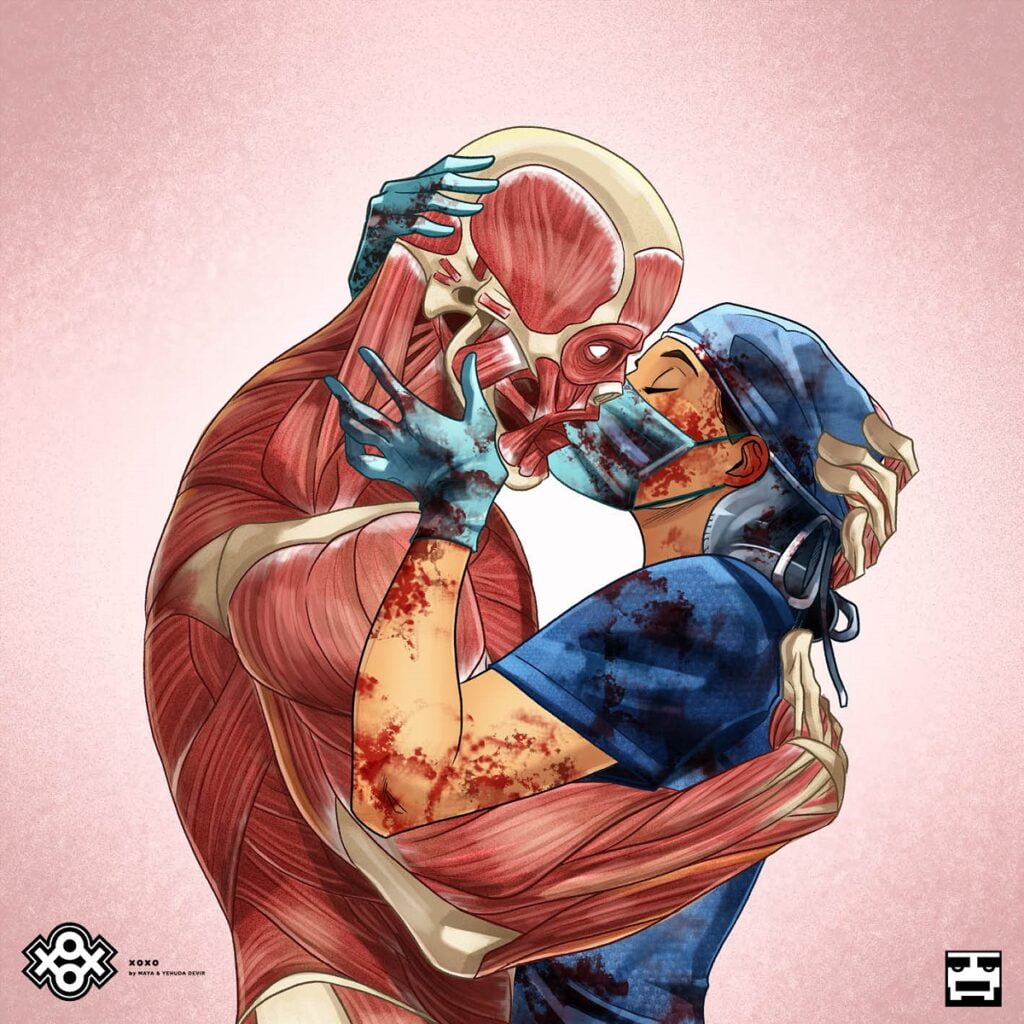 NFTs, or non-fungible tokens, are unique units of data stored on blockchains. They have their own encryption codes, which act as certificates of authenticity for something that could otherwise be reproduced or duplicated again and again. NFTs are said to have revolutionized the art world and artists, as well as celebrities, have flooded the market, embracing NFT drops to offer exclusive, irreplaceable assets.
"We realized that the NFT space — and technology actually — gives us the opportunity to say what our original piece is and to put an ownership opportunity on an art piece like a digital art asset," Maya Devir tells NoCamels in a video call that also includes husband Yehuda, "In the past, if you wanted to possess a high-quality artwork or Van Gogh or Roy Lichtenstein, you had to go to an auction or a museum to make a bid or with lots of money to purchase the original one. For digital artists, this does not exist. So it made it 10 times more difficult for digital artists to make a living out of what they do."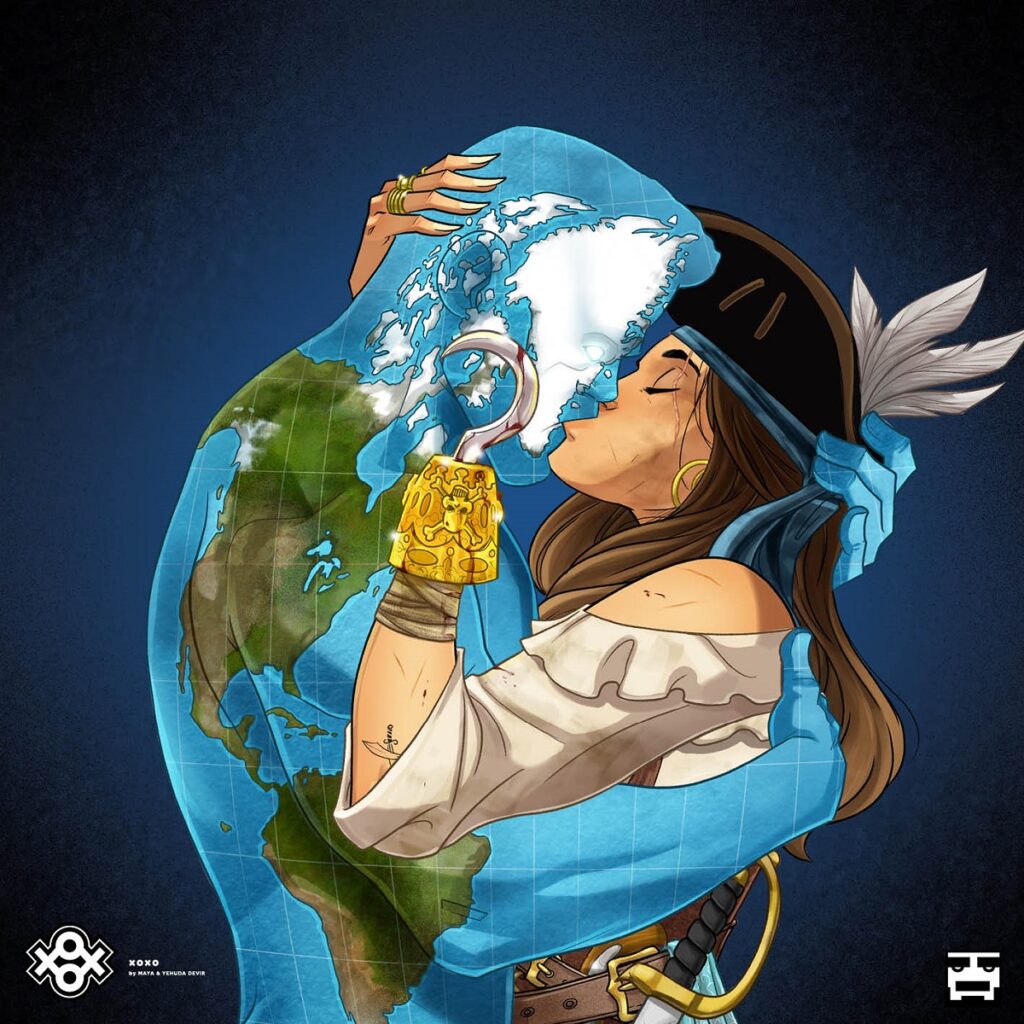 "We said, 'Ok, this can be an amazing opportunity for our community because we have millions of devoted followers that made us who we are today. And this is also an opportunity to give them something valuable and give them something back," she adds.
The XOXO collection features 101 couples spanning 10,101 pairs of NFTs. Each image is of the Yehuda and Maya Devir holding each other and kissing, but dressed as different characters — king and queen, fire and ice, police officer and prisoner, and more.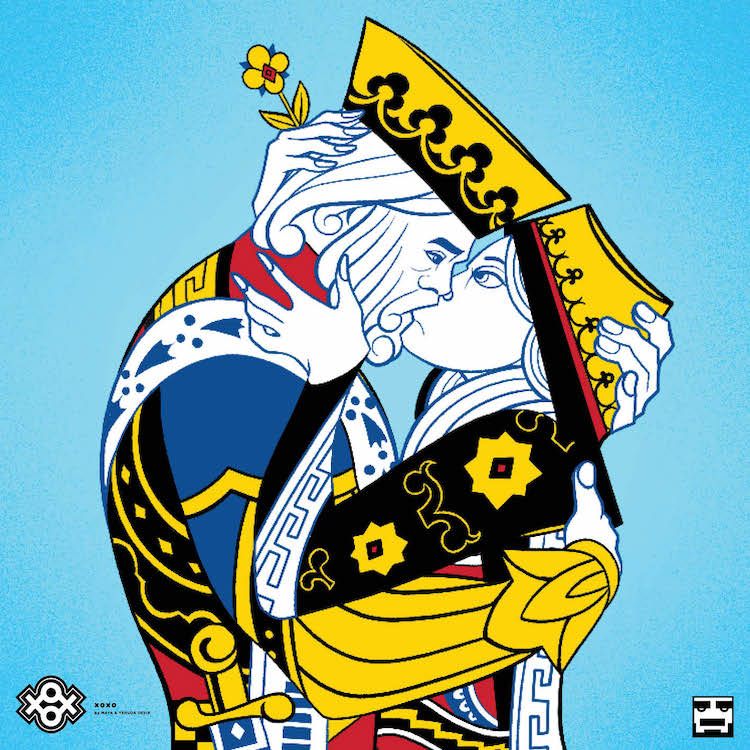 The pair joined forces with PickCherry, an Israeli tech and marketing company founded this year that works on applications in the blockchain world as well as the NFT and metaverse space. The company was founded by Israeli tv personalities Assi Azar and Rotem Sela and Ido Regev and his wife Smadar. The Devirs had received a number of offers to create NFTs, and when they finally decided to pursue them, they had to pick the right team to guide them. They instantly clicked with PickCherry, Yehuda Devir tells NoCamels, calling the immediate connection like a trip through the jungle with a master guide. "You need a guide to walk you through and help you survive — and along the way, see the most beautiful signs you will ever see," he says, "This is the same thing we're doing with PickCherry."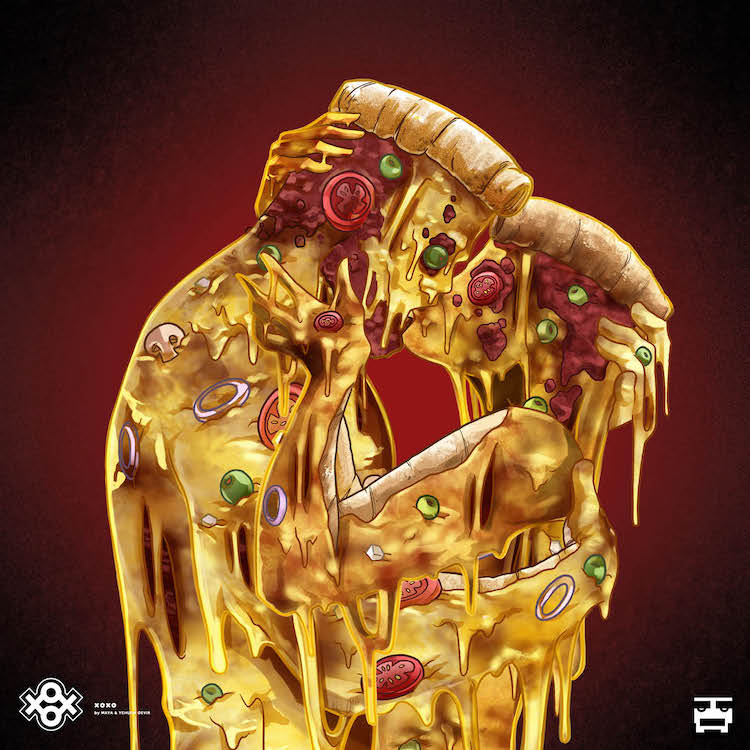 Maya Devir says that what's most unique about this collection is that so many of the images have a story behind them. Many of them "contain a philosophy regarding relationships" and that "everyone can relate to every single piece" which "reflects our entire perception about relationships in the world."
At the same time, "it has many stories because it's very subjective," Regev chimes in, "You can see one story and then have your own interpretation in a different story, with the same couple. Like with fire and ice, one person would say, 'Hey, she's melting him.' Another person would say, 'No, she's keeping him warm because that's what he needs.'"
Regev tells NoCamels the first NFT drop in mid-June, which he dubs the "Genesis drop," will include specific perks for the holders. The collection as a whole offers unique benefits in the form of utility NFTs or valuations based on perks and opportunities for token holders. These benefits come in the form of trips to Israel to have dinner with the couple, books and merchandise from their successful comics, exclusive fan art, workshops and private courses with the artists, and more. Regev highlights the collection's partnership with Israeli-founded hospitality firm Selina, a service that offers affordable accommodation, co-working space, entertainment, and wellness for travelers across 25 countries in North America, South America, Europe, and the Middle East. Selina will offer token holders free nights at their properties around the world.
Sign up for our free weekly newsletter
Subscribe
Dynamic duo
For at least five years, Tel Aviv residents Maya and Yehuda Devir have chronicled the ups and downs of life and love, marriage, and the shift to parenthood with comics that are as meaningful and statement-making as they are talented and bold.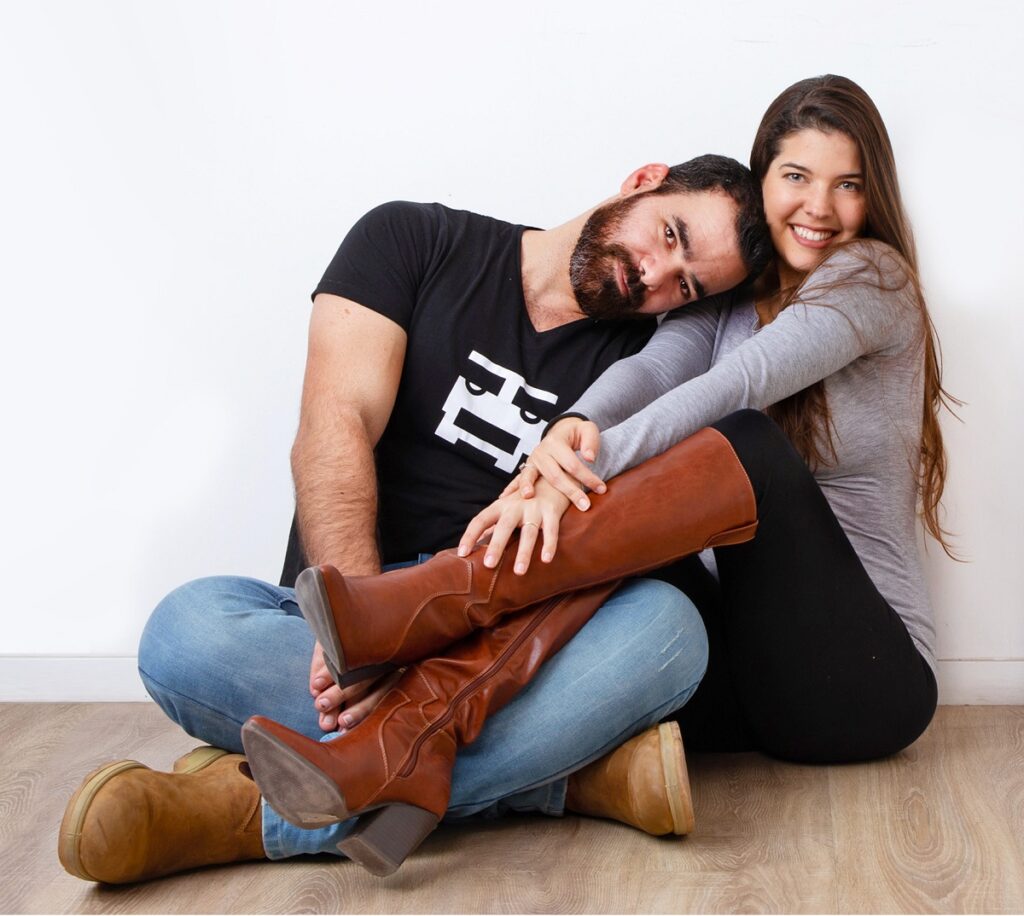 The couple, who have known each other since their Israeli army service and began dating as students at Jerusalem's Bezalel Academy of Art, have built a community based on their hilarious and relatable artwork that has featured everything from finding an apartment in Tel Aviv to Yehuda's postpartum depression after the birth of their first child. It is this honest, but colorful portrayal that has won the hearts of their devoted followers.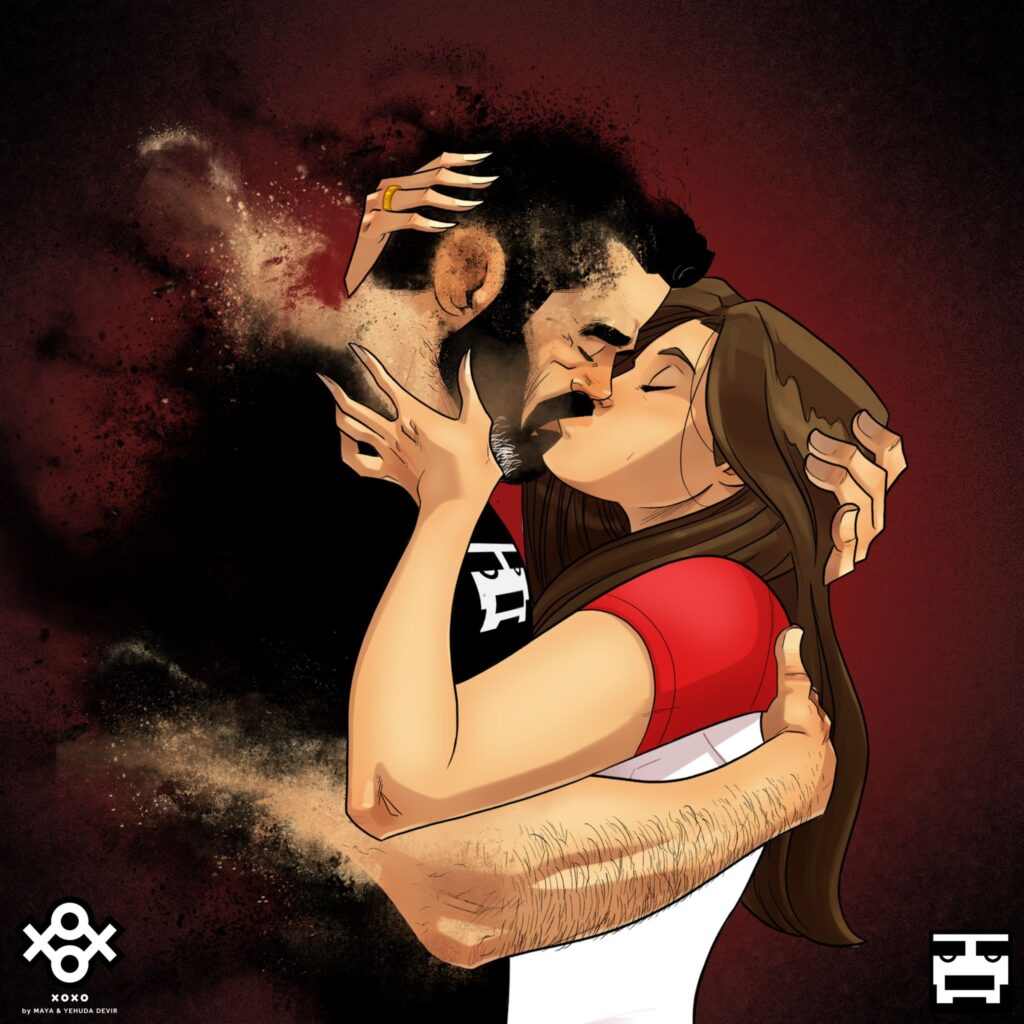 The couple's popular webcomic "One of Those Days" has spawned five books, countless appearances at comics and design conventions, a YouTube award, and The Most Creative Content Maker Award at the Inflow Global Summit 2019 Awards. The pair also made a successful documentary series, named "The Heartists", where they present a week in their creative lives. Their documentary had over 20 million views.
Risks and rewards
The success of NFTs has made them a feasible monetization tool for celebrities and creatives, including artists who also wanted to find new ways to showcase their artwork and give the audience a reason to consume their content. But it's not without risk. According to Regev, the Devirs are early adopters of the NFT, a relatively new industry that is still growing. Although it claims to be secure and efficient, many are not sure how to feel about it yet.
"It's very early now for NFTs. People speak about it a lot but it's still very, very early. I think Maya and Yehuda jumped on it as really early adapters. It might sound corny but you know the sentence that says, 'The higher the risk, the greater the reward. I really believe in it," Ido Regev tells NoCamels, "I live by it."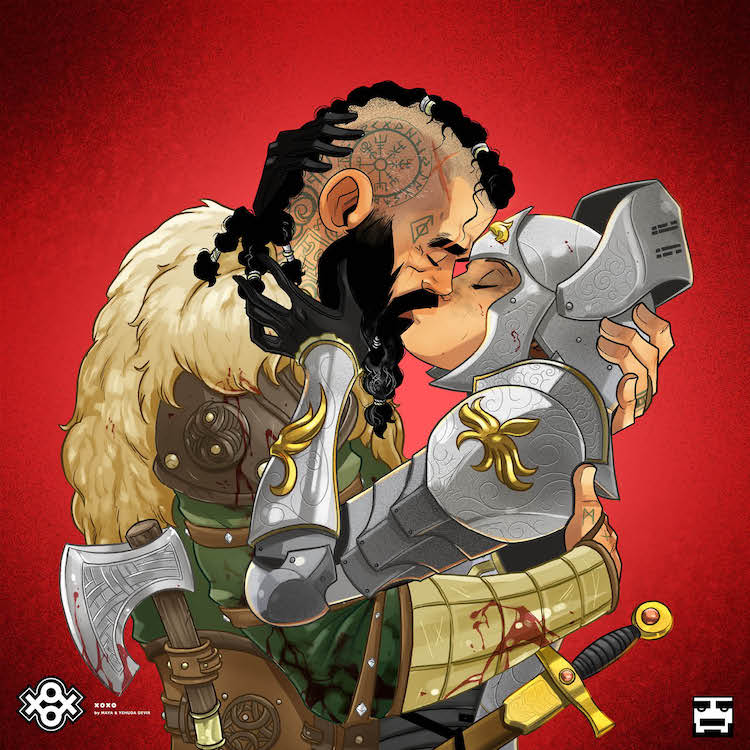 "The decision to go to the NFT space was because the world is evolving. And we can ignore that or decide to join it, but do it right. So that's why we wanted to join the NFT space and do it in the right way. When we explored the NFT space, what was lacking for us the most from an artist's point of view was the art. And we felt that creators of NFT projects are disrespecting their community, their audience, and their holders. We said, if we do it, we're going to do it right," Maya Devir says.
"Anything big that you do — every move that is big and exciting — is risky," says Regev, "It's risky as an entrepreneur to open a brand new business. But technology is evolving. It's either you keep up with it, and understand where the focus is going or you're going to be left behind," he continues, "I understand what it means to take a calculated risk. Exactly as they said — they wouldn't jump on it or do it by themselves because they think they know everything. No, they made the decision that we get a team, and we're going to do it with the right support. So that's an educated risk. And I think it's worth it."
"I think that in every step that we do along the way — not just the NFT space — there is a risk because you change. From our experience, change is important," Devir adds.
Related posts

Veterans Provide Practical Help, Comfort For Wounded IDF Troops
November 12, 2023