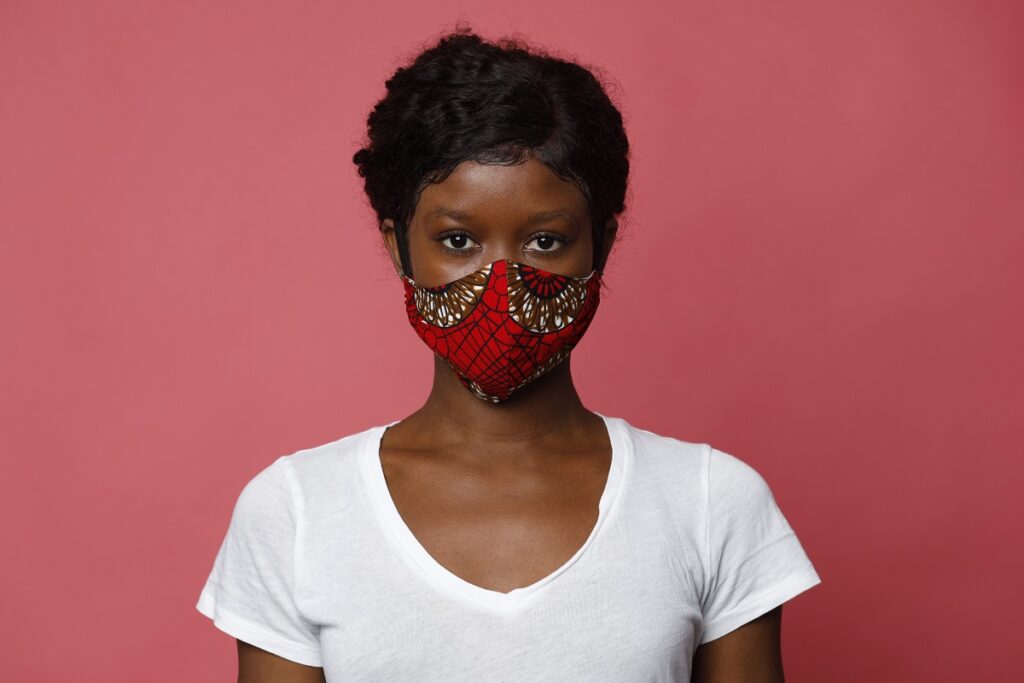 In the early days of the COVID-19 pandemic, donning a face mask in public felt unusual in certain regions of the world. Those days are long gone.
Israelis have been required to wear face coverings in public since April as part of a mandatory directive issued by the Health Ministry. And the government has recently ramped up its public campaign to drive home the importance of wearing face masks.
While the disposable kind is a choice for many, especially in Israel, others have opted for more stylish options or plainly professional, functional ones.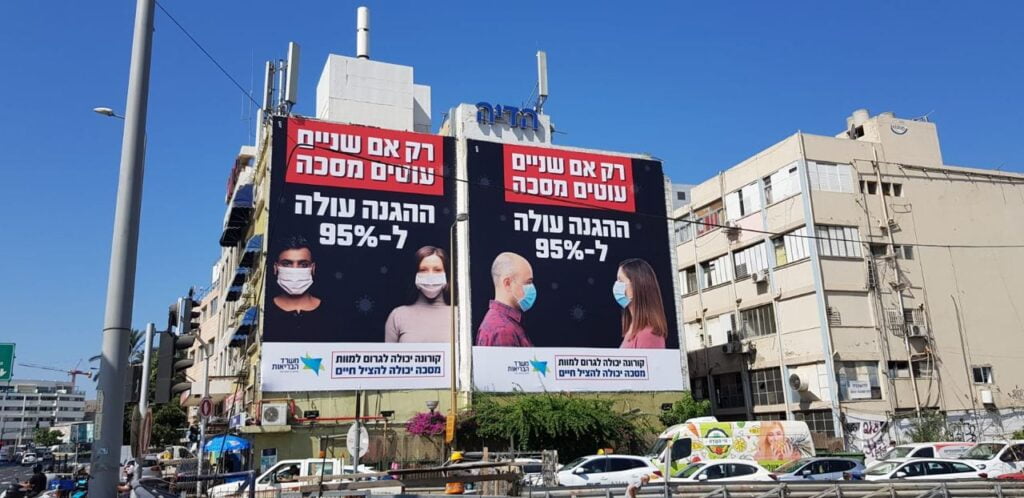 Like in other parts of the world, Israeli designers and entrepreneurs have gotten creative and seized the opportunity, delivering new creations both from workers in the fashion and textile sector, who suddenly found themselves jobless due to lockdowns and social distancing, and from the high-tech, health, and innovation sectors, who have always proven that necessity is the mother of invention.
From masks for fashion fiends to rechargeable masks for hospital workers, here are some of the notable face mask offerings from Israel.
Sticker Mask
A 3D-printed, anti-viral nanotech sticker developed at the Technion, which adds protection to masks worn by medical workers, went into mass production in Israel in mid-August.
The "Maya" was developed at the university by by a research team led by Professor Eyal Zussman of the Technion's Faculty of Mechanical Engineering and under the clinical guidance of Professor Samer Srouji, the director of the Maxillofacial Surgery Department at the Galilee Medical Center in Nahariya. The sticker, first announced earlier this year, was done in collaboration with the COVID-19 National Emergency Team of the Defense Ministry's Directorate of Defense R&D (DDR&D).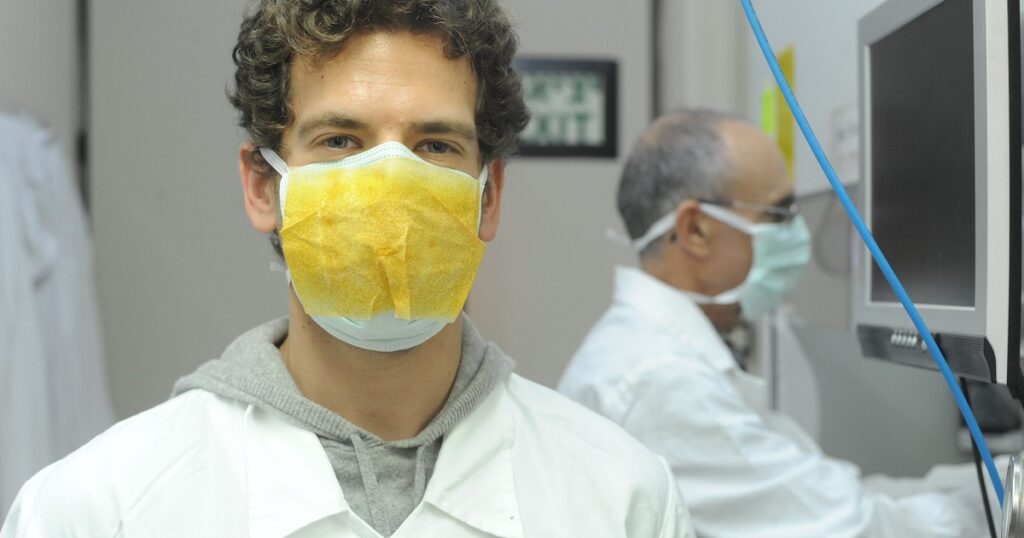 The sticker is printed using a special 3D printing technique developed by the Technion team and is made up of nanometric fibers coated with disinfectants.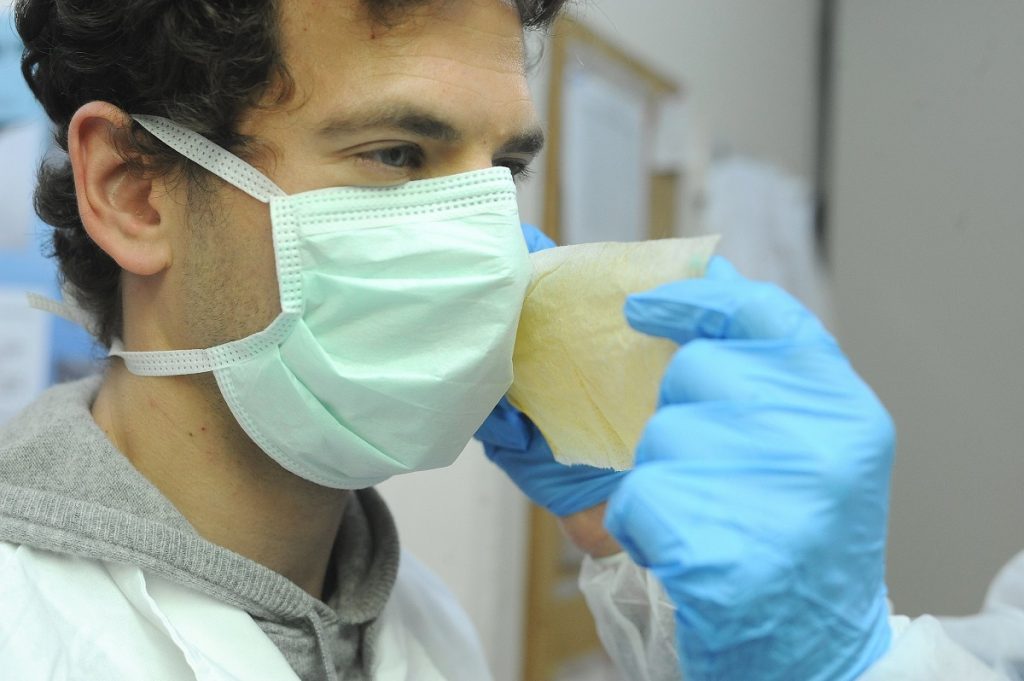 The adhesive, which is fixed to the outer surface of the medical mask, looks like an exaggerated label. It is meant to "provide extra protection for medical teams now battling the coronavirus," said Prof. Srouji said in a Technion video.
Sealing Mask
Israeli Noam Gavriely, who helped the Israel Defense Forces develop gas masks during the Iraq War, has created a new kind of protective covering that "seals" the face and blocks more than 99 percent of coronavirus-sized particles, he told Times of Israel in August.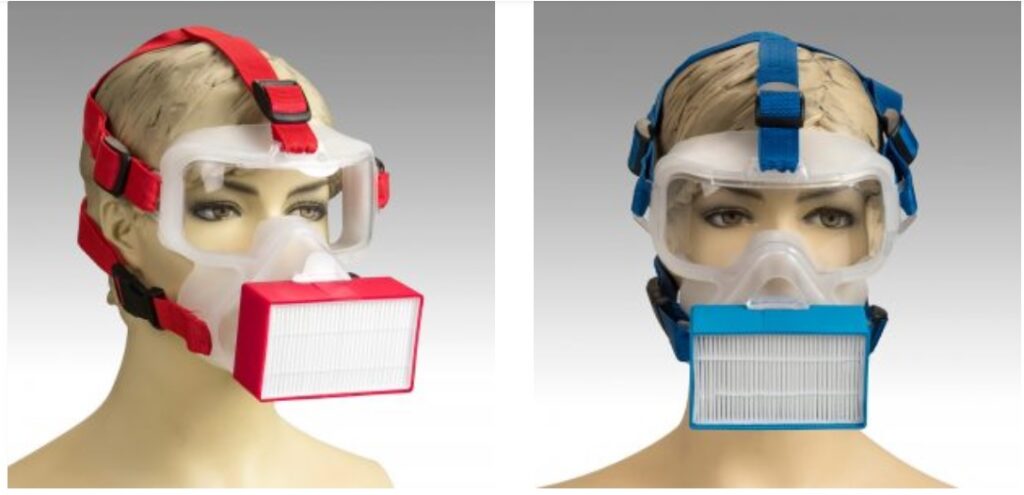 His ViriMASK, said to exceed the protection of an N95/Surgical Mask, certainly makes a statement. But while it isn't super attractive, it does combines maximum comfort and maximum protection against micron-size particles, bacteria and viruses, and aerosols.
The mask, which straps completely around the eyes, nose and mouth and seals as well as a gas mask or diving mask, according to Gavriely, has exceptional ventilation and integrated eye protection. The price for one is $70.
Anti-Viral Mask
Ramat Gan-based company Sonovia has created patented technology that mechanically infuses metal-oxide nanoparticles onto textiles during an ultrasonic-assisted impregnation process with the specialized chemical compound, which turns the textiles into highly effective blocks against bacteria and fungi. This novel, ultrasound-based antimicrobial coating is applied to fabric and textiles.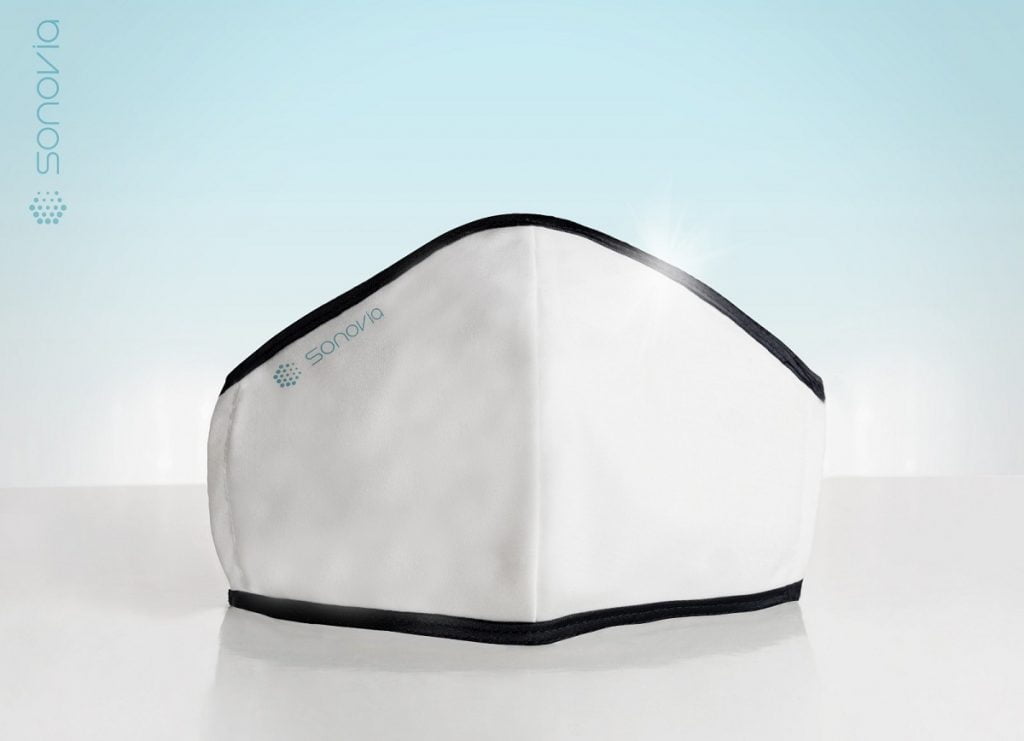 The SonoMask from the Israeli startup has been shown to be at least 99 percent effective in neutralizing the SARS-COV2 virus within 30 minutes of exposure, according to lab tests, the company announced in June.
Sonovia has sent samples of its antimicrobial fabric to two medical labs in China as well as to healthcare facilities in Israel. It is conducting a pilot at Adler Plastic in Italy to use its product in vehicles and public transport.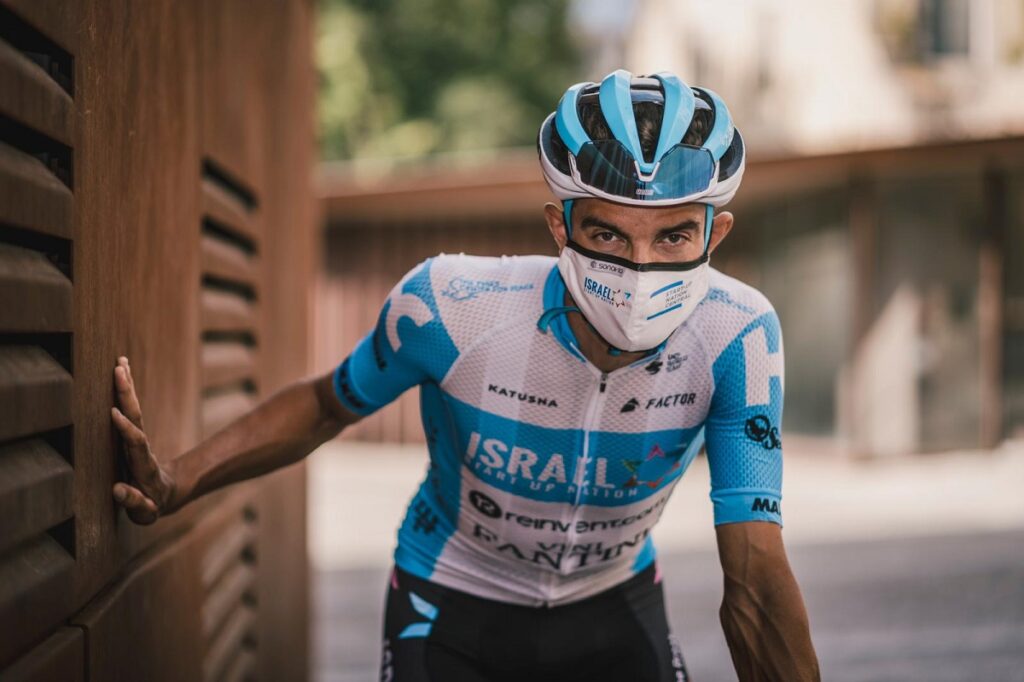 In August, Team Start-Up Nation, the first Israeli cycling team to compete at the Tour de France, announced that its members will wear the SonoMask during the annual bicycle race.
Reusable Mask
In May, a group of Israeli scientists announced they had submitted a US patent for a reusable, self-disinfecting protective face mask developed at the Technion – Israel Institute of Technology in late March.
The product was created by Professor Yair Ein-Eli, Dean of the Technion's Faculty of Materials Science and Engineering. He developed a reusable face mask that can be disinfected in a controlled manner using heat, a process that destroys pathogens accumulated on the mask, making it reusable. Professor Ein-Eli's research group created the mask prototype and tested it together with Professor Debbie Lindell and Prof. Oded Beja from the Faculty of Biology
The university says the group is currently in talks with industrial companies for the commercialization of the mask.
'Read My Lips' Mask
Wearing a face mask that covers the nose and mouth presents an obstacle for people with hearing disabilities who read lips to communicate with others. Enter the "Read My Lips" face mask, a covering developed by a high school robotics team from Dimona mentored by Maayan Levin, who joined forces with Ben-Gurion University doctoral student Carolina Tannenbaum-Baruchi and a researcher for the Center for Emergency Preparedness and Disaster Response.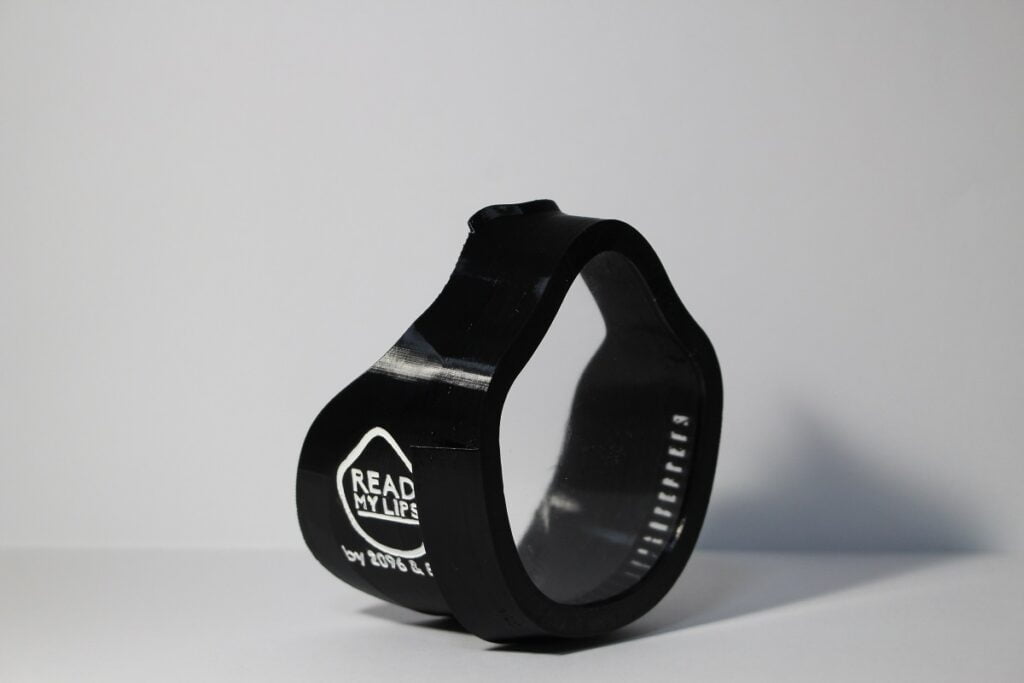 The transparent mask, that does not fog up, was made through "hours of conversation, messages, video clips, and attempts," Tannenbaum-Baruchi says.
Sign up for our free weekly newsletter
Subscribe
The masks will be given to people with hearing impairments and medical teams for this community. The group is looking for production and funding partners to mass-produce the mask. The project was conducted under the auspices of the BGU Coronavirus Task Force.
Social Impact Mask
Kuchinate is a 300-female strong collective of African asylum-seeking women living in Tel Aviv. The supportive community collective targets African refugees, who don't have clear status in Israel and don't receive benefits from the local government, and aims to empower them. Many are single mothers, or survivors of human trafficking and sexual abuse.
The collective is made up of 85 percent Eritrean women, but also includes women from Sudan, Nigeria, Ethiopia, and the Ivory Coast.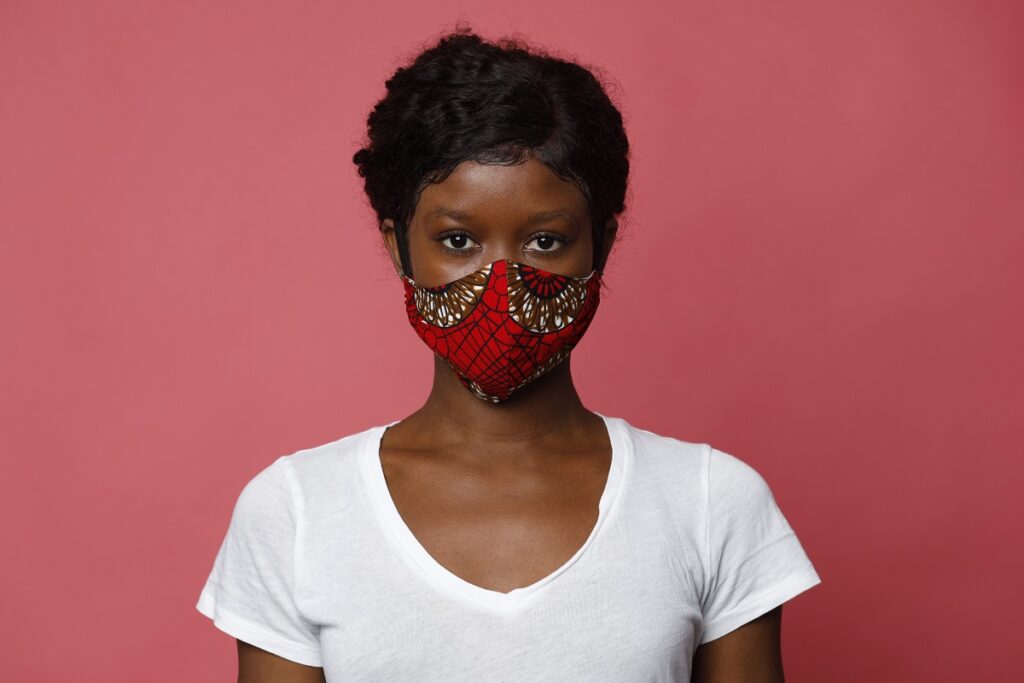 Kuchinate means crochet in Tigrinya and the women in this collective create crochet home decor products, such as baskets, poufs, and rugs. But since the COVID-19 pandemic hit, the collective has undergone a shift.
First, like much of the rest of the country, the NGO has moved its products online because tourists and visitors were no longer able to visit the Kuchinate studio. The biggest shift, however, was from crocheting to sewing, once face masks became highly in demand.
Marketing Director Ruth Garon tells NoCamels that after applying for emergency funding, the United Nations supplied women with sewing machines in their homes. A volunteer came to teach those women how to sew masks. Since then, the women have used traditional African fabrics to create striking face coverings in a variety of vibrants colors and prints.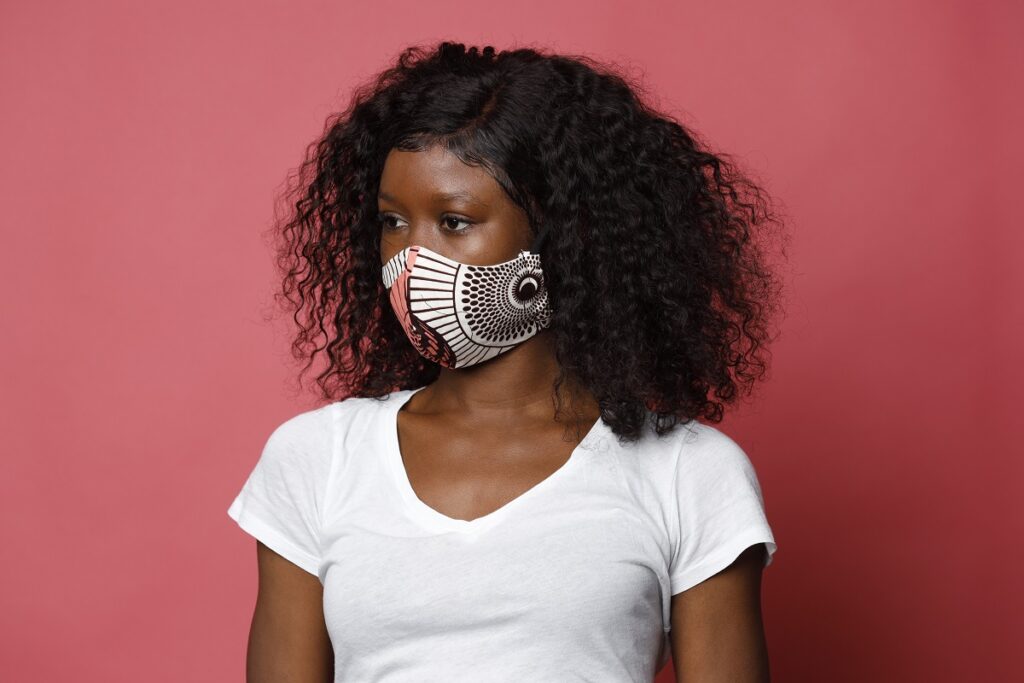 The masks were first created by a team of just five women which has since grown to about 25 women. There are also lessons twice a week to teach other women in the collective how to sew.
The breathable cotton masks are double-layered and suitable for men and women. They can be shipped locally or internationally. Prices start at NIS 100 ($29) for a pack of three.
'Feel Good' Mask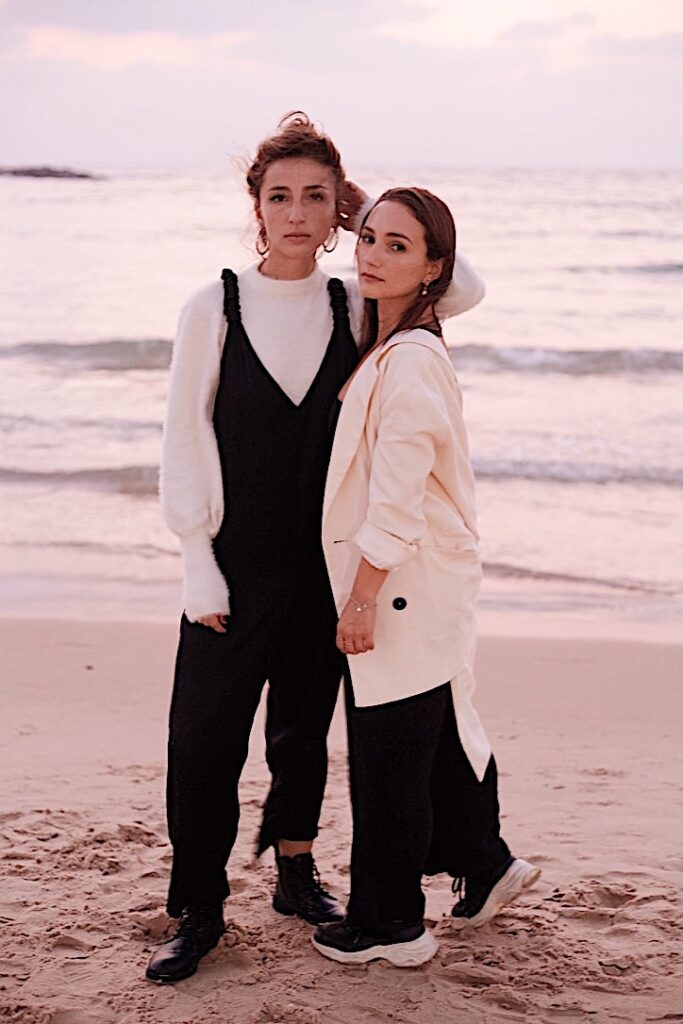 Sisters Sarina and Rachel Rofe, who grew up in Hong Kong and now live in Israel, started The B.O.D. as a personal way to continue the legacy of the mother they lost nine years ago. She was the ultimate advocate for the "Feel Good, Do Good," lifestyle, Sarina Rofe tells NoCamels, and the mantra has become the sisters' ethos and driving force behin the clothing brand.
The B.O.D., which stands for The Board of Directors, began their mission of comfort, ease, and individuality by creating diverse and adjustable jumpsuits, which they called suits. Masks were not in their original plan, but the sisters saw a need for them as the pandemic made an impact on the world. Rofe says they started sewing masks one by one at home and then went into full production, using the most sustainable methods they could, which meant leftover pieces of jumpsuit materials on hand.
The masks, which come in prints like Citrus Dion, Geo, and Polka de Pink, are double layered, washable, reusable, and made from either cotton or rayon. They go for about $15 for one mask, or $40 for a three pack.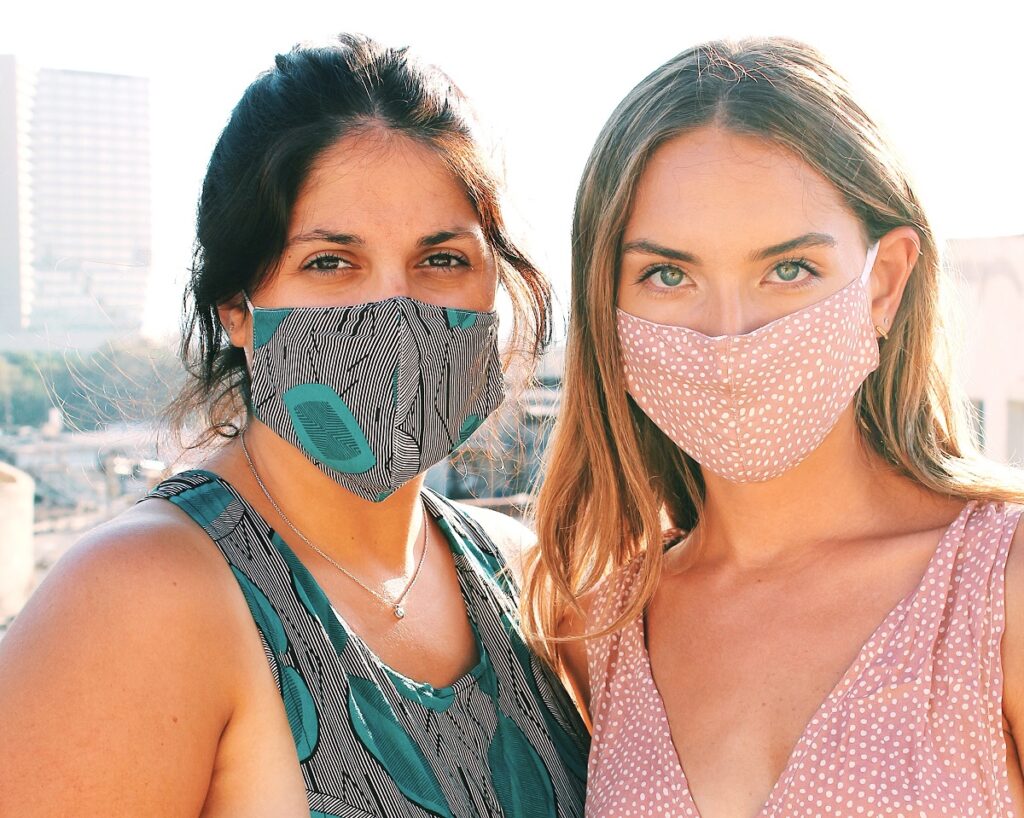 All proceeds made from these masks are being donated to causes supporting the Black Lives Matter movement in the US.
Luxury Mask
A wealthy Chinese entrepreneur from Shanghai has asked Jerusalem-based jewelry brand Yvel to create what could be the world's most expensive protective mask in a custom order. The entrepreneur asked that the mask fulfill three conditions — it should be the priciest mask in the world, it should have the highest levels of filtration, and it should be delivered by the end of the year.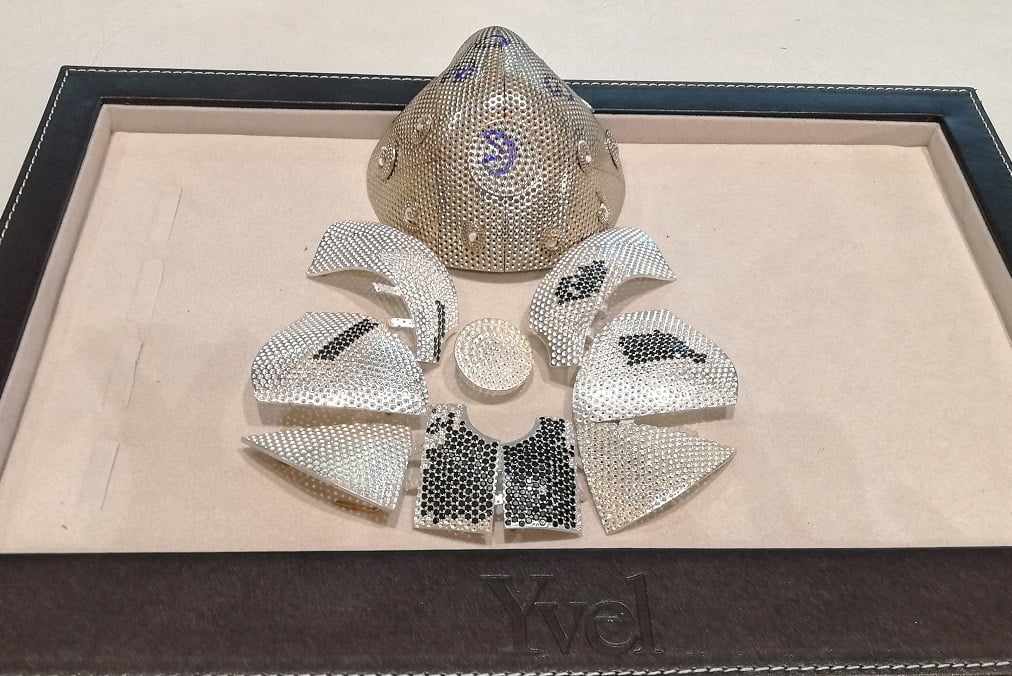 At a price tag of $1.5 million, the mask has been made of 18k gold and set with 3,608 natural diamonds at a total weight of 210 carats. It is also based on the N-99 respirator, a face mask that claims to filter at least 99 percent of airborne particles.
Israeli jewelers Orna and Isaac Levy say Yvel aims to have the mask delivered personally to the customer by December.
Sea Mask
Designers Doraya Avital Kancepolsky, a graduate of the Bezalel Academy of Art and Design and Oryan Asher specialize in designing and manufacturing small collections of hand-crafted products based on their lifestyle at sea. Both designers live in neighboring boats on the Tel Aviv Marina.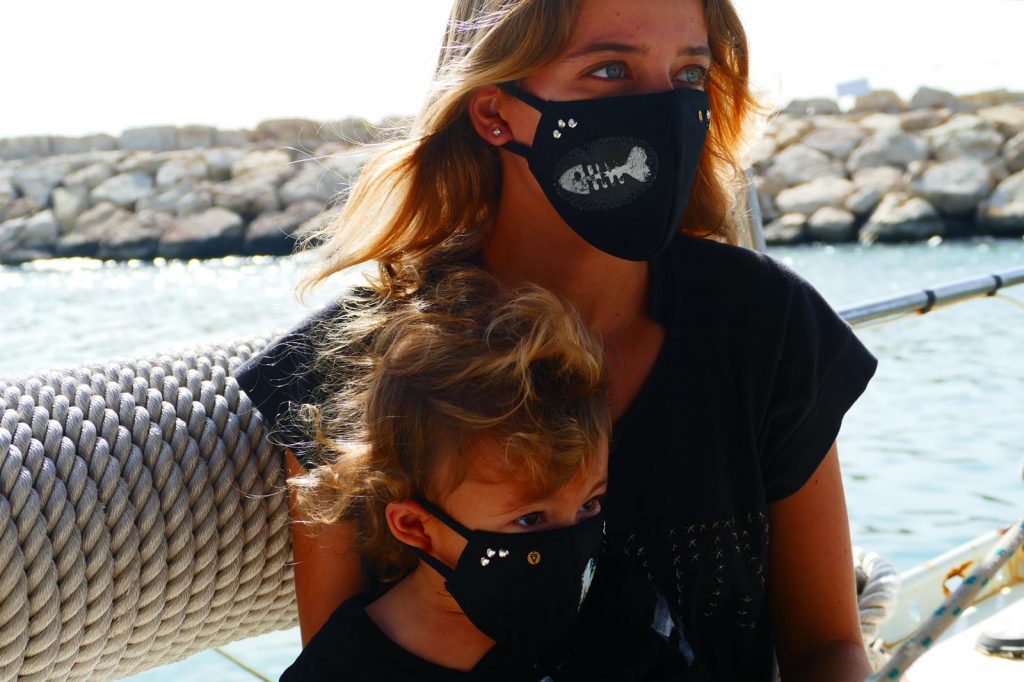 The pair's mask brand Fishi Fish, came to fruition after the Health Ministry announced their mandatory directive that all Israelis must wear masks outdoors. Kancepolsky said that night she was already sewing samples to put up for sale.
The masks are black and adorned with studs and patches featuring handmade design elements such as a fish skeleton, a fish eye, or a heart. Customers can also order masks with no design. Masks typically run from NIS 48 to NIS 90 ($14 – $27.)
Fashion Mask
When most weddings in Israel came to a screeching halt due to new restrictions, 28-year old Yarden Oz was out of a job. The bridal gown designer decided to take the opportunity into her own hands and began using her fabrics to design a collection of stylish masks that she hoped could bring some color to unprecedented times and support the economy.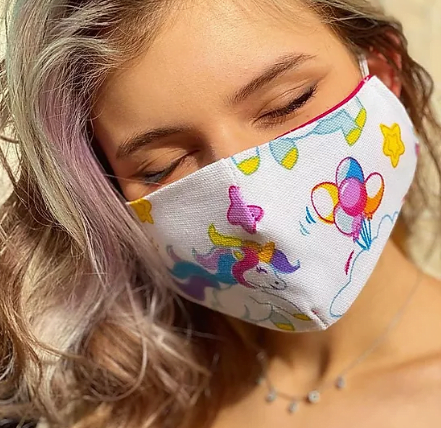 The brand Happy People was born, with an array of masks in various prints, designs, and fabrics. Zebra stripes, comic book, and sequined masks are just a few of the vibrant masks that are currently offered at NIS 69 to NIS 99 ($20 – $29) a pop.
Related posts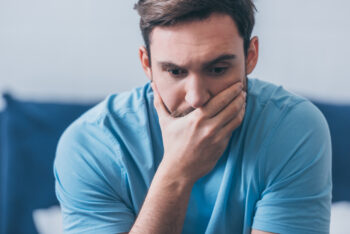 Programmer With A Stutter Creates Online Aid For Fellow Sufferers
September 21, 2023