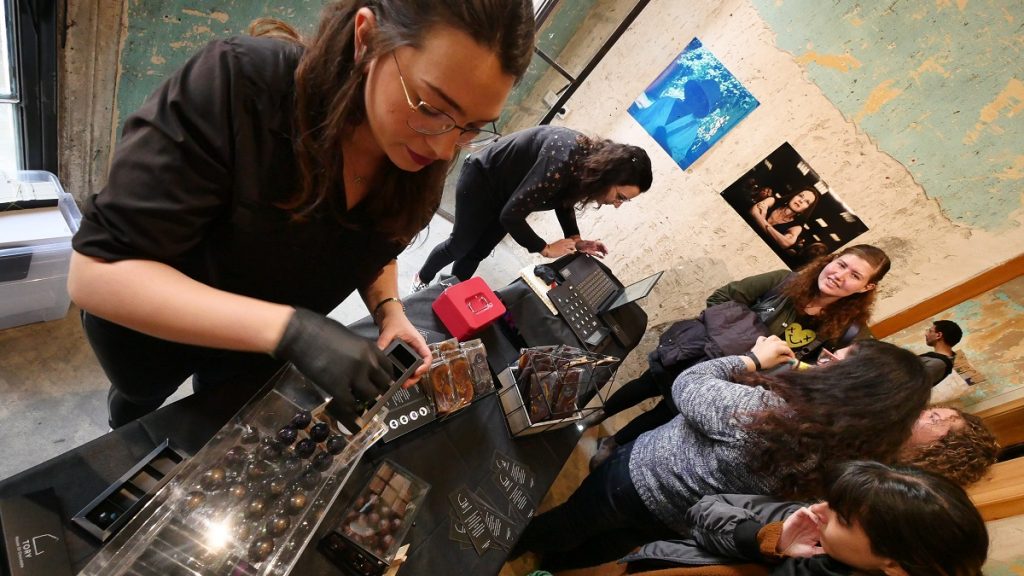 Mouth-watering meals usually come in a variety of textures and bright colors. Not often do those colors include black, which in the culinary world can often be associated with anything burnt. But one food festival sought to change that perception to its very core and to show how natural, dark-colored ingredients are both versatile and delicious sources of inspiration.
The Black Food Festival made its way to Tel Aviv on Thursday, setting up shop at the Cuckoo's Nest Tel Aviv Bar and Art gallery in Jaffa, with some 20 exhibitors giving hundreds of attendees a mouthful of tasty creativity, all made with natural ingredients like coffee, cacao, and beans for that black color.
The one-day festival gathered local and international chefs, cooks, and mixologists from across the city, showcasing black food including gluten-free pancakes, dark chocolate pralines, meat-filled tacos, and blackened garlic.
The mastermind behind the event is Regina Boros, a Hungarian food enthusiast, blogger, and marketing professional from Budapest who founded the Black Food Festival initiative in 2016. It first debuted in the Hungarian capital in November 2018, followed by a successful event in Berlin in December. The festival will hit more than 20 cities in the next two years, Boros says, with the next two stops, after Tel Aviv, in New York and Helsinki.
Boros tells NoCamels that the idea to bring the Black Food Festival to Tel Aviv came about as she was visiting a friend in the White City and became captivated by its culinary scene and vibrant energy. She says she received an excellent response upon floating the idea with friends and locals, and decided to make it a reality.
"The philosophy behind the festival is openness and experimentation. The festival compels people to open their minds to taste and creativity," she tells NoCamels.
An all-black menu
At the Cuckoo's Nest on Thursday, local and international chefs captured people's taste buds with a wide variety of creations.
Among these were Oki Daki, a local ice cream shop that presented its Black Mochi ice cream, made from a combination of rice and sugar and which comes in different flavors, such as mango and strawberry.
The two sisters behind Tory chocolates, unveiled beautifully-crafted, hand-made chocolates made from cacao butter that strictly utilized dark chocolate.
"This event has given us the opportunity to present our creations and [is] an ideal platform to showcase our hand-made chocolates to the public," they said.
Hungarian celebrity Kristóf Steiner, a celebrity food author and food truck owner, unveiled his Kristof's Kitchen, featuring a Dahl Makhani cooked in Coca-Cola, served on wild rice berries and topped with balsamic forest fruits chutney, alongside traditional Hungarian cakes and sweets.
Sign up for our free weekly newsletter
Subscribe
A Masterchef finalist in Russia and chef of a number of Michelin-star restaurants around the world, Svetlana Khaninaeva teamed up with Daniel Klymenko to offer a taste of their "butchers-meet-chefs" concept, serving smoked meats with garnishes and a black crust, also known as bark. This was prepared in front of the audience over a live fire and presented alongside dishes like chili con carne accompanied by smoked yogurt and a black taco filled with minute-steak and salsa.
"We simply love meat and everything smokey and wanted to show this passion of ours to the audience. We are what you can call carnetarians," Khaninaeva tells NoCamels.
Commenting on the theme of the event, she emphasizes that color says a lot about food. "Everything we use is organic and natural. Today, we are presenting smoked asado, alongside a black taco, made naturally from blue corn, a product originally from Mexico."
A particularly imaginative creation was made by Eravital, a Turkish brand named after its creator Eravital Gilda. This consisted of black garlic that is created "inserting natural garlic into a machine at extremely high temperatures and leaving it there for three months. The process transforms the garlic's color and gives it a pleasant sweetness," he says.
Also on show was Injera, an Ethiopian flatbread made from teff flour, characterized by a slightly spongy texture. This was presented by Jaffa-based restaurant Balinjera and served with vegetable-based fillings.
Visitors also got to sample black sushi, dark pudding made from poppy seeds and rice, savory dark cupcakes, Moroccan fish cooked in a bean sauce, and a signature black cocktail.
An all-black theme
Further complementing the overall concept, hosting location Cuckoo's Nest premiered a complete "Black Menu", featuring black tempura shrimp and chips with smoky black salt, smoky black eggplant barbeque sauce and corn on the cob with pimento black aioli.
Fashion items were also available for sale, all strictly in color black, complemented by an eye-catching jewelry stand which also adhered to the overarching theme.
The event featured a competition for the Black Food of The Year and Black Drink of The Year Awards, judged by celebrity foodies, gastronomists, and professional chefs.
Prizes were awarded to Oki Daki's Black Mochi ice cream for 'creativity', Balinjera's Injera for the best overall dish, Tory Chocolates for the best sweet creations, and cocktail 'Cuckoo's Nest,' named after the hosting location.
Related posts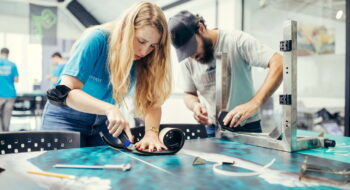 Tech Innovators Come Together To Help Israel's Wounded Warriors
September 18, 2023