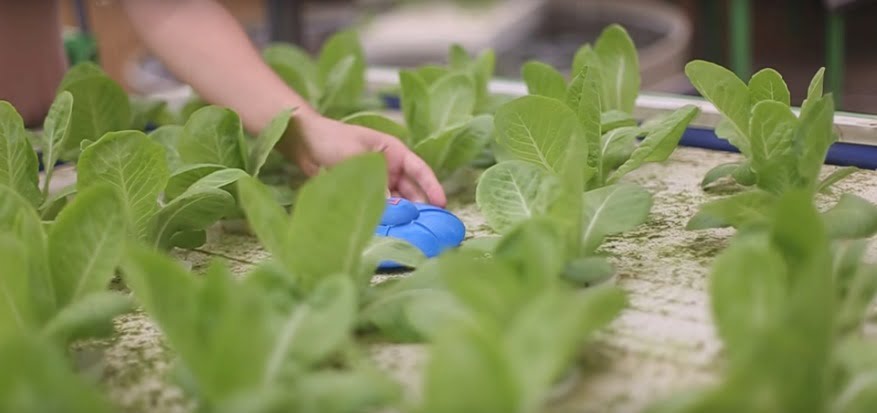 With just a tank, pipes and a pump, anyone can now grow their own vegetables at home. Hydroponic farming allows you to grow crops using nutrient-rich water in place of soil. And with some hydroponic farm kits selling for less than $100, you too could become an urban farmer.
However, this agricultural technique requires a certain degree of expertise in order to work. Now, Israeli AgTech startup Flux wants to simplify hydroponics with a unique, compact robotic farming assistant called Eddy.
A child of the Internet-of-Things (IoT) revolution, Eddy is a smart gadget equipped with sensors and Wi-Fi connectivity. As it floats in the water tank of a hydroponic system, it is able to measure key growing conditions, such as the pH levels and nutrient content of the water, as well as the surrounding temperature. It wirelessly communicates this information to the grower through a smartphone app, allowing users to monitor their crops anytime, anywhere.
Fresh food in the city
In addition, Eddy can advise growers on steps they should take to improve the health of their crops, giving them the leafiest lettuce and the most succulent strawberries, according to Flux. This small robot can also tell you which plants are compatible to be grown together, what nutrients should be added to the water, when to turn the lights on in an indoor farm, and other useful instructions.
Eddy's advice is grounded in the experience of Flux's hydroponics experts – wittily dubbed "Grow Gurus" – as well as a host of data collected from Eddy's sensors, photos of the crops (taken by the grower), and even the grower's nutritional preferences.
"People with different dietary restrictions can manipulate the nutritional content of their crops through controlled growing," Flux Founder Karin Kloosterman tells NoCamels. Eddy also connects you to other growers, forming a community of like-minded farmers who can offer valuable tips based on their experience. "Eddy is always learning, like an organism that evolves," she says.
"Bathing in a chemical stew" 
A major reason why people turn to organic produce or grow their own fruits and veggies is pesticides. "Pesticides are over-exploited by the conventional agricultural system," says Kloosterman, who has been interested in food production and environmental issues since she was young. "These nasty chemicals destroy the soil and enter our food. We are bathing in a chemical stew."
Hydroponic farming doesn't require pesticides, since pests are usually soil-borne. Another advantage of the system is that its water usage is reduced, since water is recycled throughout the hydroponic system. Hydroponic farming is also more space-efficient than conventional farming, which makes urban farming possible. That's why Kloosterman is so passionate about promoting this form of alternative farming.
Flux joins a growing list of Israeli companies that want to disrupt agriculture, such as GreenWall, which builds vertical gardens, and Phytech, which provides plant monitoring systems for conventional farming, to name a few.
Sign up for our free weekly newsletter
Subscribe
SEE ALSO: Can Vertical Gardens End World Hunger?
With the rise of other companies working towards "smart farms" – such as Grownetics, Agrilyst and CropX – how does Eddy stand out in the field of AgTech? Kloosterman believes that Eddy's competitive edge lies in its advanced sensor hardware, which is designed by former military experts.
The startup also intends to constantly improve its expertise in hydroponic farming by using Big Data. As Flux aggregates large amounts of data from Eddy units placed in different farms around the world, it will process these data using advanced algorithms to predict and optimize patterns of crop growth. According to Kloosterman, this data will also be made publicly available.
SEE ALSO: Revolutionary Rooftop Farm Grows Organic Veggies Sans Soil In The Heart of Tel Aviv
Eliminating food insecurity? 
Founded in 2014, the eight-employee startup has offices in Tel Aviv, Dallas and Boulder, Colorado. Kloosterman declined to discuss the company's financial standing, but according to media reports, it raised $270,000 in seed funding, and is now securing its Series A funding.
Priced at $179, Eddy is expected to hit the stores in the US in a few months. While the first model of Eddy monitors crops and advises growers, future models will include a control system which will allow Eddy to make changes to the growing environment automatically – almost like a self-driving farm.
Clearly, Eddy has the potential to increase the world's food supply through urban farming, but it is not a silver-bullet solution to world hunger. "Our solution is a patch-up while the world's food system is falling apart," Kloosterman admits. "But Eddy can inspire people to start thinking differently about their food."
Photos and video: Courtesy
Related posts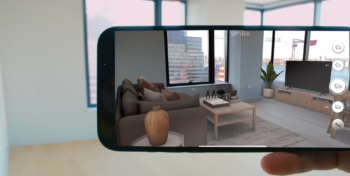 Augmented Reality App Makes Empty House Into Potential Home
October 02, 2023