Is there life on Mars? Former astronaut Dr. Buzz Aldrin says there will be, by 2040. Speaking in Israel this week, the second person to ever walk on the surface of the moon wowed the crowds by sharing his vision of starting a human colony on the Red Planet in 24 years.
Aldrin, who currently serves as the International Space University's chancellor, is visiting Israel for ISU's 2016 Space Studies Program. The intense, two-month program gives participants a unique, comprehensive professional development experience covering all aspects of space programs and enterprises. Based in the Middle East for the first time, the program is hosted this year by the Technion-Israel Institute of Technology, one of the first universities to have launched a satellite and establish a space program.
A West Point graduate who joined the US Air Force and fought in the Korean War before becoming an astronaut in 1963 – six years before he walked on the moon – Aldrin remained involved in space exploration in later years and is one of the leading advocates for a human Mars mission.
SEE ALSO: Life on Mars? Israelis Design 3D-Printed Space Home For NASA
Addressing a crowd of over 650 students and faculty at the Technion Tuesday night, Aldrin described the system he conceptualized, called the "Aldrin Mars Cycler," whereby spacecraft cycle between Earth and Mars. The Cycler aims to reduce the amount of fuel needed for the epic journey, as well as to limit the health risks posed to astronauts by long-term spaceflight.
140 million miles away from home 
The legendary astronaut acknowledged the vast round trip required to visit Mars, which is 140 million miles away from Earth. Since it takes a few months to get to Mars, Aldrin sees the first missions as one-way trips. Those early settlers could be the first to establish new a civilization on another planet. In fact, Aldrin dreams that humans will walk on Mars by 2040.
"There is no greater endeavor that humanity will undertake for generations to come, than to establish a permanent human presence on another body in the solar system," Aldrin said at the event. "If not now, when? If not us, who?"
However, a mission to Mars "is going to take about a half year just to leave Earth to get to Mars and a half year to come back – you can't just come back immediately," Aldrin told NoCamels at the event, noting that flights need to be timed around the planets' orbital positions. "All in all, it's pretty close to a three-year mission."
The ultimate goal of such missions is to create a permanent Mars base that would truly make humanity a two-planet species.
From astronaut to author
Sign up for our free weekly newsletter
Subscribe
Aldrin has received US patents for his schematics of a modular space station; for "StarBooster," a family of reusable flyback rocket boosters; and for his multi-crew modules for space flight. He founded Starcraft Boosters, a rocket design company, and Buzz Aldrin's ShareSpace Foundation, a nonprofit organization devoted to inspiring children's passion for science, technology, engineering, arts and math, through delivering hands-on activities.
SEE ALSO: Space Ace: Israeli Scientist To Uncover Jupiter Mysteries With Juno Probe
An author of nine books, including his New York Times best-selling autobiography entitled "Magnificent Desolation", Aldrin continues to inspire today's youth with his illustrated children's books, including "Reaching for the Moon" and "Look to the Stars."
His 2013 book, "Mission to Mars: My Vision for Space Exploration", outlines his plan to get us beyond the moon and on to Mars. As one of the leading space exploration advocates, Aldrin continues to chart a course for future space travel and is passionate about inspiring the younger generations of future explorers and innovators.
A historic moonwalk
Aldrin earned his Doctorate of Science in Astronautics from the Massachusetts Institute of Technology (MIT), where he wrote his thesis on manned orbital rendezvous, a technique for piloted rendezvous of two spacecraft in orbit. In 1963, he was selected by the National Aeronautics and Space Administration (NASA) to join its third group of astronauts, and earned the nickname "Dr. Rendezvous." The docking and rendezvous techniques he devised are still used today.
Aldrin also pioneered underwater training techniques as a substitute for zero-gravity flights, to simulate spacewalking. In 1966, on the Gemini 12 orbital mission, Aldrin set a record for his 5.5-hour spacewalk.
47 years ago, on July 20, 1969, Aldrin and Neil Armstrong made their historic Apollo 11 moonwalk, becoming the first two humans to set foot on the moon. They spent 21 hours on the lunar surface and returned with 46 pounds of moon rocks. An estimated 600 million people – at that time, the world's largest television audience in history – witnessed this unprecedented heroic endeavor.
Referring to the Apollo 11 spaceflight, the 86-year-old, but spry Aldrin felt very fortunate to come along at that particular time in human history. He recently joked that the reason Armstrong, and not him, was the first person to walk on the moon was "because he was standing closer to the door."
Photos and video: NASA, Nitzan Zohar, Technion Spokesperson's Office, James O.Davies for Aldrin
Related posts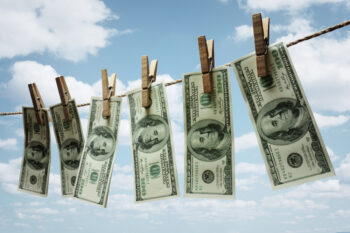 AI Money Laundering Watchdog That 'Senses' A Financial Crime 
September 24, 2023