Whether it's a 30-second battery charger for smartphones, or a mobile app that monitors your pet while you're at work, the Israeli companies showcasing this week at the GSMA Mobile World Congress in Barcelona are wowing the crowds with their cool products and apps.
The annual GSMA Mobile World Congress held in Barcelona this week is showcasing 2,100 companies, including a delegation of about 100 Israeli high-tech companies in the field of mobile solutions and apps.
The largest mobile expo in the world, GSMA Mobile World Congress is produced by trade association Groupe Speciale Mobile Association (GSMA), which represents mobile operators worldwide, uniting nearly 800 operators with more than 250 companies in the broader mobile ecosystem, including handset and device makers, software companies, equipment providers and internet companies.
This year's show has drawn more than 90,000 attendees from dozens of countries. Historically, the show has served as the proving ground for innovators and breakthrough technologies, and is considered the global stage where next-generation mobile innovations are introduced to the marketplace.
In addition to some of the world's largest mobile companies that are presenting their newest technologies in Barcelona – LG and Samsung, to name a few – dozens of Israeli companies and startups are showcasing their latest apps, gadgets and products at this week's event.
So, take a look at some of the coolest Israeli technologies at the conference:
PetPace
Founded in 2012, PetPace specializes in remote pet health monitoring, leveraging wearable technology along with innovative analytical and alerting models. PetPace's wireless collar is fitted with sensors that report vital signs as well as physiological and behavioral parameters.
SEE ALSO: Top 10 Furry Innovations: When The 'Startup Nation' Turns Its Eyes To Pets
A cloud-based analytical engine evaluates the data in real time. When abnormal indicators or behaviors are detected, immediate alerts regarding the suspected condition are generated. These alerts are transmitted to pet owners or caregivers via any web-connected device, such as a smartphone, allowing them to take preemptive action to protect their pet's health.
Anagog
Founded in 2014, Anagog provides directions to free parking spots and parking lots using parking data retrieved from cellphone users through crowd-sourcing. Anagog's mobile app collects data on individual parking behavior, which it then saves for future reference. Anagog also provides push notifications on vacated parking spots.
Simgo
Paying hefty charges for roaming? An Israeli startup has come up with an innovative solution that allows your phone to choose the cheapest local service and data carrier when traveling to 100 countries around the world.
Sign up for our free weekly newsletter
Subscribe
SEE ALSO: nFrnds And Microsoft Aim To Turn 5 Billion 'Dumb' Phones Into Smartphones
Simgo simply replaces the SIM card inside your smartphone with a clip-on case that connects to its cloud-based system. The software selects the best local virtual SIM card in the "cloud" and uses it to place the call – using your original phone number.
Magisto
If you've ever felt embarrassed to share your funny home videos, now you can let a smartphone app make a professional short film for you, and then instantly share it with your friends and family. Developed in Israel, Magisto is a slick instant-video app that turns photos and videos from your smartphone into a short animated film you can share with your buddies.
Lexifone
Today more than ever, businesses and individuals are seeking real-time translation services in order to communicate with partners and customers around the world. Developed in Israel by Lexifone, an innovative mobile app now makes it possible to understand almost anyone from anywhere.
Lexifone's in-call translator allows people from different countries to freely converse, overcoming the language barrier. With this mobile app, you simply dial the person you wish to speak to and after each person speaks once, an automated translator will translate every part of your conversation.
Humavox
With the growing number of mobile devices, charging has become a daily hassle. Now, an Israeli charging gizmo developed by Humavox provides a simple wireless charging solution, which is elastic enough so it can take on many shapes and forms, while fitting into endless types of devices and products. Humavox's charging station, designed by another Israeli company named Nekuda, looks like an elegant vase – no cords whatsoever.
StoreDot
Another Israeli charging solution is provided by StoreDot, which can charge a smartphone in 30 seconds. Its battery frees millions of people from worrying about not having enough battery life. StoreDot, which also develops a battery that can charge your electric vehicle in five minutes, is showcasing this week its newest fast-charging solution for mobile devices. The final product is expected to hit markets in 2017.
With this wide range of cool mobile technologies, it's no wonder that Israeli companies shine in Barcelona!
Photos and videos: Courtesy of the companies, GSMA
Related posts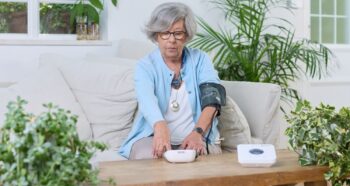 Smart Healthcare System Keeps Elderly At Home, Not In Hospital
November 29, 2023