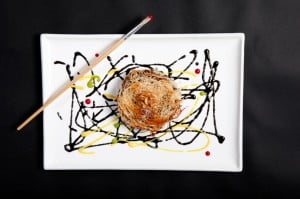 Whether you're there to see the Second Temple Model or to catch the latest contemporary art exhibition, you can end your visit to the Israel Museum with a meal at Modern, which was opened by food entrepreneur Zafrir Ginsberg and his wife Avital in 2011 after the museum's renovation.
Related articles
Jerusalem's Modern is part of an international wave of trendy museum restaurants like The Modern at NYC's Museum of Modern Art or Georges at the Pompidou Centre in Paris. Now, Jerusalem's Modern is looking to the world of art for inspiration for its menu.
The restaurant's new Spring menu, under the direction of chef Avi Peretz, features art-inspired items like "Jackson's Chicken Kadaif," A dish described as "Pullet, kadaif threads, walnuts and cinnamon in a plate that Jackson Pollock would have loved." The plate is full of colored edible drizzles, inspired by Pollock's style of drip-painting.
The other two art-inspired specials are "Cézanne's garden," an antipasti dish served on thin Urfali bread and inspired by Paul Cézanne's famous landscapes, and "Tartar square a-la Mondrian," which is finely chopped raw sirloin steak served with three squares of dressing, echoing Piet Mondrian's famous squares.
This article was first published on Tablet and was re-posted with permission. To continue reading this article on the Tablet site, click here.
Photo: Modern
Related posts

Veterans Provide Practical Help, Comfort For Wounded IDF Troops
November 12, 2023