Ben Gurion University of the Negev (BGU) graduated its first class of Jordanian and Israeli students who completed a special joint-emergency medicine BA program earlier this year. The first graduating class at the Israel-Jordan Academic Emergency Medicine Collaboration included 54 graduates who spent three years studying emergency medicine and medical response.
One part of the curriculum included a Joint Disaster Management Project which had Jordanian and Israeli students training with officials from Israel's national emergency service, the Magen David Adom and the Jordanian Red Crescent to respond to emergency situations such as earthquakes.
Related articles
There are only three countries that provide emergency medical response qualifications at the BA degree level, according to Dr. Mohammed Al-Hadid, one of the founders of the Ben Gurion program. If Jordanians want to earn a bachelor's in emergency medical response, they can either go to the United States, Australia or Israel's BGU which provides the only university-based academic degree for paramedics in the Middle East.
[youtuber youtube='http://www.youtube.com/watch?v=ChsbQFZqXpI']
"We choose to go next door to our neighbors," said Dr. Al-Hadid in article about the program on the website of the Israel Ministry of Foreign Affairs.
Dr. Al-Hadid, who is the president of the Jordanian Red Crescent, said that he and his colleagues were impressed with Israel's emergency medical services. "We were very impressed with the level of expertise demonstrated in Israel – and when you see something is working for others, you want to have the best for your own people," he said.
Israel's emergency medical teams are internationally recognized for their emergency response to disasters and tragedies, as they travel across the world to assist nations in natural disasters.
…
To continue reading this article, click here.
Via Ynet
Photo: Ben Gurion University
Related posts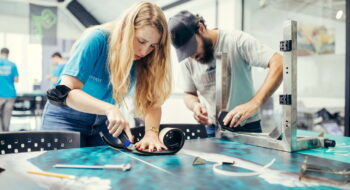 Tech Innovators Come Together To Help Israel's Wounded Warriors
September 18, 2023