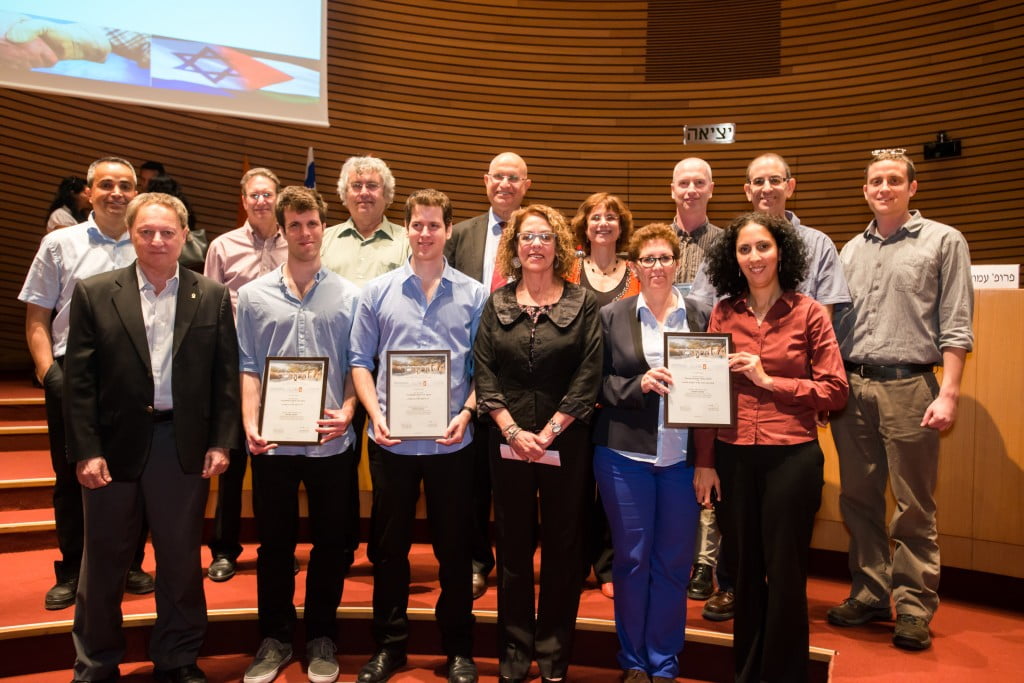 Three innovative projects took top honors in Ben-Gurion University of the Negev's Guilford Glazer Faculty of Business and Management year-long Business for Peace Competition, last week. The contest invited contestants to come up with innovative ideas to bridge the gap between Israelis and Palestinians and provide financial benefit to both sides. The competition was supported by Guilford Glazer of Los Angeles who has actively encouraged people-to-people encounters as a way to build coexistence in the region.
Related articles
"I had the privilege to be there when Guilford Glazer first raised the idea. He used to say that a poor and miserable neighbor is a bad neighbor," BGU President Prof. Rivka Carmi said at the ceremony.
"Israel has to invest in its neighbors. There were some wonderful ideas raised by this competition. Some will have to wait to be implemented, but for some, including the winners, it is possible to get to work tomorrow morning," she enthused.
High-tech, women in  the workplace and construction
The first prize was awarded to iPAL Outsourcing to Palestine. The project is an online system for employment and job outsourcing between Israel and the Palestinian Authority. The website would have Israeli and Palestinian members who post technological services, job openings, and/or projects. The users are private people or companies who sell their services. For example, a web developer could offer his website building service. Each user, whether a person or a company, will have a profile that will include personal details, information, previous jobs and recommendations from other site users. Revenues will stem from income from service providers through the site.
Additionally, the site will offer an advanced search feature for service providers and job offers, and will provide means of communication that are comfortable for both sides. Moreover, the site will include advanced work and management tools such as task management, file sharing tools, chat options, advancing conferencing calls, online payment options, and more. These tools will enable efficient operations and communication between the parties.
The second prize went to Project Wealth – Promoting Local Sustainable Economic Development. This project aims to increase the involvement of women in the labor market, with an emphasis on the food industry. The project focuses on providing tools in product development, marketing, and financing within the field of preservation and transportation of fruits, vegetables, milk and grains, which can then be marketed as a product with a  long shelf-life. The assistance will be given by an existing non-profit organization, founded in 2000, that is not connected to the state. It has extensive ties within and outside the Palestinian Authority, and just last year generated revenues of $2 million.
Sign up for our free weekly newsletter
Subscribe
This project attempts to lead the transition from traditional production methods to more efficient and profitable methods. This will increase the profitability of businesses, increase the amount of women in the workforce, and create networks that will lead to the purchase of these products.
The third prize was awarded to Work Combinations Ltd. This program involves the creation of an online database that would allow business owners (contractors, etc.) to coordinate with Palestinian workers. During the first stage, the focus would be on construction workers, with the possibility of expanding into other areas such as industry and agriculture.
"People willing to make a decision to advance peace, willing to pay the price"
Vice President for External Affairs and key organizer of the competition Prof. Amos Drory added, "This is about imagination and vision, but also about gumption and stubbornness to make this happen. It takes a person like Guilford Glazer to push the envelope and place a topic like this on the public agenda. Thank you to all the people who really care about their projects. It is clear that everyone here believes in their ideas wholeheartedly. This is what it takes to make it happen."
Head of the judges committee, MK and former BGU President Professor Avishay Braverman commented on the stalled peace process and wished the winners success: "We need people willing to make a decision to advance peace, who are willing to pay the price. My prayers are with you," he said.
Photo: Dani Machlis/BGU
Related posts

Veterans Provide Practical Help, Comfort For Wounded IDF Troops
November 12, 2023