The game of chess is often affiliated with intellect, but now, an Israeli initiative is trying to determine just how much the game of kings influences cognitive enhancement. Israeli chess Grandmaster and vice world champion Boris Gelfand has set up the Grandmaster Chess Research Program in collaboration with the University of Haifa.
Related articles
The program will develop the first Hebrew-language educational software program to teach chess in schools and kindergartens; and establish an international program for training chess instructors and coaches.
"I am honored that the University of Haifa has decided to develop studies connected to chess and I do believe that through these studies we can help children and people of all ages … I am sure this will make our society better – I know people leading in intellectual professions who succeeded thanks to their playing chess in school and continued playing alongside their professional development," said Gelfand at a reception held in his honor at the university.
The researchers will examine the impact of chess on students' abilities in math, language acquisition, and other areas.
Analyzing the impact chess has on cognitive functions.
"This initiative is introducing chess and the disciplines involved in the game's development into the academic world as never before," says Vice President and Dean of Research Prof. Michal Yerushalmy.
Sign up for our free weekly newsletter
Subscribe
"Through advanced studies in the University's Department of Computer Sciences and other innovative facilities and with the ongoing guidance of Grandmaster Boris Gelfand, the program will provide an opportunity to achieve breakthrough research and social outreach in a field that has not yet been fully explored," she explains.
"The University of Haifa is home to some of the best minds in cognitive and developmental research and is well positioned to examine the impact of chess on students' math skills, language acquisition, and other skills," she adds,
The University of Haifa's Grandmaster Chess Research Program will initiate and take part in multiplatform collaborations with international experts and grandmasters to explore the multidisciplinary aspects of chess, such as the scientific, cognitive, political, cultural and historic.
The program will also work to promote the inclusion of chess in school curricula and will develop the first comprehensive educational software program in Hebrew for chess instruction.
There have been other studies on the benefits of chess conducted throughout the world: A study by IBM showed that learning chess improves reading performance and a report by the Education Ministry in Moldova found that grades increased in all subjects for young students learning chess.
Photo by Gary Simmons
Related posts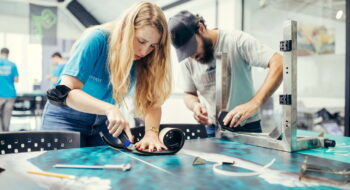 Tech Innovators Come Together To Help Israel's Wounded Warriors
September 18, 2023