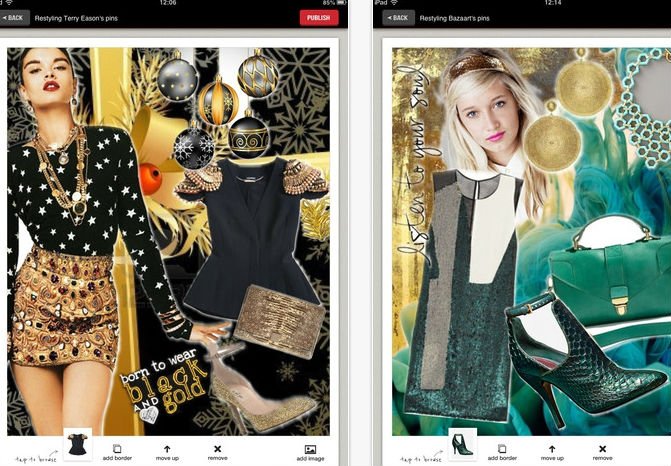 Popular content-sharing service Pinterest is a place to collect high quality images of things we love.  But once these images are stored in the site's online pinboards, what else is there to do with them? Israeli startup Bazaart wants to take these images a step further, and has created a platform that allows users to create beautiful virtual collages from photos on Pinterest.
Related articles
Stas Goferman, Gili Golander, Uri Kogn, and Dror Yaffe founded Bazaart in February 2012 and it was officially incorporated in May. "I was doing research on computer vision and automatic collage creation while at the Technion," Goferman tells NoCamels. When the three men met Gili Golander, a fashion blogger, the idea for Bazaart came to fruition. "The core idea of Bazaart was always collage creation, specifically on the iPad," Golander explains. "The Dreamit Israel Accelerator accepted us based on our idea, and we headed to NYC for the summer to build Bazaart," she says.
When a user first opens the Bazaart application on the iPad, a feed of collages made by others emerges on the screen. A user can decide to either choose a collage from the feed to edit, or create a unique collage from scratch. When an existing collage is clicked, users can see where it is those Pinterest images came from, whether it's from an online store, blog, or a personal photo. These existing collages can be rearranged, and then published to the Bazaart feed under a user's Facebook profile. "We let our users make an interpretation of existing collages, its less intimidating sometimes than starting from a blank canvas," says Golander.
"When you create, we want to give you credit for your art"
The "more daring type" users can create a collage from scratch by adding any images from Pinterest. To find images, users can type a company name, store, or user into the Bazaart search bar, and related Pinterest boards appear. These photos can be cropped from their backgrounds, scaled, resized and rotated. Users can also choose which photos to send to the foreground or background, in order to create the perfect collage-look. Once complete, collages can be saved and subsequently posted in the Bazaart feed. "All you need to do to publish your collage is connect with Facebook, there is no new username required. When you create, we want to give you credit for your art. We are adding Twitter and other login options soon," Golander tells NoCamels.
In the current version of the Bazaart application, collages can be shared on Pinterest, Facebook, Twitter, Tumblr, saved to the iPad camera roll, and emailed. While all collages created using Bazaart are public through the platform, the company hopes to soon develop private collage-creation options. "Similar to the way Pinterest has just launched the option of private pinboards, we are working on a private feed so you can create private collages," Golander tells NoCamels. Right now, the application can only run on the iPad, but can be viewed on a computer desktop. "We want to expand our web functionalities as well as develop an iPhone and Android version of Bazaart," Golander says.
The company has used Pinterest as their starting base for content because they believe in Pinterest's success and popularity. "We love Pinterest and we believe that it solves a real problem of photo accumulation and organization," Goferman explains. In addition, Bazaart's target market right now is the same segment that Pinterest targets: Females of an average age of 35. Bazaart does plan to expand, "in the future, we [also] want to connect to sources like Instagram, Etsy and Facebook," Golander adds.
Bazaart also wants to broaden the type of collages created, and the users making them. "We started our message with a big focus on fashion. Now, we are opening up Bazaart to other areas like computer design, wedding planning, home design, and anything else," Golander says.
Partnering with big players
Sign up for our free weekly newsletter
Subscribe
Bazaart is looking to monetize through collaboration with brands and retailers. This summer, Bazaart launched a promotional collaboration with NY fashion retailer Lioneque Stlye, in which users were encouraged to create collages from Lioneque's Pinterest pins in the hopes of winning a prize. Bazaart's team has also created collages for people in the fashion industry, using their pins to create a buzz about the company. "We are talking with a very big publication and a huge e-commerce platform. We are trying to figure out the right moment to partner with a bigger player," Golander says.
For obvious reasons, much of the application's traffic comes from Pinterest. "People start sharing their collages on Pinterest, and it is the main way people find our website and download the app," Golander explains. The company says they also have active Facebook, Twitter, and Tumblr accounts. "We really believe we have to be social from day one," says Golander.
Bazaart has two main competitors in the virtual collage-creation market, Polyvore and PicCollage.  The Bazaart team believes that their company is unique because of the app's deep integration with Pinterest, mature audience with varied interests, and future creation features.
Targeting big markets
At the moment, Bazaart has around 3,500 users. The company is first focused on growth in North America and Western Europe. The application was featured on two television shows in Canada, CTV Kitchener on CTV News, and App Central on BNN (Business News Network). In addition, the company was selected from more than 130 startups to attend TeXchange, a new program created by the UK Israel Tech Hub at the British Embassy Israel.
Bazaart is looking to angel investment to complete seed-round funding. Their fundraising goal is $750,000.
Gili Golander graduated from Ben-Gurion University with a M.Sc. in Human Factors Engineering. She worked for Onset Technology, Wydeband, and ITG as a developer and UX expert. She also worked as a fashion editor and journalist at Megafon – an independent Israeli online newspaper. Stas Goferman served in the IDF for 10 years in an elite intelligence unit. He completed his M.Sc with Honors in Computer Vision and B.Sc summa cum laude in Electrical Engineering from Technion, where he developed his patent for automatic collage creation. Uri Kogn holds an MBA degree from the University of Haifa and B.Sc. in Computer Engineering from Technion. Previously, Kogan was developing medical systems at Given Imaging Ltd. Dror Yaffe served in an elite tech unit in the IDF. He is a self-taught software and marketing hacker who has been a finalist in the Israeli Biztech, European Seedcamp, and Microsoft Imagine Cup competitions.
The four cofounders are based out of Tel Aviv, Israel. The company's marketing and community managers work from abroad.
Photo: iTunes screenshot
Related posts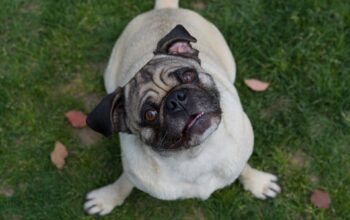 AI Doggie Doctor Diagnoses Breathing Problems In Pugs & Boxers
December 10, 2023