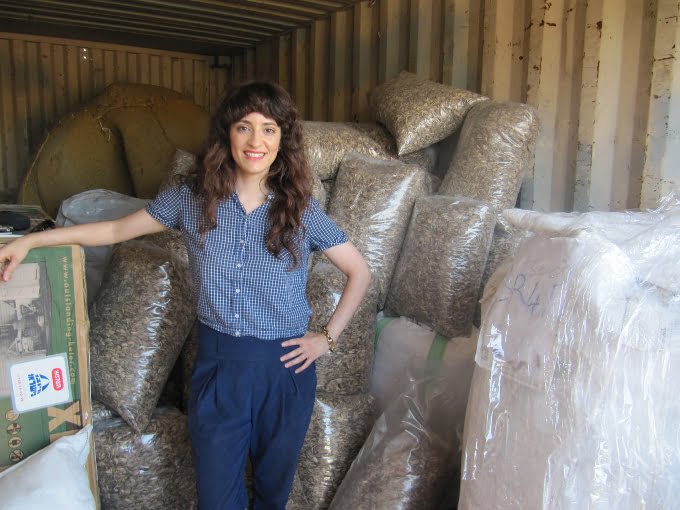 If there's one thing Israelis and Arabs never argue about – it's their mutual love for sunflower seeds. "Seeds of Bliss" (بذر / גרעינים) is a project by Israeli artist, Noam Edry, which brings Middle Eastern peoples together through the ancient munching and shell-spitting habit.
The artist's goal is to bring people in the Middle East together to chew a total of 10 tons of sunflower seeds. In order to do this, Edry chose pairs of neighboring Arab and Israeli cities, such as Aqaba and Eilat, Nablus and Haifa, and Jenin and Afula. Successful events have already taken place in Aqaba in Jordan and Haifa in Israel with Israeli and Arab "star chewers."
Related articles
Edry's inspiration for Seeds of Bliss came from the 2010 installation of controversial Chinese artist Ai Weiwei, which consisted of 10 million sunflower-seed replicas spread across the floor of the Turbine Hall, in London's Tate Modern Museum. These seeds were hand-made of porcelain by 1,600 artisans in the village of Jingdezhen, China's "porcelain capital." The work reflected on mass consumption, Chinese industry, famine and collective work.
When Edry saw the exhibition, she was surprised, thinking that sunflower seeds are the emblem of the Middle East. She also remembered that while living in London, her parents used to eat sunflower seeds in front of the TV so as to keep their "Israeliness". So "to compete with the work of the Chinese artist," Edry thought about an installation representing the Middle Eastern expertise related to sunflower seeds – chewing and spitting. She went even further and transformed snacking into a social activity.
The artist started to connect "expert chewers" from neighboring Arab and Israeli cities to share the pleasure of a long mutual tradition of cracking seeds. The basic idea is to have 10 expert chewers from both sides who visit each other's cities, sit together for days and crack sunflower seeds, drink coffee, smoke hookah and socialize. The artist's aim is to collect 10 tons of chewed sunflower seed shells and ship them to an art space in London for an exhibition.
The project's opening event was held on August 23rd in the artist's birthplace, Kibbutz Ramat Yohanan, in northern Israel, where community members and residents of adjacent Arab-Bedouin villages together chewed the first few kilos of sunflower seeds. But that was only the beginning.
The Aqaba and Eilat Chew
"Initially, I thought I would do the project in London with Middle Eastern people living there," Edry tells NoCamels, "but I was in Aqaba in Jordan for my 30th birthday, and I spoke to the people there about my idea, and they said: 'come here do it with us'. And I asked them: 'why don't you come to Israel?' They said they cannot come. Then reality hit me in the face, the reality of politics. But then I decided: 'NO, I'm going to ignore it.'"
And she did. On September 9th, an Israeli team of chewers (Jewish and Arab participants from Eilat and elsewhere) travelled to nearby Aqaba to spend five days sitting together with locals in a café, cracking sunflower seeds. Edry explains: "It is an attempt to bypass politics, by making a simple gesture that is almost absurd. So absurd, that it becomes poetic. I am attempting to 'ignore' the political reality, like a child who is unaware, and to see how far I can go with it." She continues: "When I tell people about my project, they look for the candid camera, and they laugh! Then they look at me like I'm crazy. But soon enough they begin smiling and nodding, and usually they volunteer to take part or to donate. We had an overwhelming amount of positive reactions."
Edry described the Aqaba event to NoCamels: "After a while the entire city knew about the project. At first they thought we were weird, someone at the cafe even called the police! But soon even the policemen were cracking with us! And everywhere we went people were shouting to us 'biser!' ("Seeds" in Arabic). Even the Jordanian tax officer at the border insisted on coming to Al Firdous Café to crack with us!
"Within a day or two there were seed crackers in every corner on every street. Even the workers at the mosque in their little dormitory [joined in]. We were invited by families into their homes to crack with them and film it, they wanted to be a part of the project. The dedication of the Aqaba team is amazing! They came every night and every day to be with us, they took a holiday from work, and we spent five days together! Eight of us and 10 of them. It was so heartwarming."
Edry is currently planning a corresponding event in Eilat, however she faces difficulty in getting the Israeli State to approve the Jordanian's VISA applications. "On the ground, the people are amazing, they open their homes and their hearts to us. But the bureaucracy makes it so hard for us to repay them with kindness," Edry says, "most of them have never been to Israel, they dream about the lights of Eilat. It fascinates them to see a city just a stone's throw away and not to be able to venture there. They stand on the shore and shout: 'Eilat Al Habiba (our beloved Eilat).'"
Sign up for our free weekly newsletter
Subscribe
"On the other hand," Edry continues, "people of Eilat see the lights of Aqaba, they may even be curious about it, but they hardly venture there either. Why? Because they are afraid, they have been raised in fear. Here the walls are not bureaucratic but psychological. The people who came to Aqaba from Eilat – most of them had never been to Jordan, some had never been to an Arab country, some were very afraid, but they had such a positive experience that I am sure they will be back," The artist says.
The Haifa and Nablus Chew
Another "Big Chew", as Edry calls it, took place on the 3-5th October in an Art and Street Culture festival in Haifa which had almost 130, 000 visitors. Ten people from Nablus  in the West Bank came as guests for three days to join the cracking adventure, and had an overwhelming experience. When asked about their visit in Haifa, they had no words to describe how they felt. "At first we were afraid of coming to Haifa and we thought that people would hate us, and instead we were greeted by loving people, who made us feel so welcome and at home," said one of the chewers from Nablus.
A few tons of sunflower seeds were donated by Khaled Zarubi, an Arab Israeli who specializes in sunflower seeds. Other donations came from Jewish, Muslim and Christian farmers and seed companies all over Israel. Edry explains: "The sunflower harvest is coming to an end, and I have been going straight to the fields with a van, almost every day, to collect a bagful of seeds that the farmers keep especially for Seeds of Bliss." Both the Haifa City Council, in conjunction with the Haifa Museum of Art, and the Nablus Governorate have adopted this project and are sponsoring the Haifa-Nablus chewing events.
A month from now, Edry is planning to make the trip to Nablus with the Israeli team. The artist found strong support from the Nablus Governorate, currently planning the big event in the city.
The next couple of cities taking part in the project will be Afula (Israel) and Jenin (West Bank) in November, which are 30 minutes apart. "This is where the project becomes organic," says the artist, "The participating adjacent cities are a few kilometers from each other. Seeds of Bliss is not creating something new, instead it relies on structures that were already there – but got neglected."
The Exhibition and the Documentary
Once the 10 tons of sunflower seeds are collected, they will be sent to London, where there will also be a chewing event with people of Middle-Eastern decent. "I have been contacted by British curators who love the idea."
The artist plans to exhibit the seeds as a "pile of rubbish!" She says: "when we collected the shells from Hasan's cafe in Aqaba, there were cigarette butts and cans inside too. It is impossible to separate, so it becomes part of the work. Just as much as all the participants become equal contributors to the art piece. Since one person can only consume around 200 grams a day, imagine how many are needed for 10 tons – thousands of people… It's a big group project."
Additionally, a documentary will be projected along with the shells. Edry says that everything is filmed and documented, every meeting, every conversation, and every event. The five-day performances will be filmed and publicized in real-time.
Some might say that to reach the 10-ton-target will be as difficult to achieve as peace in the Middle East, but Edry emphasizes that what really counts is the "quality" not the "quantity" of the process. "The goal is to have a meaningful encounter and to develop a real friendship." she concludes.
Related posts

Veterans Provide Practical Help, Comfort For Wounded IDF Troops
November 12, 2023