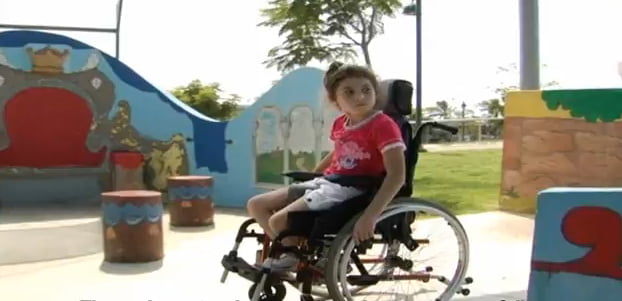 The "Friendship Park" in Ra'anana, Israel, is not just any park. The playground, established within the Ra'anana City Park, was built in a way that allows both disabled and non-disabled children to enjoy all facilities.
The park and all its equipment was adapted for children and adults with special needs. This includes paths, swings and carousels that can accommodate a wheelchair, as well as adaptations for children with hearing and sight impairments.
Related Stories:
World's First: Israeli Call Center Employs Mainly Mentally and Physically Disabled
Israeli Sports Organization Helps Disabled Go Extreme
Even though the playground is designed to accommodate children with special needs, it is an inclusive park, where all children can come and play together.
The unique model developed in Ra'anana consists of a social program that includes afternoon and weekend activities, as well as workshops in primary schools to promote acceptance of those who are different.
[youtube]http://www.youtube.com/watch?v=CNRwLXcUJ8Y&feature=relmfu[/youtube]
Following the park's inauguration in 2005, other municipalities in Israel are looking to create similar parks. But the Friendship Park in Ra'anana is drawing more than just local attention: it is gaining international recognition as well.
Sign up for our free weekly newsletter
Subscribe
Most notably, last year, Ecuadorian Vice President Lenín Moreno Garcés – who is bound to a wheelchair himself – visited the park. He expressed interest in the park's concept and according to Beit Issie Shapiro, which developed the concept, he is planning to construct over several similar playgrounds in Ecuador.
Ecuador is one of several countries that showed interest in the program. "We received applications from different countries that have heard of the park and requested assistance in establishing their own," explains Ronen Cohen from the Beit Issie Shapiro.
Cohen tells NoCamels that "they chose to turn to us because of our model's unique combination of physical accessibility and structured social inclusion activities."
One of the children playing in the park is Orian Gal – a nine-year-old boy who suffers from epilepsy and psychomotor impairment, which leads to a reduction in the speed of thought and difficulty or slowness in movement and speech.
Orian regularly comes to the park together with his brother, Rom, and his sister, Yali. "To play here is good for him. His favourites are the slide and the swings," says his father, Shay Gal, "Our only concern is for Orian to feel happy."
Related posts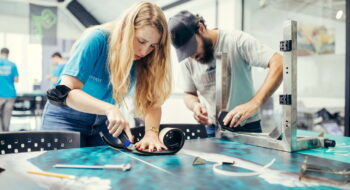 Tech Innovators Come Together To Help Israel's Wounded Warriors
September 18, 2023