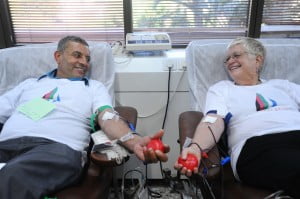 As Israeli and Palestinian diplomats returned from yet another round of butting heads, this time at U.N. headquarters, something quite contrasting took place on Israeli-Palestinian soil.
Last week, members of The Parents Circle Family Forum, a group of Palestinian and Israeli families who have lost children and other relatives to the conflict, came together to donate blood to each other's hospitals as part of their activities marking International Peace Day.
The gesture, headed by a new initiative known as
Blood Relations
, hopes to be the beginning of a worldwide campaign of blood sharing. The Initiative of sharing blood through mutual blood donations was the result of a global project called "The Impossible Brief," which staged a competition inviting creative minds from all over the world to present ideas that would ultimately bring Israelis and Palestinians closer together.
The winning idea, to have Palestinians and Israelis donate their blood, was chosen by a panel of Israeli and Palestinian judges for what they said would be the ultimate expression of reconciliation.
Last week, the Parents Circle Family Forum, together with The Peres Center For Peace, came together to host a first of its kind event at the Peres Peace Center in Israel's mixed city of Jaffa. The event included an art exhibition called "Impossible Brief", a panel on Peace Branding titled "Everyone is talking about Peace" as well as the launching of Blood Relations.
The donations that were collected during the PCFF's first blood donating event at Tel Aviv's Cinemateque will be shared by Israeli hospitals through the national Blood Bank, Magen David Adom, and the Al-Makassed Islamic Charitable Society Hospital for Palestinians in East Jerusalem.
The message the organization is hoping to convey through this joint venture of blood donation is reflected clearly in their logo: "Will you hurt someone who has your blood running through their veins?"
Nathan Freifeld – Art Director of Saatchi & Saatchi, the advertising agency in charge of launching the "Impossible Brief" competition and part of the Blood Relations creative team, told NoCamels after giving blood that "participating in last week's event was a truly emotional experience."
Explaining why he felt compelled to donate his own blood, Freifeld said he could not stand aside indifferent "when people who have lost their loved ones are able to put aside their differences" and not only engage in dialogue but donate from their very own blood. "If they can do it, anyone can," he said.
Since last week's launch there have been 60 Israeli and Palestinian blood donations, and 700 virtual donations, which are equally as important for the purpose of raising awareness, breaking barriers, creating dialogue, and bringing hope to the Palestinian and Israeli conflict-ridden reality, according to Freifeld. Blood Relations hopes to "bring each side to understand the other, as well as share the pain," he added.
Photos by Eldad Raphaeli
Watch a video about the Impossible Brief here:
[youtube]http://www.youtube.com/watch?v=JsN2Rqim5cY[/youtube]
Related posts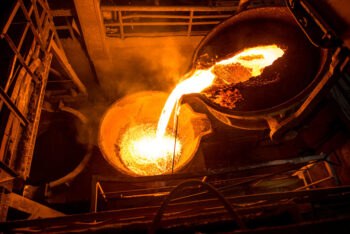 Green Steel: Startup Cuts Carbon Emission With Sodium Substitute
December 06, 2023