By Or Barnea, for Ynet News
September 14, 2011
< 1
minute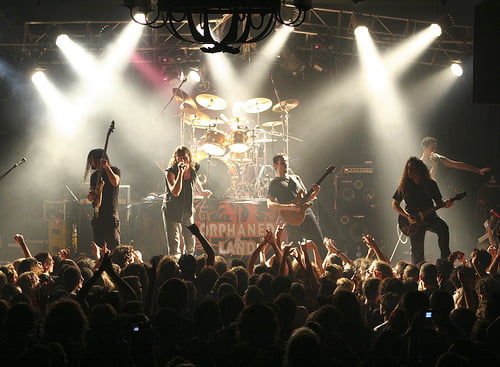 Over the past few years, Israeli metal band Orphaned Land has become one of the Jewish state's cultural ambassadors thanks to its popularity in the Arab world, but Saturday night marked one of the most unusual and exciting moments in the group's history.
 As the tensions between Israel and Turkey continued to rise, and after the Israeli Embassy in Cairo was attacked by an angry mob, the Israeli musicians performed in Istanbul in front of an audience of some 5,000 fans from Turkey, Egypt, Lebanon and Iran.
 The concert was part of the Unirock Open Air Festival. Before taking to the stage, the band members met with 50 fans from Iran. "It was insane," lead singer Kobi Farhi told Ynet.
"They brought everyone backstage and told us how much they loved us. They said rock music was banned in Iran and that some of them would not be able to return home because they came to the concert.
"At that moment we saw good and pure people, and we also realized what they had to go through to listen to the band they love. They all posed for photos with us with Iranian flags, and it was an emotionally moving experience."
The band is expected to give another concert in Turkey in about two weeks and to launch a long European tour in November. "I still don't know how to go about it," said Farhi about the band's role in the Arab world.
…
To continue reading this article, click here.
Via www.ynetnews.com
Photo by [nivs]
Related posts

Veterans Provide Practical Help, Comfort For Wounded IDF Troops
November 12, 2023