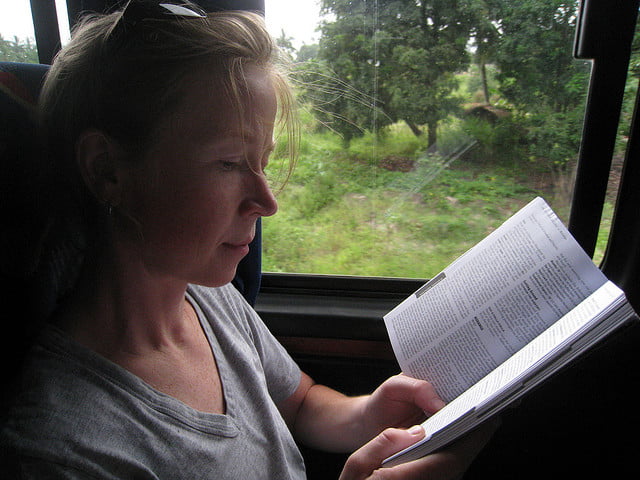 At this library there are no librarians urging visitors to be quiet, and no one will try to convince you to take "War and Peace." At this Israeli library in Kfar Saba you'll mainly find noisy buses, a busy street and the smell of cigarette smoke – all fitting the first library in Israel located at a bus stop.
Several weeks ago the Kfar Saba municipality set up libraries along Weizmann Street, on both sides of the road, in the least expected place. Shelves installed on the bus stops' walls were filled with books in different languages, of various genres, including cookbooks and poetry collection.
Passengers may borrow a book while waiting for the bus, read it during the ride, and return it wherever they get off. Those who would like to finish reading the book can take it home and return it several days later.
"Residents here are deeply rooted and take an interest in culture," says Kfar Saba Mayor Yehuda Ben-Hamo. "In order to meet the residents' needs, we have launched an initiative making books more accessible to our residents and encouraging them to use public transportation as part of the agenda of a healthy and green city."
 The project was initiated by Daniel Shushan and Amir Matalon,  graduates of the Technion's Faculty of Architecture, two urban artists who suggested the idea to the mayor with the aim of giving the city's residents access to books.
Residents are invited to add their own books, the municipal library fills the shelves on a daily basis, and at this stage the municipality has decided not to keep records of those who borrow the books or check whether they are returned.
"At first we asked ourselves how long it would last," says Ossi, a city resident. "But then we decided to get rid of the negative thoughts because this is a good thing which has proved itself after only one week. At the beginning of the week the shelf was full of books, throughout the week they disappeared, and suddenly there are new books."
…
To read the full article, click here.
Via www.ynetnews.com
Photo by sociate
Related posts

Veterans Provide Practical Help, Comfort For Wounded IDF Troops
November 12, 2023