Walking through Holon, in Israel is a little like walking into a fairytale: In recent years the city has turned many of its gardens into live storybooks, with giant statues scattered across the lawns, based on characters from famous children's books.
The latest storybook garden inaugurated in Holon — now termed the "children's city" — is called "A Story From The Heart." It is based on a children's tale that explains the sometimes difficult subject of organ donations.
The project came from a cooperation between the municipality of Holon and the National Center for Transplants. The statues, all friendly-looking characters in shape of organs, are based on a book written by author Efraim Sidon, which tells the story of a little girl in need of a heart transplant. The purpose of the book, according to its author, is to educate children on the importance of organ donations.
Located in one of the oldest gardens in the city, project was created with the help of landscape architect Carmela Gabriel. Sculptor Meir Trosman then created 6 statues,  made of stone and painted in durable colors.
"The children that will come and play in the garden will be exposed to the subject of organ donations in an inviting and unthreatening manner," sais Moti Sasson, Mayor of Holon.
Professor Rafy Biar, Chairman of the National Center for Transplant, said: "I hope that the younger generation will come to understand and pass on this important topic, which is that all of us will be able to save lives."
The general initiative to create storybook gardens started  started seven years ago and so far there are 34 such gardens spread around the city. All gardens have statues created by well-known artists and influenced by popular children's books.
[youtube]http://www.youtube.com/watch?v=BrMDIcfXxPU&feature=player_embedded#at=67[/youtube]
Related posts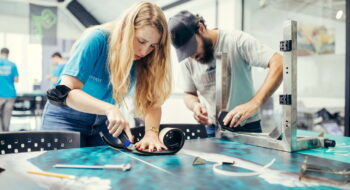 Tech Innovators Come Together To Help Israel's Wounded Warriors
September 18, 2023