An Israeli startup developing more effective drugs is joining forces with a Greek pharma firm to create a new company that will market novel treatments for patients with eye diseases.
BioNanoSim (BNS) not only creates new treatments, but also reformulates existing drugs, increases their potency, and prevents them from triggering serious side effects by packing them into "nanocapsules". The company was founded through the Hebrew University of Jerusalem's tech transfer company Yissum.
Together with Greek-based manufacturer RAFARM, BioNanoSim will be creating BNS Ophthalmics (BNSO), a new company that will market a range of pharmaceutical products developed by BNS to address serious eye diseases for patients around the world.
Its first product, BNSO-1, is a topical medication that has the potential to treat a wide range of inflammatory conditions. It's a reformulated version of the Tacrolimus topical treatment, a potent drug that is currently highly unstable, insoluble in water, and unable to permeate through the cornea.
By the end of the year, BNSO is expected to initiate a clinical study using the novel treatment in patients suffering from Chronic Anterior Uveitis, an inflammation of the iris that can be caused by a variety of infectious and non-infectious diseases. Uveitis accounts for nearly 10 percent of legal blindness in the USA, with 30,000 new cases annually.
"We are very pleased to partner with RAFARM and to leverage both organizations' expertise and infrastructure for promoting improved therapeutic options in the ocular area," said Simon Benita, Founder and Chairman of BNS.
"At BNS, we synthesize new chemical entities and develop innovative delivery approaches to address some of healthcare's greatest challenges. BNSO will use our proprietary carrier technologies to improve the delivery, stability, and bioactivity of drugs in multiple ocular segments."
Related posts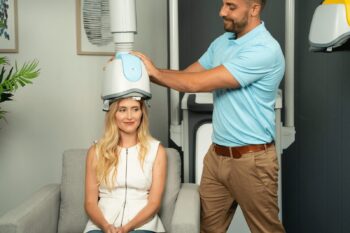 US Soldiers, Vets To Get Israeli-Made Helmets To Treat Depression
September 27, 2023