Redefine Meat has partnered with Giraudi Meats, Europe's largest importer of high-end meat.
The Israeli startup's plant-based beef, lamb, pork, and minced meat products will be sold in over 30 countries to Giraudi's existing customer base. It is already being sold in France, with Italy, Greece, and Sweden to follow later this year.
Giraudi will also add Redefine Meat's products to the menus of its chain of Beefbar restaurants across Europe. This comes less than a year after commercially launching in the UK, Germany, the Netherlands, and Israel. 
Redefine Meat uses special formulations as well as digital and 3D printing to produce "meat" with the same appearance, texture, flavor, and cooking properties as animal meat.
"Having such a prestige meat importer as Giraudi Meats – working with the best chefs and butchers all over Europe – integrate our New-Meat (Redefine Meat's product) into its portfolio of exclusive high-end meat alongside the likes of Angus and Kobe beef, exemplifies why New-Meat is defining a new category of high-end product in the meat industry," said Eshchar Ben-Shitrit, CEO and Co-Founder of Redefine Meat.
"Giraudi Meats' proven track record of creating new categories in the European meat market and its ability to continuously change and innovate makes it a great partnership, which will significantly accelerate the proliferation of New-Meat across Europe."
Riccardo Giraudi, CEO of the Monaco-based Giraudi Group, said: "Working intimately with the European food services industry, we're seeing fast growing demand for more flexitarian products to satisfy the needs of meat-lovers.
"We've been searching for a high-quality meat alternative to add to our high-end meat portfolio to address this growing market, and I have to say that New-Meat is in a category of its own. We believe that with this level of quality, combined with the product versatility across beef, lamb and pork, New-Meat will enable us to drive significant new revenue streams in the high-end meat market."
Redefine Meat is headquartered in Rehovot, Israel, and has over 240 employees in Israel and Europe. It was founded in 2018.
Related posts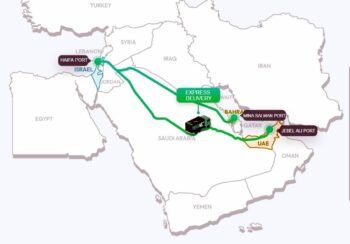 Israel And UAE Ink New Deal To Connect Ports Via Land Bridge  
December 07, 2023