Innoviz Technologies, a leading provider of high-performative lidar sensors and perceptions software has deployed its sensors at ports across China. Its sensors have also been deployed on the autonomous trucks and automated guided vehicles (AGVs), portable robots that are used to transport heavy materials for industrial purposes, of HiRain Technologies, a leading Chinese manufacturer and supplier of automotive electric products.
Innoviz develops lidar remote-sensing solutions for fully autonomous vehicles. Lidar is an acronym for "light detection and ranging" and it is used to calculate the ranges of various surroundings by targeting an object or a surface with a laser and measuring the time for the reflected light to return to the receiver.
The two companies have combined their solutions to improve operational efficiency, mitigate risks and enhance worker safety. Both systems can detect vehicles and pedestrians, as well as infrastructure typically found at ports with precise location, distance and size. The first deployment was in Rizhao port, in Eastern China.
"The global supply chain crisis is being made worse by labor shortages and higher levels of congestion at ports in China and around the world," said Omer Keilaf, Co-founder and CEO of Innoviz.
"The deployment of HiRain's autonomous vehicle and V2X (Vehicle to Anything, tech that enables vehicles to communicate with each other and their environment) systems using InnovizOne lidar comes at an especially opportune time, as it will greatly improve efficiencies and enable 24/7 operations."
"Lidar is one of the most critical technologies of our time and will play an outsized role in the development of not just autonomous vehicles, but also the infrastructure they require to communicate with one another," said Dr. Chengjian Fan, CTO & Deputy GM of Hirain Technologies.
Innoviz and HiRain began working together in 2018. HiRain plans to integrate Innoviz's lidar sensors into its platforms to make port operations even safer and more efficient.
Related posts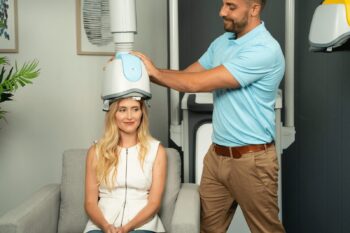 US Soldiers, Vets To Get Israeli-Made Helmets To Treat Depression
September 27, 2023