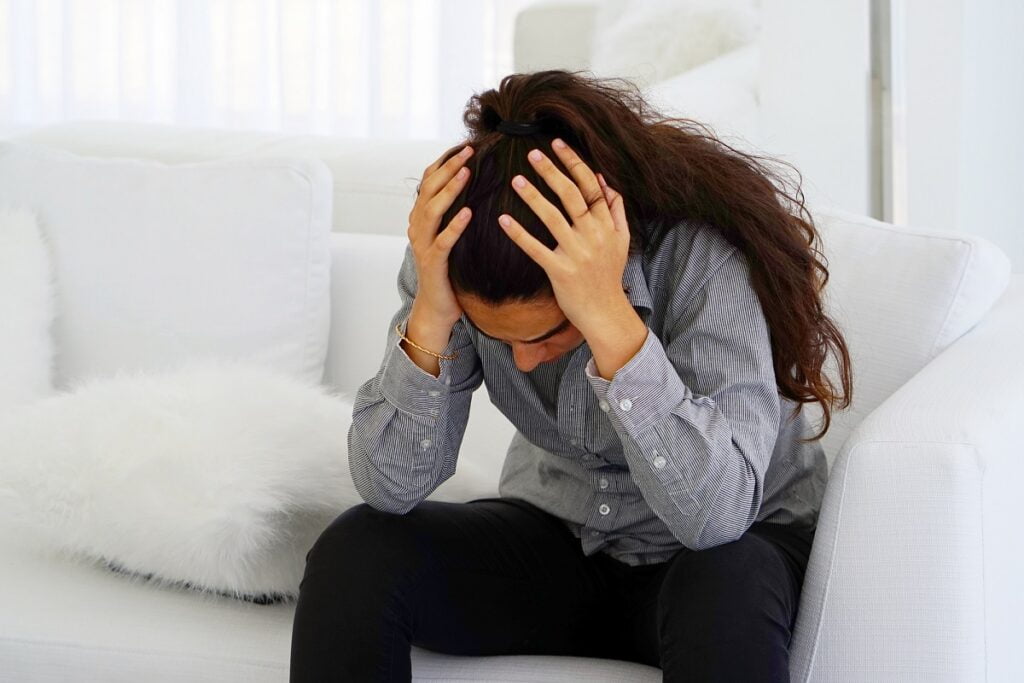 Losing a loved one is hard enough, but even after the emotional burden takes a heavy toll, nearly every family faces a significant financial burden, with an average total bill standing at $12,702, including $7,267 for the funeral alone, according to a "Cost of Dying" report put together by Israeli startup Empathy.
Empathy, co-founded by Ron Gura and Yonatan Bergman, is a Tel Aviv-based firm that created a digital companion to help families navigate the loss of a loved one beyond the emotional struggles. The company provides care managers, personalized task plans, places to save important documents, help with estate management, and real-time chats with grief counselors, as well as help with loss in the workplace.
While the company was launched just two years ago in July 2020, it has already raised $43 million by investors like Aleph and Entree Capital. In April 2021, Empathy launched in the US market, which Guru says "is very different than Israel" in the numerous financial obligations that occur after the death of a loved one. Inheritance tax, estate tax, and probate, the analysis and transfer administration of estate assets previously owned by a deceased person, are just a few the many responsibilities Americans are forced to deal with after the loss of a loved one.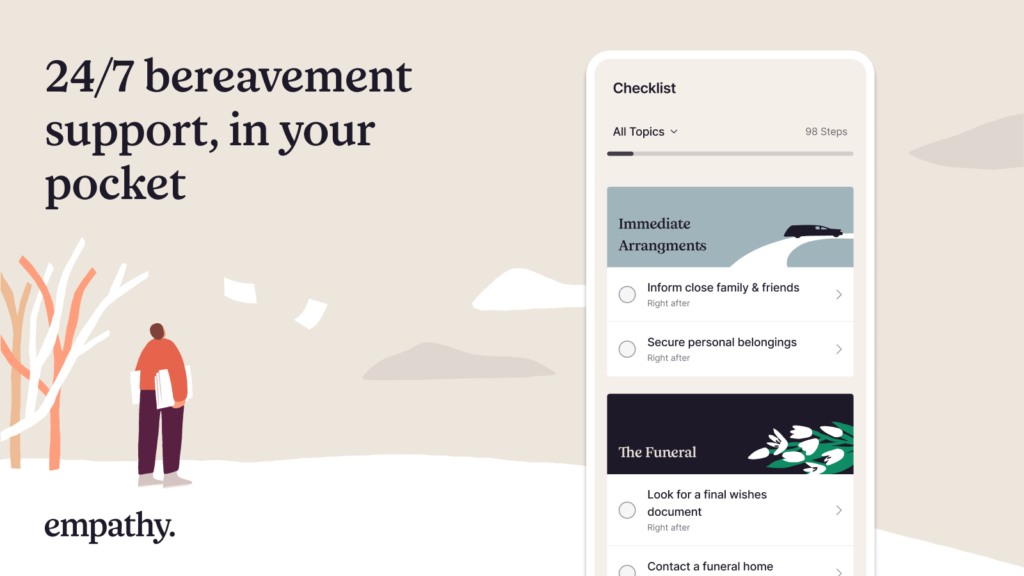 Earlier this year, Empathy was a finalist in the Social Impact category of the 2022 Apple Design Awards. Last year, it was selected as one of Google's Best Android Apps of 2021.
As the CEO and co-founder of Empathy, Ron Gura understands the financial, legal, emotional, and logistical challenges of dealing with death, and he has also witnessed the repercussions of the difficulties firsthand.
"I started to think about mortality in a more in-depth way when I lost my brother at a very young age. And I looked at my mom quite often and it was easy to see something had changed," he tells NoCamels, "One of the many reasons we're building Empathy today is for other moms, and other family members and other loved ones, who are bereaved. Clearly, hundreds of millions of people, in any given moment, is dealing at some level with loss. And we feel like we can save them time, we can save them money, and we can save them some of the headaches."
Later, he saw loss more than once, including in the US as a Product Director and General Manager at eBay when a colleague lost his wife. He calls it "one of the more eye opening moments" in his life.
"That is really when I learned more about the administrative and legal aspects of grief and bereavement. At the end of the day, just looking at his kitchen table with a pile of paperwork about probate, about bank accounts, Social Security, Veterans Administration, IRAs, pensions, all the vendors, the activations and credit cards. I was just blown away," he explains, "In the US, it's quite overwhelming to lose a loved one."
Gura says that it felt like he was watching his co-worker deal with complex workflows and he wanted to find a way to use technology to simplify then.
Sign up for our free weekly newsletter
Subscribe
"I think end of life is the single-largest consumer sector that is still untouched by innovation and completely unspoiled by software. At the same time, it's one of life's most challenging moments. So how come we're not using the same workflows we use for task management? Tax calculation? Live on-demand cost-effective on support? All the things we use technology for day in and day out? How come we're skipping this meaningful life event that is really much bigger than most days and weeks in our lives?" he asks.
The platform aims to streamline the workflow of dealing with a loved one's affairs and make it easy and more accessible. A premium feature on the platform even fills out forms and automates the closing of a deceased ones accounts, a process that Empathy hopes will alleviate the more than 26 hours a month that are spent on phone tying up these matters.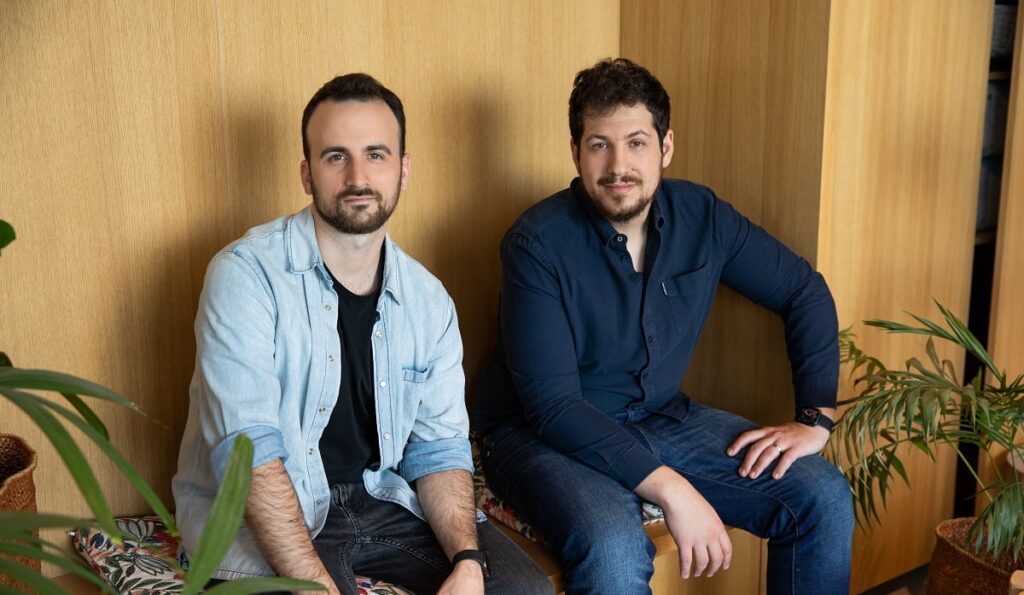 That's why we felt like we need to build on a combination of a headspace for grief, with a TurboTax for estate administration," Gura explains, "It couldn't be just one of the two, because they're combined. The reason you don't want to call Amazon to remove a spouse's name is because it's hard emotionally, not administratively. The reason you don't want to get another death certificate is because you don't want to certify anything further. It's not just the burden of calculating taxes, which is just hard, especially if you don't have a double double tax like support, and you need to do with pen and paper."
Empathy's platform, which includes an app with an easy-to-use and intuitive interface, combines tech solutions with support from real people, or care managers, who can guide you through challenges that include everything from estate settlements to dealing with grief. The one-on-one support system is also centered around simple and clear "to-do" and "how-to" lists organized by time which aim to help relieve mental struggles.
"Our tools can write an obituary on the spot, they can deactivate your accounts, if you don't need them. They can add layers of identity theft prevention, update the credit bureaus, and additional areas of support. Unfortunately, 30 percent of identify theft in the US is for deceased individuals. So it's a very big topic for us, helping you clear property, selling estates, opening bank accounts, and claiming benefits of money you deserve with just a few pictures from your phone. And it's a tell me once approach," says Gura, "You let the software do the work for you."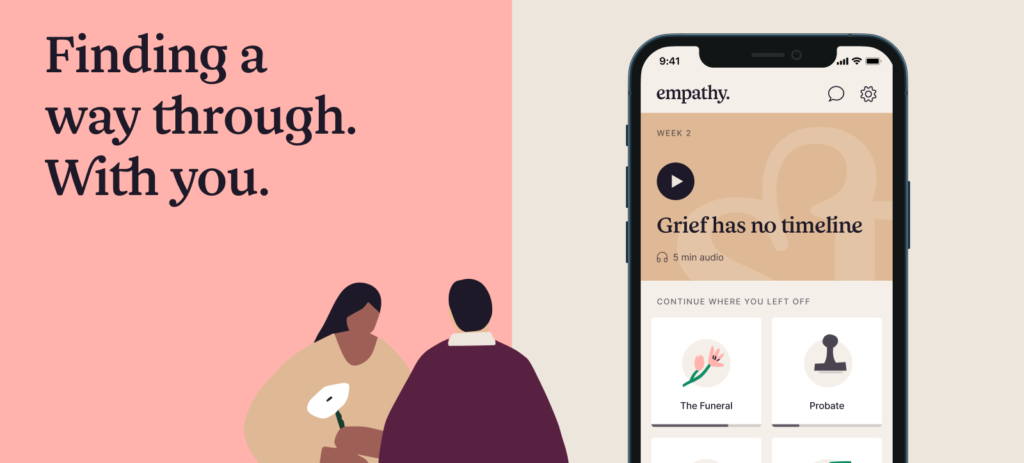 Another aspect of the platform is making it available for human resources personnel in work environments, who will be able to use it to offer various levels of support to their employees, who are going through difficult times due to the death of loved ones. Gura says Empathy already works with companies like US financial services firm Goldman Sachs and Israeli-founded insurtech startup Lemonade to provide this dedicated assistance during bereavment. Many of the companies also offer the Empathy platform directly to workers.
The company also recently announced it had expanded its partnership with New York Life Insurance Company, which also now offer its employer clients and employees access to Empathy's platform.
Gura, adds that Empathy wants to provide "more than financial peace of mind. We want to provide the administrative peace of mind and emotional peace of mind and support you in any way we can in those challenging times. As far as we see it, those values create value," he says, "We want to shift from transactions to relationships."
Related posts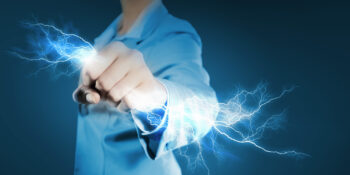 Thwarting Deadly Lung Disease By Electrifying Water Reserves
September 27, 2023