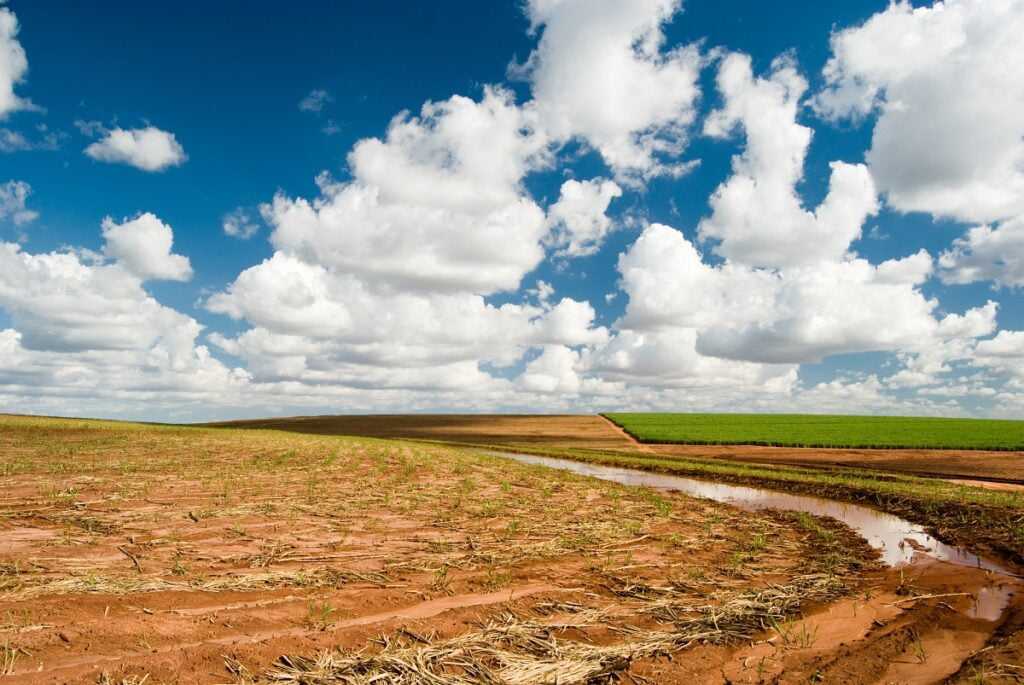 Several Israeli companies are employing innovative strategies to tackle global drought – an urgent crisis being highlighted by the United Nations' upcoming World Day to Combat Desertification and Drought on June 17.
Desertification, or land degradation in arid areas, and drought, a deficiency of rain, are universal crises. They extend both to developing countries and to nations worldwide. The United Nations reports that no country is immune from these global phenomena. Forecasts from the United Nations Convention to Combat Desertification and Drought estimate that droughts may affect over three-quarters of the global population by 2050. UNICEF estimates that one in four children will live in areas with extreme water shortages by 2040.
This year, the United Nations (UN) set a fitting theme for the World Day to Combat Desertification and Drought: "Rising up from drought together." With drought on the rise and desertification posing a threat to the productivity of land, the UN aims to bring awareness to these threats.
The people of Israel, a country dominated by desert, and facing water shortages due to drought and overconsumption throughout its history, have first hand experience with the challenges of desertification and lack of water. They have become leaders in agriculture and agritech for this very reason.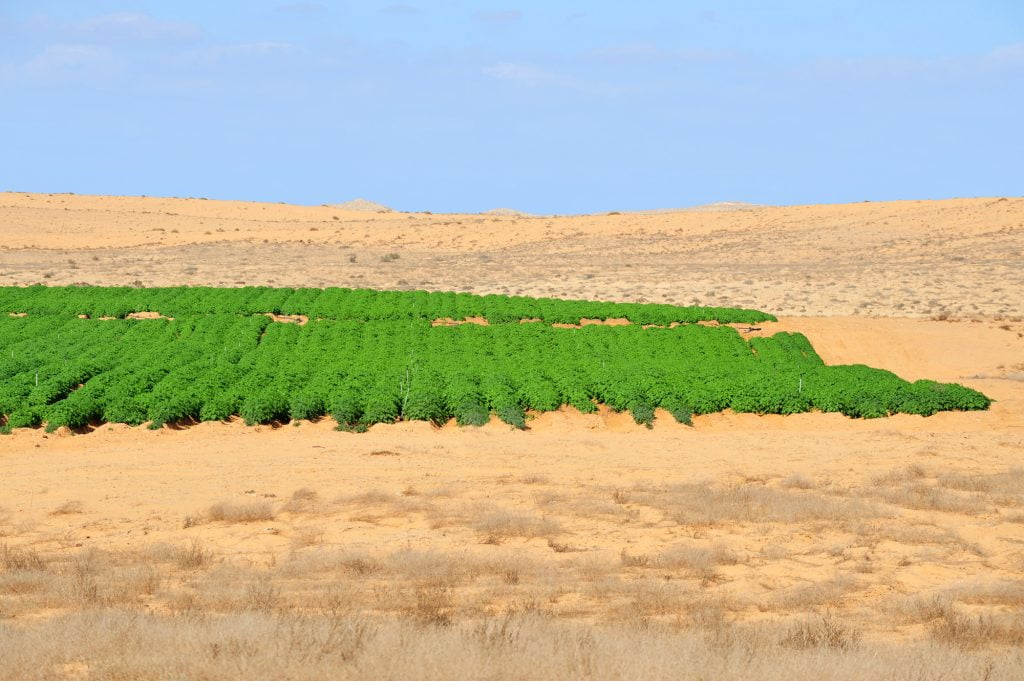 "The vast majority of the land of Israel on one end is the Negev [desert.] Due to lack of water, growing areas have become limited. And this is why it is so important to develop new techniques to enable growing, to increase a growing area of crops," says Orna Livneh, a member of the Israel Innovation Authority's (IIA) climate team, tells NoCamels.
"Early on since the inception of the country, we understood that we have to use technology in order to fully use the resources available," adds Hagit Lidor, IIA international marketing manager.
Ahead of World Day to Combat Desertification and Drought, NoCamels spotlights six Israeli companies working to counter these challenges.
Watergen
Israeli company Watergen is revolutionizing the collection of safe drinking water by converting humidity in the air into fresh drinking water. Employing the powers of the atmosphere, an unlimited and energy-efficient resource, the company has created water-from-air solutions to bring clean water to people around the globe.
The company's mission is aptly fitting for the UN's World Day to Combat Desertification and Drought, as they work to combat the crisis of drinking water scarcity around the world with their innovative method of taking water from air.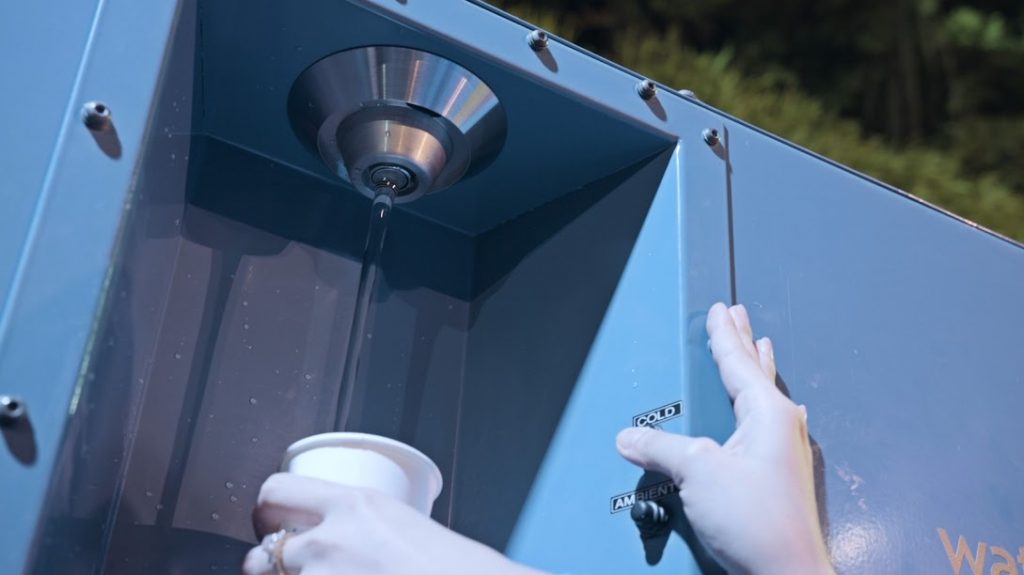 Founded in 2009 by Arye Kohavi and Avi Peretz, has become a global leader in the production and distribution of water-from-air solutions. Using their patented "GENius" technology, Watergen develops water generators that use condensation to extract water from the air. Their generations are cost-efficient and scalable, coming in a range of sizes to adapt to cities, villages, community centers, hospitals, schools, and homes alike. The company is owned by Michael Mirilashvili, a Russian-Israeli businessman and philanthropist, who is the current CEO and president of Watergen.
"We believe that access to clean drinking water is a basic human right, regardless of geographical location, skin color, or religion, and we are on a mission to bring our technology to every corner of the world to solve this dangerous problem," Watergen CEO Michael Rutman tells NoCamels in an email.
Netafim
A pioneer and leader in the field of precision irrigation, Israel's Netafim works to promote tailor-made irrigation solutions to save water around the globe. The company offers a unique sustainable agricultural approach that allows nutrient and water applications at the right time and place to optimize growing conditions.
"Our solution for more than 55 years is inherently solving the problem of water use efficiency. And the key word here is efficiency," Netafim, head of agronomy Ram Lisaey tells NoCamels, noting that water is a resource that is really lacking in many parts of the world. "The founders of our company found a solution to use almost 50 percent less water while irrigating the same amount of land or getting more yields."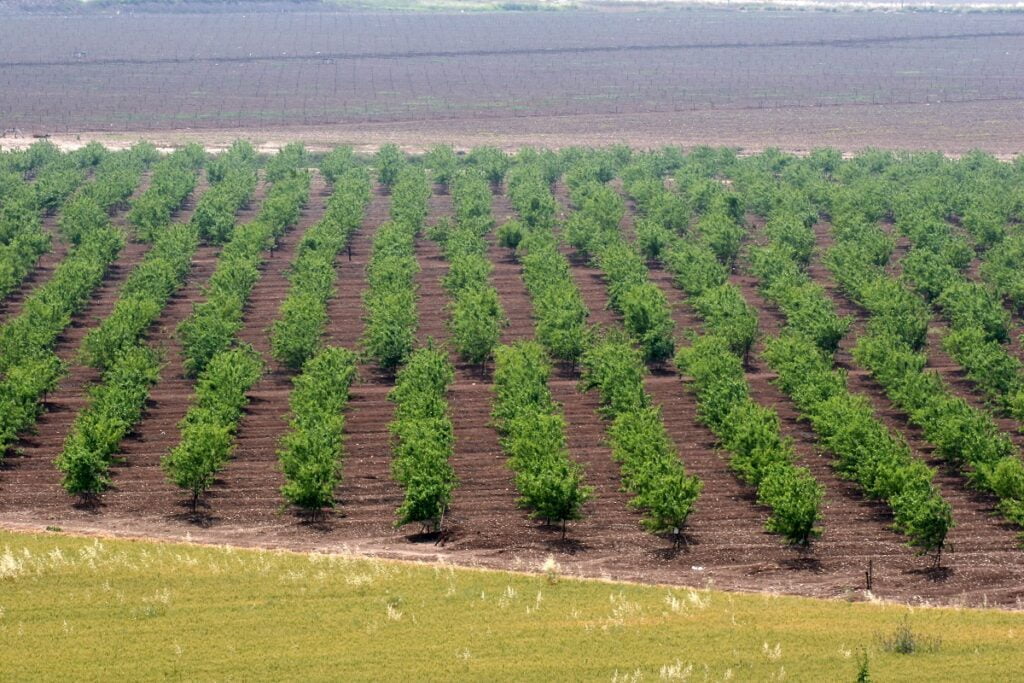 The company was founded in 1964 in the arid Negev desert in Israel. The founders understood the nature of extreme agricultural conditions and aimed to develop ways to efficiently irrigate crops and maximize plant yield. 58 years later, the company has expanded dramatically – moving beyond Israel to farms worldwide – to bring the environmentally-conscious benefits of precision irrigation to over 110 countries and over 2 million farmers.
"We can speak about water scarcity, about soil erosion, and of course drought. Food scarcity is, of course, below those in the chain because all of these things create problems of food security. Companies like us that are very much connected to the backbones of farmers and food, agriculture, and good production are trying to supply the best solutions to mitigate these issues," Lisaey says.
"These are not fake threats. They are real and they are big," he says of the growing threats of desertification and drought. Precision irrigation ensures that more growth does not require more time, labor, fuel, or materials.
SeeTree
SeeTree, an Israeli company in Netafim's investment portfolio, has developed an intelligence platform for trees, providing per-tree intelligence to growers who want to track the health and productivity of their trees. Using drones, satellites, digital sensors, artificial intelligence, weather information, and other data, SeeTree's platform partners with farms to scan and analyze hundreds of millions of trees. SeeTree's mission to efficiently grow trees is more relevant than ever, as protecting and restoring forests is essential to stopping desertification and drought.
Sign up for our free weekly newsletter
Subscribe
"We need to get those trees back. It's due to deforestation and urban trends. We can return the green to the planet, replant, and manage these plantations and these new forests – we just have to focus. I think that is important. It will help us with climate change and in getting the planet back to where it should be," Israel Talpaz, CEO of SeeTree, tells NoCamels. Talpaz founded the company in 2017 with Barak Hachamov and Guy Morgenstern.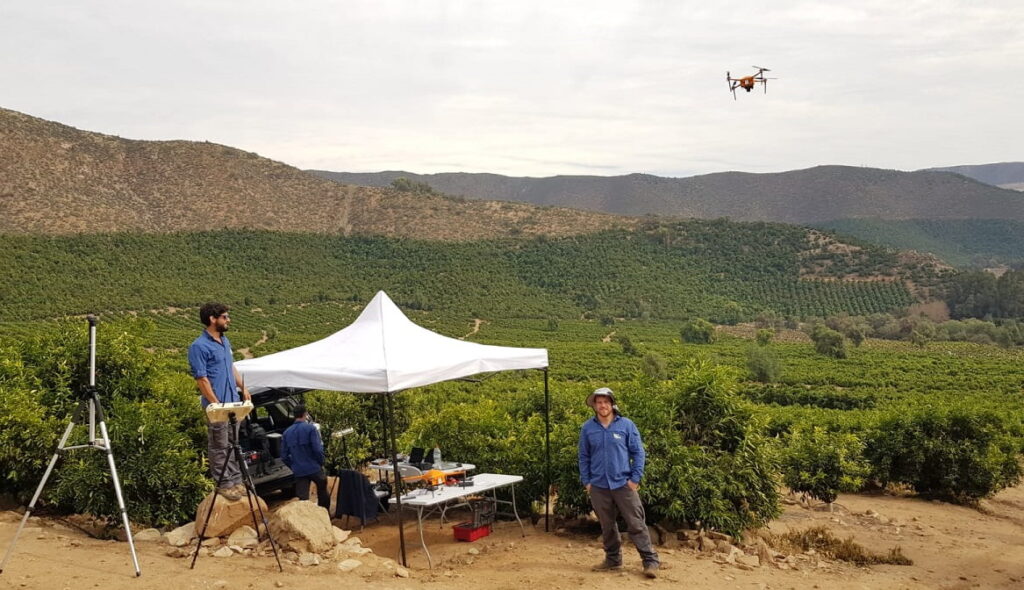 The company offers an innovative way to manage trees, Talpaz says. It's one that places a premium on data-driven technology, irrigation optimization, and agronomist advice. Individual trees require unique levels of water and chemicals – scanning and monitoring each tree allows for efficient and enhanced growth while minimizing waste of materials.
"This enables us to do the analysis from the tree level to many millions of trees worldwide," Talpaz says, "All of this technology is going into really doing more with less – especially on water and optimizing irrigation."
Trees are a critical part of the environment, yet the global tree population has been on a sharp decline. The global tree population is roughly half of what it was in the pre-civilization era, Talpaz explains. Amidst threats posed by desertification and drought, SeeTree believes it is imperative to bring trees back. With footprints around the globe – from Tel Aviv to California to the world's largest orange farm in Brazil – SeeTree is tackling climate crises head on.
Hilico
Companies like Hilico are aware that now – more than ever – it is imperative to conserve water. They also understand the consequences of drought and desertification. That is why they created the world's first portable rainwater collector. Their patented design, modeled after the structure of rare leaves in the Amazon jungle, allows users to be self-sufficient and environmentally conscious from home.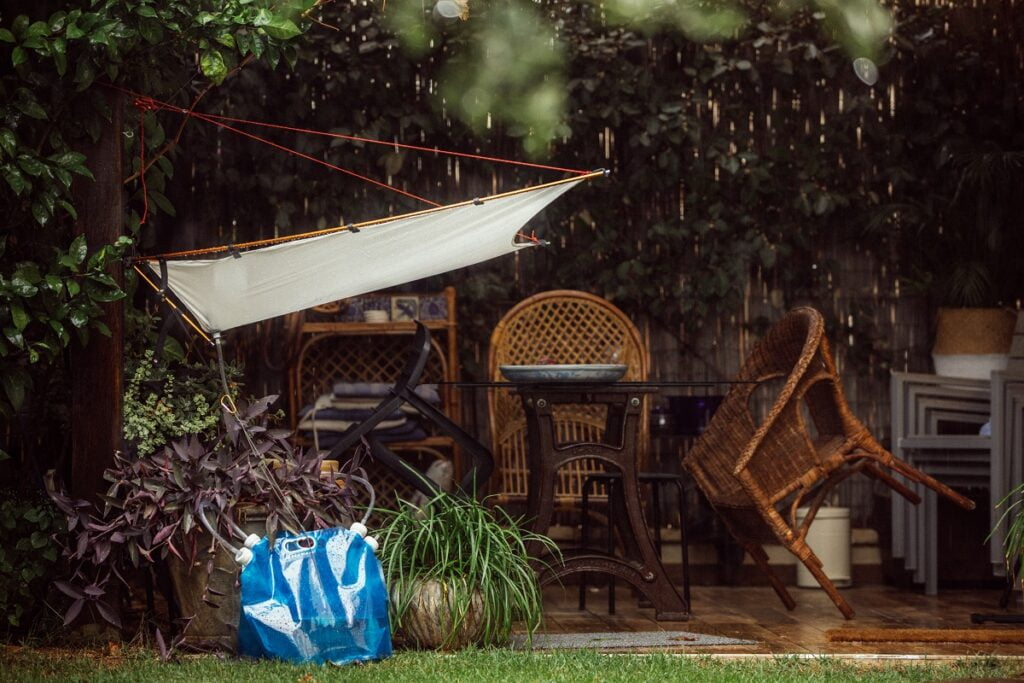 The company looks to rain, a huge and sustainable water source, to address the global water crisis. By bringing a simple and easy-to-use 2lb rainwater collector to consumers' houses, the company hopes to help the over 738 million people without access to clean water. The company's founders, Eyal Yassky and Moshe Beililty, also zero in on off-grid communities, helping them find solutions for distribution.
"The philosophy behind it is that water equals freedom, that's what it's all about. If you have access to clean water you're free to go to school, to go to work, to be safe," Yassky told NoCamels in April.
SupPlant
Israeli firm SupPlant is focused on digitally informing irrigation systems worldwide. Its system combines plant sensing, artificial intelligence, and data accumulated over 1,500 growing seasons to provide farmers with personalized irrigation recommendations amidst global water crises.
SupPlant offers the largest plant database in the world, company CMO Lior Naaman tells NoCamels. By placing AI-powered sensors at five plant locations – on the fruit, the leaf, and the stem, and in deep and shallow soil – the company aims to maximize water use efficiency.
"We were able to save close to 50 percent in irrigation both in Israel and in other countries in the region. We now have big projects involving dates and palm dates. Because they consume such large amounts of water in places where water is in great scarcity, this is a very big achievement," Naaman explains.
The company's tagline – helping farmers "speak better plant" – epitomizes its commitment to holistic analysis of plant growth and efforts to combat agricultural challenges like drought.
Through growth modeling, agronomic defiance, irrigation regimes, and growth modeling, the company's digital systems allow growers to handle extreme weather events and climate conditions in an ever-changing global environment.
In its latest development, SupPlant crafted a fully sensor-free Application Programming Interface platform to target 450 smallholder farmers around the world. Placing a focus on areas like India and sub-Saharan Africa, SupPlant aims to bring advanced technologies to farmers across the socioeconomic and geographic spectrum.
Phytech
With desertification on the rise, there is a pressing need to maximize the land we do have. Companies like Israel's Phytech are aiming to do just that by creating a decision support system designed to help growers manage and optimize agricultural production. Employing an IoT and plant-AI platform that includes a series of unique sensors on on plants, fruits, and irrigation systems, Phytech addresses challenges like drought, by collecting real-time data to provide better and higher yields.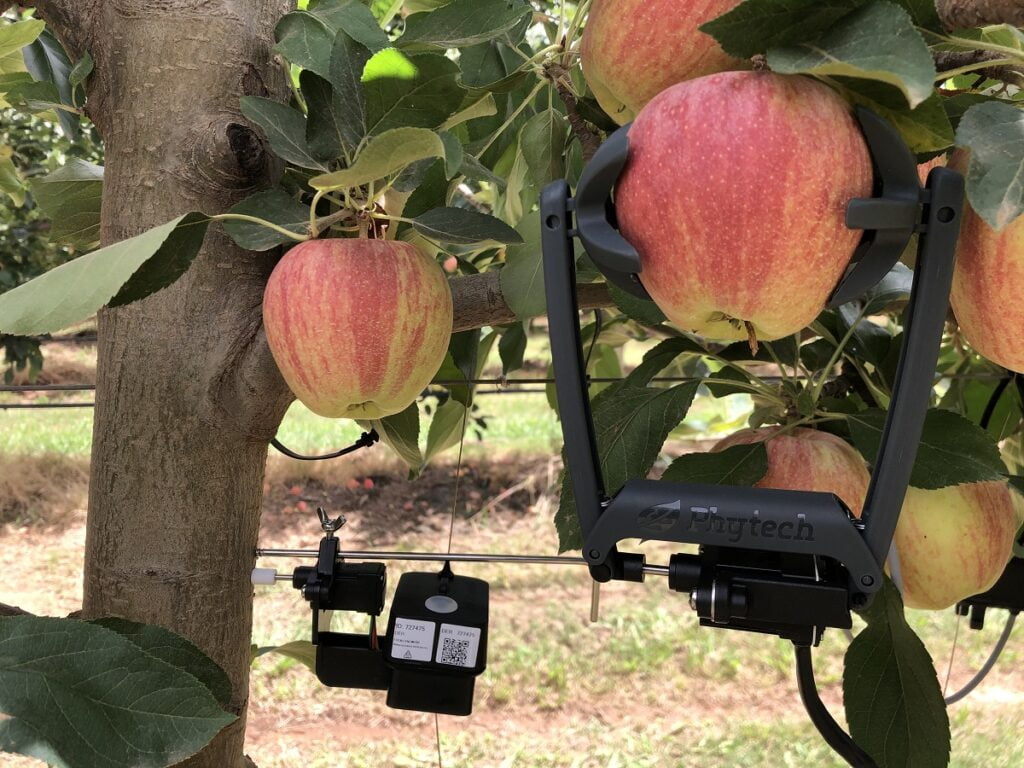 The company, founded in 2011 has built a support system with three main components: direct plant sensing, data analytics, and plant status and recommendations. By placing sensors on a range of select plants, Phytech's direct plant sensing allows for continuous monitoring of microvariations in stem diameter. The company also engages in data analytics, applying patented algorithms to transform raw data into crop-specific plant status. Phytech's plant intelligence and predictive analytics provide meaningful alerts and recommendations for farmers and offers a color-coded plant status indicator. The company's experts then determine plant yield and provide irrigation scheduling recommendations.
Phytech also aims to save water and other critical resources in the farming process by giving farmers enhanced visibility and accurate readings on plant growth and irrigation pressure through a fully-automated system.
Related posts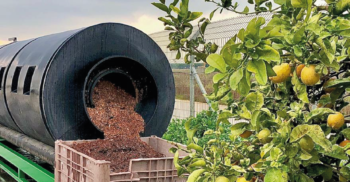 Compost Drum Turning Muck Into Money, Shrinking Israeli Landfills
September 19, 2023