The return of Israel's second-ever astronaut Eytan Stibbe and the three other members of the Axiom-1 space mission has been delayed again on Tuesday due to weather conditions. No new time or date has been confirmed yet.
The first all-private mission to the International Space Station was supposed to leave the ISS at 10pm EDT on Tuesday (5am Wednesday Israeli time) and splash down into the ocean off the coast of Florida the next day.
"Due to unfavorable weather conditions, we are waving off tonight's undocking of the #Ax1 mission from @Space_Station. The integrated Axiom Space, @NASA and @SpaceX teams are assessing the next best opportunity for the return of Ax-1, the first all-private mission to the ISS," Axiom Space tweeted on Tuesday.
Earlier that day, mission control informed Expedition 67 and Ax-1 crews that the unfavorable weather at the splashdown location for recovery of the Dragon Endeavor and the Ax-1 crew, the spacecraft's planned departure had been postponed.
In a farewell ceremony at the station, Stibbe – who floated in after three minutes and spoke while upside down – said in Hebrew that the "ten days were unique" and that all the astronauts onboard "lent a hand."
"I learned a lot and I feel that we just started. I'm ready to stay here another month," he added.
During the extra day, Stibbe read the Hebrew children's book "Beautiful World" while floating in the station. The mission's commander Michael Lopez-Alegria said during the farewell ceremony that the team conducted over 15 educational outreach tasks for youth across the world
As part of the Rakia mission, Stibbe conducted 35 Israeli scientific experiments across a number of fields including food tech and agriculture.
The 64-year-old is Israel's second man in space after the first-ever Israeli astronaut, Ilan Ramon, was killed in 2003 when the Space Shuttle Columbia disintegrated upon re-entry into the atmosphere, killing all seven crew members on board. 
Related posts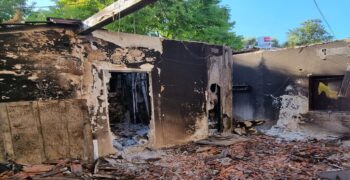 Burn Victims Of Hamas Terror Treated With Pineapple Protein
November 30, 2023