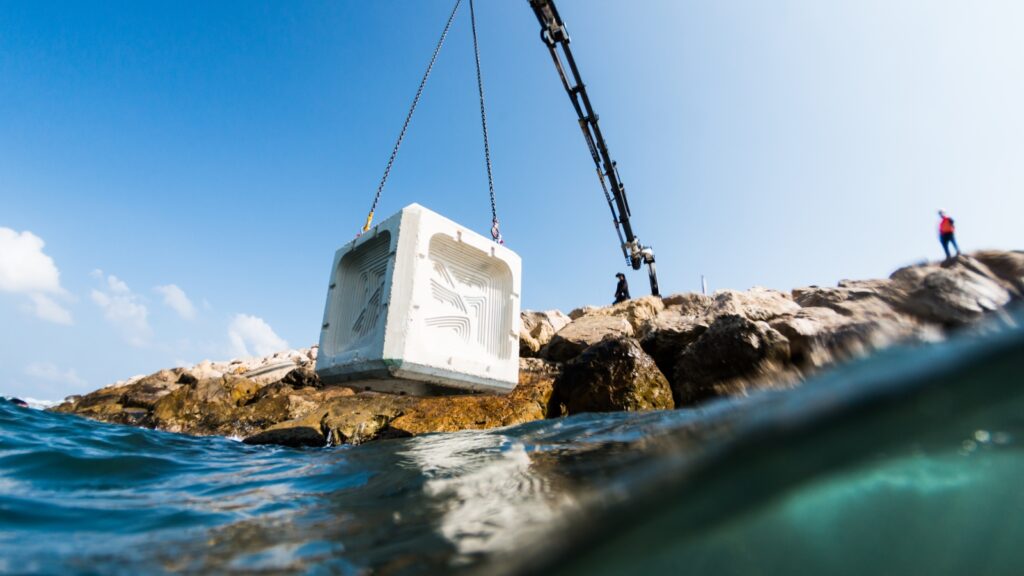 Israel's ECOncrete, a company that provides technology for coastal and marine infrastructure, was selected as one of the Bloomberg New Energy (NEF) Pioneers for 2021. For the last decade, the BNEF Pioneers award has been essential in highlighting exciting innovations in clean, energy, transportation, and more.
The Israeli firm was one of 12 early-stage companies "pursuing exciting and important low-carbon opportunities," according to BloombergNEF (BNEF), Bloomberg's primary research service covering clean energy, advanced transport, digital industry, innovative materials, and commodities.
"The winners were selected as their innovations fill important gaps in optimizing long-haul freight, making sustainable materials, tracking greenhouse gases, valuing carbon sinks and reducing energy and chemical use," BNEF said.
Winners for the competition, now in its 12th year, are selected by a panel of industry experts. This year, the competition received over 250 applications from 36 different countries, according to BNEF. A team of lead analysts at BNEF evaluated candidates against three criteria: the potential impact on greenhouse gas emissions and the planet; the degree of technology innovation and novelty; and the likelihood of adoption.
Nine winners were chosen across three main challenge categories that BNEF believes highlights "some important innovation gaps in transporation, materials, and climate," said Claire Curry, selection committee co-chair and head of digital industry research at BloombergNEF.
Three companies, including ECOncrete, were chosen as three extra "wildcard winners."
"Alongside the three key challenge areas we also picked three wildcard winners – innovations that did not fit in the selected challenge areas but are each pioneering and unique in their own way. I'm excited to see the future impact on marine life of ECOncrete's coastal infrastructure invention; the significant emissions impact that 75F will make on commercial buildings; and the exciting future of sustainable agriculture that Pivot Bio is swiftly building with its microbial fertilizer,"Curry explained.
"Concrete is the second-most consumed material in the world, is responsible for 8 percent of global CO2 emissions, and is used in about 70 percent of our coastal infrastructure," said Dr. Ido Sella, CEO of ECOncrete.
Sign up for our free weekly newsletter
Subscribe
"As we adapt to rising seas and increased coastal development under more resource stress, ECOncrete provides accessible technology to simultaneously protect assets, and revive marine ecosystems. ECOncrete provides an unprecedented opportunity to build environmental solutions into traditional infrastructure by creating habitat, doubling biodiversity, and storing carbon dioxide. We thank the BNEF experts for selecting our technology," he added.
ECOncrete was founded in 2012 by marine ecologists Dr. Sella and the late Dr. Shimrit Perkol-Finkel, who tragically died in a traffic accident in Tel Aviv last month.
As a company, ECOncrete develops sustainable concrete for constructing ecologically active infrastructures in coastal and marine environments as well as in urban landscapes. It adapts the concrete to the environment's particular fauna and flora, and its biological traits encourage biogenic buildup. The concrete offers increased stability and longevity as well as a reduction in maintenance costs.
The awadr-winning company was listed in the design category of TIME's list of 100 Best Inventions of 2019 and was also listed by Fast Company on its "World's Most Innovative Companies" of 2019. ECOncrete was also featured in an episode of the web series Nas Daily.
In February, ECOncrete announced that it partnered with the Port of San Diego for a three-year project to install ecologically friendly concrete infrastructures in an effort to boost marine ecosystems in tide pools of the man-made peninsula, Harbor Island. ECOncrete's award-winning interlocking COASTALLOCK Tide Pool Armor would secure Harbor Island's shoreline with 72 interlocking armor units to provide environmental protection.
The Israeli company indicated that the San Diego project was one of several upcoming large-scale projects to provide marine-friendly durable solutions for the protection of the environment.
Related posts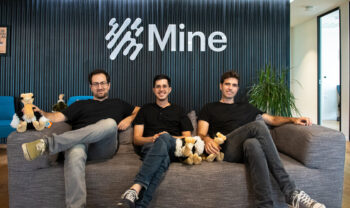 Israeli Data Privacy Startup Raises $30M in Wartime
December 05, 2023