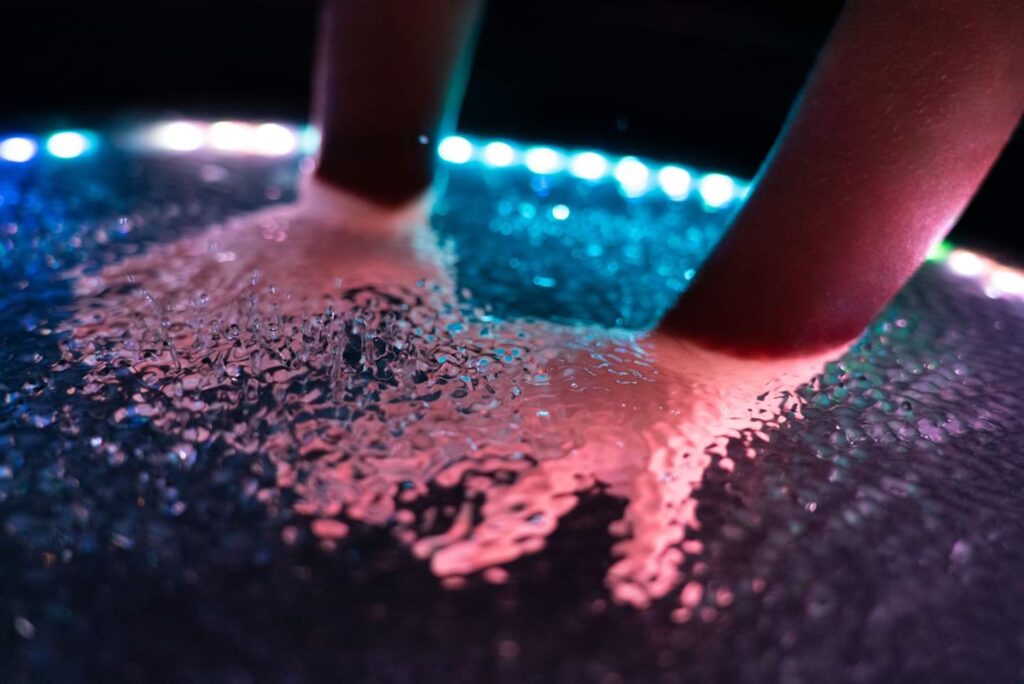 Mordechai Braunstein doesn't just talk social entrepreneurship; he devises, collaborates and creates solutions to some of today's important issues.
His name may not ring a bell just yet but two of his many projects-on-the-go have already gained him international recognition in their respective fields: accessible music and women's rights.
Moments before COVID-19 shut down the arts world, Braunstein was set to embark on a tour of European cities with his CyMagic interactive music installation. It's a music project like no other that shows audiences what sounds look like in a physical form and lets them feel the vibrations.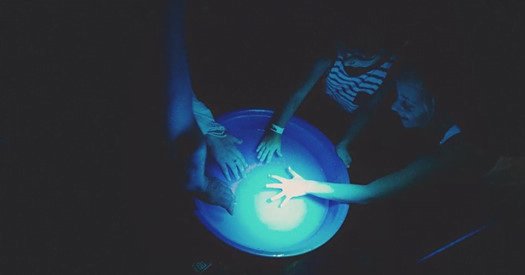 "It's a new level of connection," he tells NoCamels. "It's a new musical experience."
CyMagics music and magic
CyMagic is based on the science of cymatics, a field of study dedicated to the effects of sound on matter. Braunstein created a way to translate live music into a tactile music experience – that can be physically touched and felt.
SEE ALSO: 4 Israeli Startups Using Tech To Amplify The Music Scene – One Note At A Time
"Looking at [a festival participant] interacting with the water gave me such a powerful feeling," he recalls, about the first time he took a prototype to the Zorba Festival of in the Negev Desert in Israel, known for its meditation and therapy workshops. "I felt like I gave her something that she didn't have before. A very deep relationship with the music. And I wanted to keep giving this experience."
Braunstein presented his unique musical experience at other music festivals in Israel, Germany, Croatia, and Sweden, at technology conferences, and has given lectures on the topic of cymatics.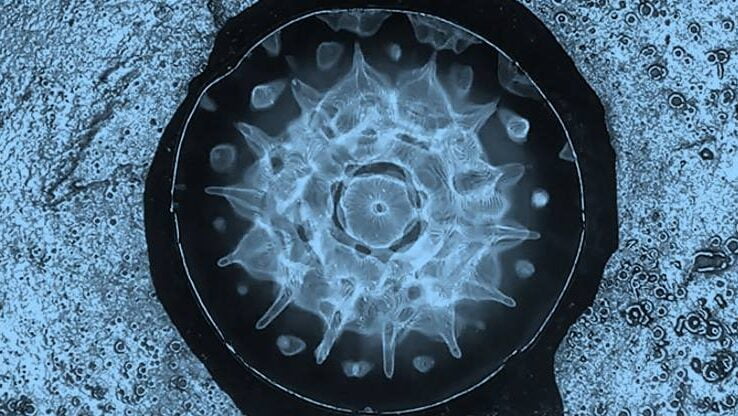 With no personal connection to the world for the hard of hearing, Braunstein says that he "just knew" that this music installation could open the world of music to those who can't hear as well.
Pre-COVID, Braunstein toured schools bringing his "visual music machines" – that convert sounds into vibrations and visual art — to deaf and special needs schoolchildren.
These contraptions visualize for audiences what music feels and looks like. It can be different-sized bowls of water that ripple according to sound, flashing lights that change with the notes or a microphone that shows the effects of voice on sand.
He also collaborated with the Israeli Chamber Music Orchestra for the show, "Touching the Sounds with Beethoven." That project earned an Access Israel Award in 2018.
"You can feel the water quivering, sensing the sound itself as if you are touching the instrument," a hearing-impaired girl told a local TV crew after seeing CyMagic's rendition of Beethoven.
"I was moved to discover that there is someone else who understands the hearing impaired and that I'm not all by myself," another young audience member told the media crew.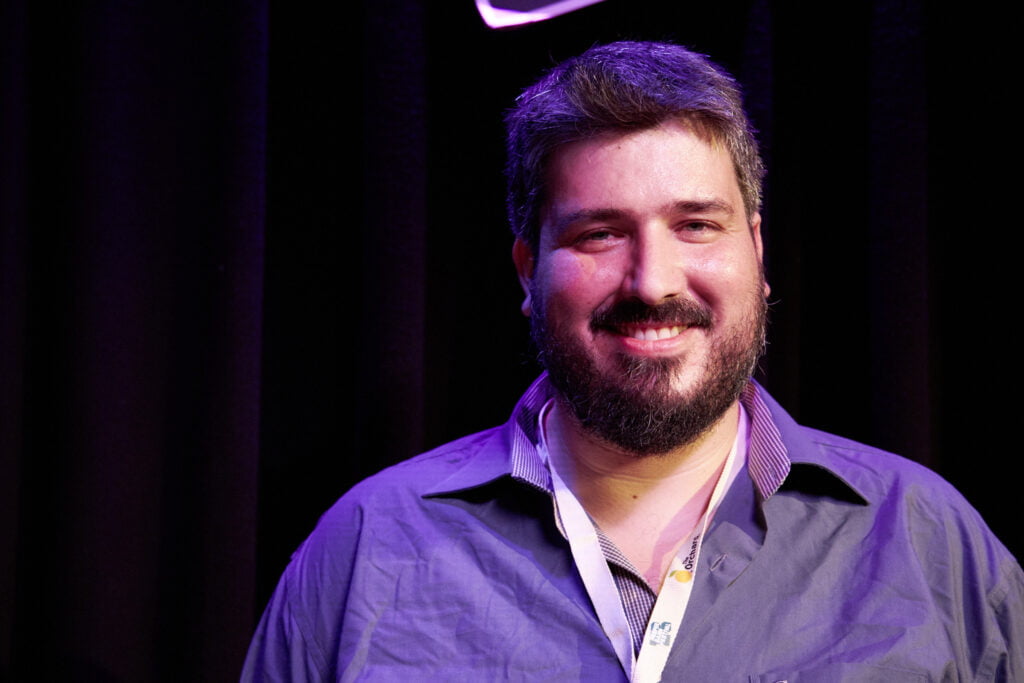 CyMagic "enables deaf children to experience live music in a way they never did before," says Braunstein.
In late 2019, he added another accolade to his collection: an International Sound Award. 
News of this tactile music experience began to spread and Braunstein's calendar for 2020 was quickly filling up with international invitations.
"And then it all stopped. Dead," he says.
The COVID-19 lockdowns in Israel pushed Braunstein back into his lab to finetune and rejig his visual music machines, and especially the microscope he built to translate sounds visually. During live performances, the microscope sends video input to a large screen of symmetrical and geometrical shapes formed from the lower notes, especially bass and drums.
He is using the lockdown to "make it more plug and play, easier to move around, more pleasing to the eye."
The demand for the CyMagic installations hasn't wavered during this time of the novel coronavirus. Braunstein says initial plans to travel with his installation may have been postponed, for now, but he's still working on creating CyMagic teams around the world so that musicians can take the "visual music machines" to schools – for the hearing community and deaf community alike.
Sign up for our free weekly newsletter
Subscribe
And he is in the process of changing his project into a nonprofit organization "to create an inclusive experience," for everyone, hearing and hearing-impaired alike.
And CyMagic is just one of Braunstein's gigs. He has another sound project on the go: musical playgrounds.
Working with two other artists, the new initiative is still in its early stages but Braunstein's enthusiasm is captivating. He talks about his fascination with sound, constantly looking for ways to "feel it" and not simply hear it.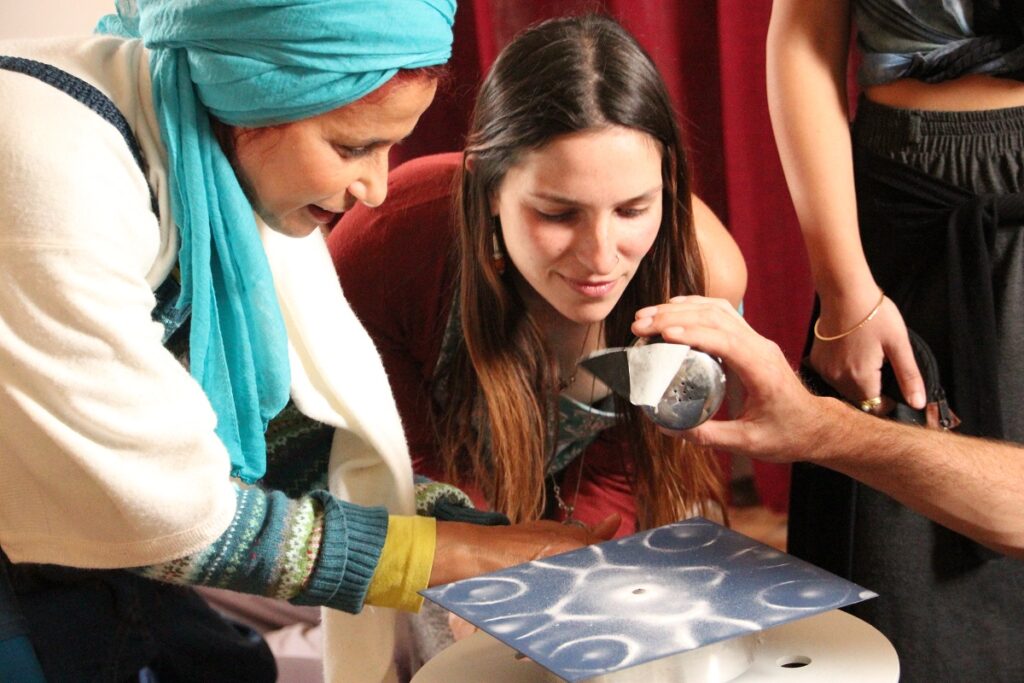 The new idea is to attach a little machine to playground devices that will play sound according to how a child uses the swing, slide or other equipment in the playground.
"We want to create contraptions that will turn a regular playground into musical ones. When you swing the swing, it creates music, and you can play when you put at different speeds," he says. "I have this inspiration to do this."
Music and activism
Though dedicated to using sound to heal and create new tactile experiences, Braunstein's main line of work is as a digital marketer.
He used these skills on another initiative that has drawn world interest. The father of two young children co-produced a powerful video that calls on men to take responsibility in the fight against rape, sexual violence, and sexual assault.
"I definitely feel like there's a very big void in the conversation," he tells NoCamels.
The video, shot in one day, features 15 Israeli male media figures all saying that "violence against women is not a woman's problem, it's my problem."
The social media campaign was in response to the alleged gang rape of a 16-year-old-girl in Eilat in August.
"I was compelled to do it. It engulfed me completely," says Braunstein of his reaction to the news stories about the rape.
While a local crime, the world of social media could identify with the Hebrew hashtag, "It's_My_Problem."
Preliminary evidence of the pandemic around the world shows a rise in sexual and gender-based violence, according to the International Federation of Red Cross and Red Crescent Societies humanitarian network.
Prior to the widely covered alleged gang rape in Eilat, Braunstein says he had started a small Facebook support group for men who wanted to redefine masculinity. He regularly posts about the need for men to speak up about sexual assault against women.
"Good men always hide their heads when rape is discussed. We don't want to be considered in the same gender as these men, and we try to hide our relationship to the whole subject. I understand why we do this, but I strongly feel like it's time we step up," reads a post on Facebook.
The "It's my problem" video went viral in Israel. Braunstein says people from around the world asked to translate it and run it in their countries, too.
SEE ALSO: Facebook Donates Prize To Winner Of Israeli Hackathon Tackling Domestic Violence
"We're getting messages from South Africa, New York, Russia, Brazil, Romania. I've seen versions in Russian, Spanish, English, French and Portuguese," he says.
"The feedback was incredible but a lot of times, also very painful," he says. "Since this happened, I've been getting a lot of messages from women around the world who feel empowered to tell their story. Wow. I've been reading a lot of stories lately. It's time we step up."
Viva Sarah Press is a journalist and speaker. She writes and talks about the creativity and innovation taking place in Israel and beyond. www.vivaspress.com
Related posts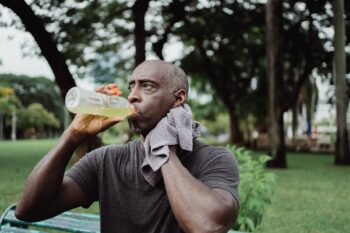 Startup Helping You Get Heart Healthy By Measuring Your Sweat
December 04, 2023