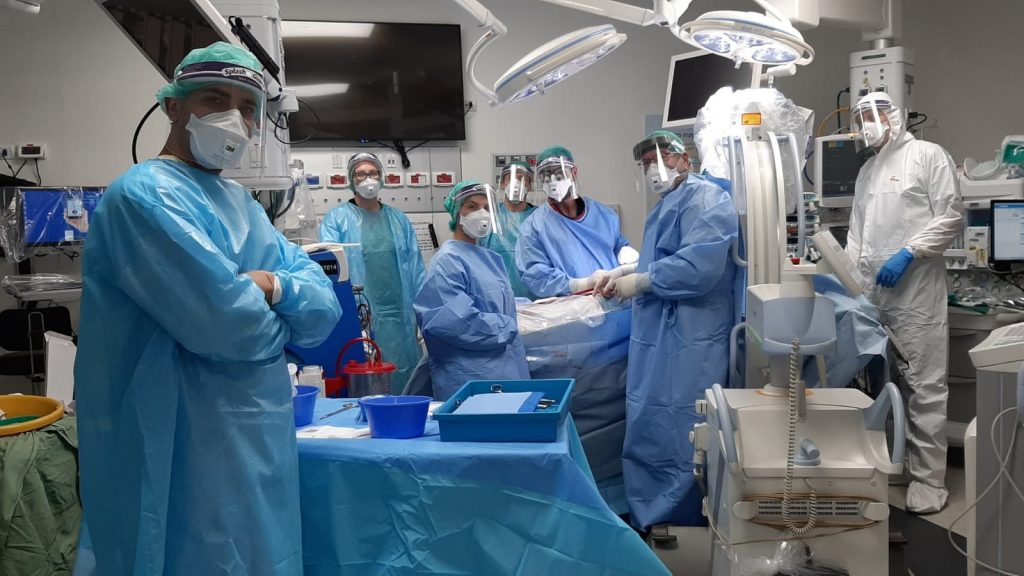 Israel's Sheba Medical Center opened a new underground facility this week to treat coronavirus patients in critical condition as the country's confirmed COVID-19 cases continue to rise exponentially and authorities prepare for an influx of severely ill patients.
The isolated unit is located in an underground lot near the entrance to the hospital's main campus and features over 40 additional beds and advanced telemedicine and monitoring technologies. The facility, dubbed the Corona Critical Care Unit (CCCU), has a special infrastructure for electricity, medical devices, and oxygen lines, and will house patients requiring mechanical ventilation and emergency care.
A special medical team made up of high-ranking doctors and nurses have been trained for the new facility, Sheba hospital said in a statement.
Israel currently (as of March 23) has 1,238 confirmed coronavirus cases, up 264 in 24 hours, according to Health Ministry data. Of these patients, 24 are in serious condition, 34 are in moderate condition, and the rest are listed as having minor symptoms if any. Some are receiving medical care in their homes or in hotels turned into quarantine quarters.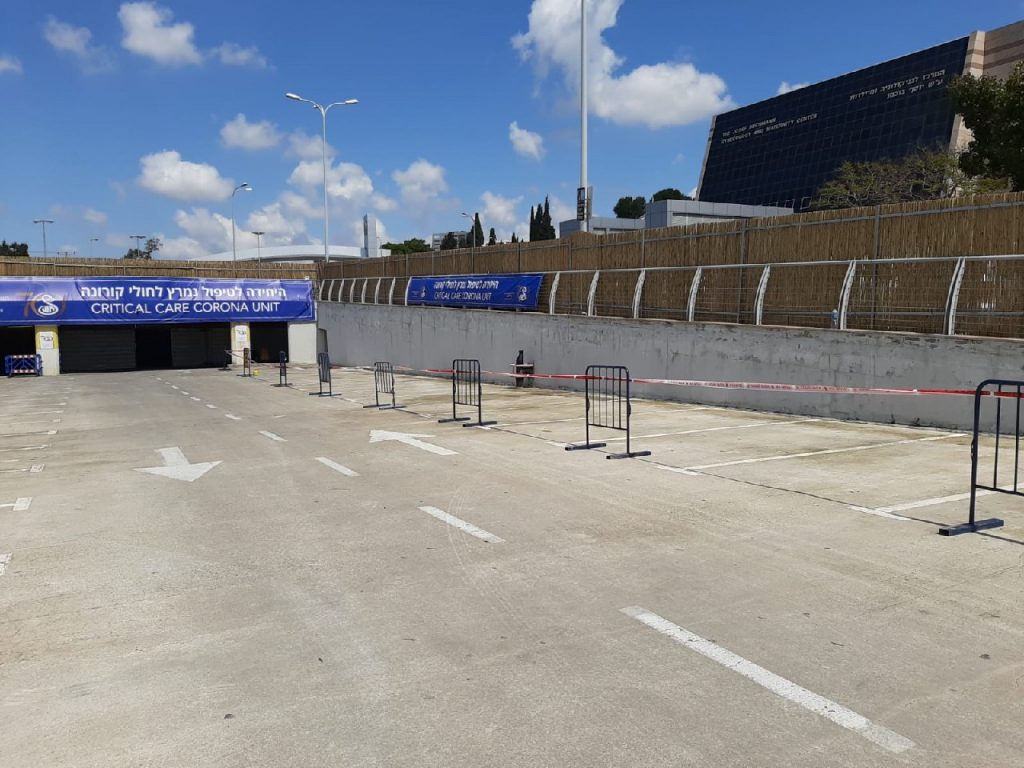 Over 100,000 Israelis are in verified quarantine after having been in contact with a confirmed patient, including approximately 1,000 medical staff. The rest of the country is practicing social distancing and self-isolation amid increasingly stringent measures to stem the spread of the coronavirus.
Sheba at the forefront of the coronavirus crisis with top tech
Sheba has been leading Israel's medical response to the global coronavirus pandemic from the beginning. In late February, it became the first hospital in the country to establish a special off-campus unit designed to hospitalize Israelis potentially exposed to COVID-19 who returned from a coronavirus-stricken cruise ship and were immediately sent for mandatory isolation. The hospital set up top-of-the-line technologies such as medical robots, devices, and AI-powered sensors operated remotely by doctors to monitor them.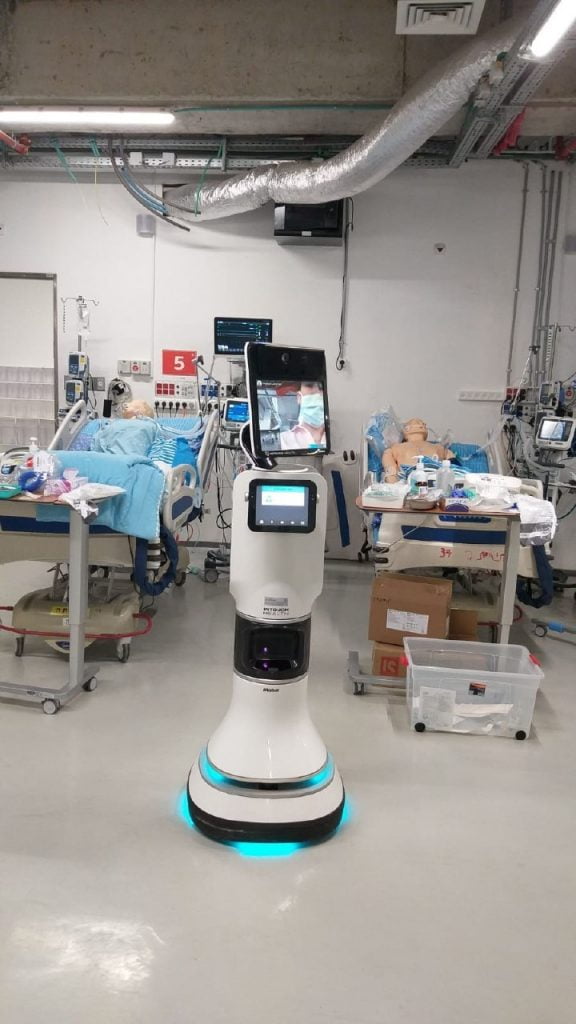 The compound, built in just a number of days before the arrival of the patients, is located about 2.5 km from the main hospital grounds and has its own infrastructure.
Currently, Sheba is treating over 30 people, including children, who tested positive for COVID-19, a majority of them in light or moderate condition.
"When the cases are not so severe, we can provide medical treatment remotely," Dr. Galia Barkai, the director of telemedicine at Sheba's ARC innovation project and the head of the Pediatric Infectious Diseases Unit, tells NoCamels in a phone interview. "But when people become more ill and may require mechanical ventilation, medical teams will have to go inside [with protective gear].
A pediatrician, Dr. Barkai oversees care for four children with COVID-19 at Sheba, ranging in age from eight to 17. The patients are monitored 24/7 and the youngest was placed in quarantine with his mother in a special structure, she explains.
Among the top Israeli telemedicine technologies used currently at Sheba are Tyto Care, a telehealth company that developed handheld devices that examine the heart, lungs, skin, ears, throat and abdomen, as well as measure body temperature; Datos, a big data platform and app that allows for continuous contact with patients and leverages patient-generated health data for care delivery; EarlySense, which developed a clipboard-sized sensor that can be embedded in any mattress to monitor sleep, vital signs, and motion; XR Health, which developed therapeutic applications providing both VR and AR solutions for the medical industry; and Uniper Care, which helps maintain video contact between doctors and patients.
Sight Diagnostics, the Israeli company with a blood test device that delivers results in minutes, also recently deployed its technology at Sheba. The company's OLO analyzers are being used for routine testing of the hospital's positive coronavirus patients for care management.
Dr. Barkai says these telemedicine initiatives have been so successful, the hospital is now looking to deploy them for outpatient clinics, including cancer care.
And the use of telemedicine is also drawing interest from abroad. Dr. Eyal Zimlichman, chief medical officer and chief innovation officer at Sheba, said last week during a webinar hosted by Pitango Venture Capital that the hospital recently ran a virtual workshop with officials from over 600 US hospitals on Sheba's response and its zero-contact approach.
Sign up for our free weekly newsletter
Subscribe
"A major issue is staff contracting the disease [from patients] and so, where possible, doctors can conduct some exams from afar," he said. "There is a risk and we are concerned. For every healthcare worker who contracts the virus, between 50-100 people will have to go into isolation," he explained.
The hospital, recently named the ninth-best hospital in the world by Newsweek, is currently gearing up to treat more coronavirus patients, particularly those who develop complications, and is pouring resources into other avenues of innovation, Dr. Zimlichman indicated.
"Sheba currently has 100 ICU beds and it is a 2,000-bed hospital. We have the capacity to build another 100 [beds], but we may need to treat 300 critical patients at our peak and we are thinking about how to solve this," he explained.
Routine, ambulatory, and surgical services are still ongoing but will likely be scaled down, unnecessary procedures will stop altogether, and more services such as doctors visits will shift to the virtual realm, he said, to make room for critical patients.
As the hospital braces for an influx, "We are doing this as we go and are constantly having to adapt," he explained.
Another major issue is the shortage of ventilation machines and protective gear, said Dr. Zimlichman, and the hospital is currently working with the IAI (Israel Aerospace Industries) to "try to develop a substitute for ventilation machines."
"Another question is whether we can produce more protective gear? This also needs innovative thinking. But one nice thing is, as we know, a lot of cutting-edge innovation occurs during times of crisis," he said.
Health Ministry prepares for spike in critically ill patients
So far, Israel has had one death from the novel coronavirus – an 88-year-old Holocaust survivor who succumbed to the disease over the weekend – but government officials have warned that the country could see a death toll in the thousands.
Health Ministry officials have instructed that hospitals and medical centers prepare more isolated units and beds – transforming or moving existing wards if necessary – and have launched a campaign to purchase or acquire more ventilators to treat critically ill patients as well as diagnostic kits to ramp up testing for COVID-19. Authorities are aiming to test 5,000 people daily including at drive-through complexes.
The Israeli Health Ministry's director-general, Moshe Bar Siman Tov, said on Sunday evening in an online interview that currently, there are 1,000 beds available dedicated to treating coronavirus patients and an additional 500 beds with ventilators. He indicated that more beds would be available if needed but that "the main variable is the respirators."
Officials have been trying to head off a scenario like in Italy where an overstretched healthcare system and a shortage of resources, including of respirators and protective gear, have led to a death toll of over 5,400 (as of March 23) – surpassing China – and close to 60,000 confirmed infections.
Italy is currently the epicenter of the COVID-19 pandemic.
Related posts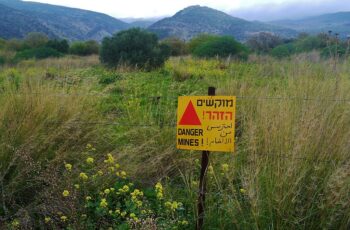 Using E.coli Bacteria To Detect Landmines From Afar
October 03, 2023