The Israeli Health Ministry on Wednesday announced the launch of a new smartphone app (in Hebrew mainly) that would provide Israelis with new information and health guidelines regarding the novel coronavirus,
2019-nCoV which leads to COVID-19, and its spread in the country.
The ministry said that the CoronApp will issue announcements and updates straight from its offices, report on the virus' spread and residents' exposure, allow people to report for self-quarantine and receive instructions and guidance, and benefit from community support.
The app, available for Android and iOS, was developed jointly with Israeli-founded company Belong.Life, creators of the Belong – Beating Cancer Together mobile app, a social network for cancer patients that allows easier access to health professionals and patients with similar conditions.
Esti Shelly, the digital health manager at the Health Ministry said that "digital tools are an integral part of being able to cope with the outbreak of the virus in Israel," and that the ministry "is making efforts to collaborate with the strong ecosystem of digital healthcare companies in Israel."
Eliran Malki, a co-founder of Belong, said: "The urgency to stop the spread and infection of the coronavirus requires that everyone be on board and we are proud that our technological capabilities are being used for the good of the general public and for those in quarantine."
Israel currently has 15 patients who have tested positive for COVID-19 and who are in hospitalized quarantine. Thousands more are in self-quarantine at their homes across the country after having traveled to countries with high rates of infection or coming into contact with someone believed to have contracted the disease.
The Health Ministry on Wednesday also issued new directives to travelers from an additional five countries – Germany, France, Spain, Austria, and Switzerland – ordering arrivals to self-quarantine for 14 days since their last day in those countries. Israel previously issued directives to residents returning from mainland China, Hong Kong, Macau, Singapore Thailand, Japan, and Italy to enter into home quarantine for 14 days. The country has turned away non-residents traveling from Italy, Japan, South Korea, and Thailand.
Israel has also suspended all international conferences in the country and banned gatherings of more than 5,000 people. Israeli residents returning from international conferences have also been ordered to enter a 14-day home quarantine.
Since the outbreak began in the Chinese city of Wuhan in December, COVID-19 has claimed over 3,000 lives, mainly in mainland China, and has been contracted by over 95,000 as of March 5.
Related posts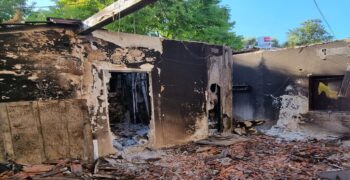 Burn Victims Of Hamas Terror Treated With Pineapple Protein
November 30, 2023