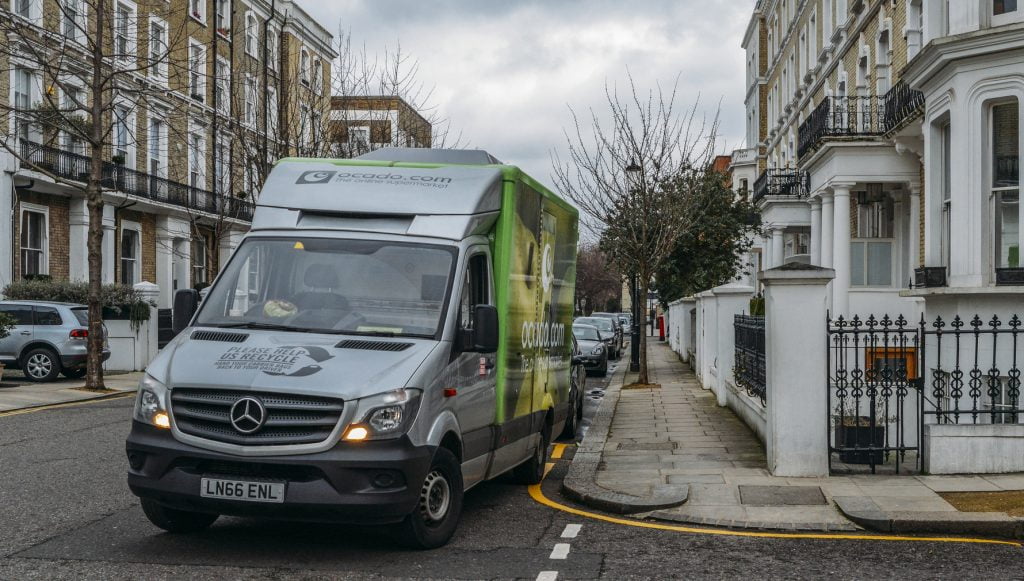 This article is a guest post on NoCamels and has been contributed by a third party. NoCamels assumes no responsibility for the content, including facts, visuals, and opinions presented by the author(s).
Nataly E. Yousef is an analyst with Pitango Venture Capital, one of Israel's leading VC firms, where she conducts initial screenings of investment opportunities, maps and researches exit and emerging trends, and provides market overview. She first joined Pitango as an intern, helping develop impact measurement tools and methodology and working on the firm's Impact First Investments.
Since late December, the novel coronavirus has affected worldwide travel leading to flight cancellations, quarantines, lockdowns, and other movement restrictions. The virus, which causes the disease known as COVID-19, has spread to over 150 countries and is now on every continent except Antarctica.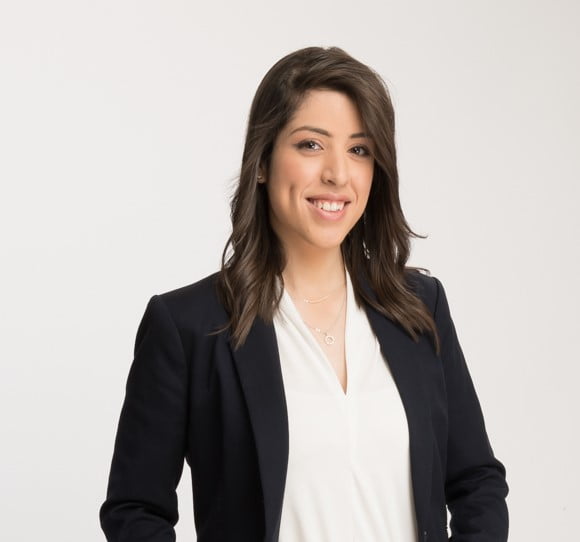 On March 11, the World Health Organization (WHO) declared the coronavirus a global pandemic, after having declared a global health emergency in late January.
China has been the worst-affected so far with Hubei province's city of Wuhan at the epicenter of the outbreak. Therefore, trends and disruption in several industries in China could serve as an example for the rest of the world.
In the midst of this pandemic and the surrounding economic implications, several opportunities are arising in specific industries and many of the companies in these fields are experiencing unprecedented growth. There is some division over whether this surge is temporary or whether it will lead to more sustainable and longer-term adoption of behavior.
Below are five interconnected industries that are seeing promising opportunities.
Lifestyles of Health and Sustainability (LOHAS) and Wellness
In the face of the pandemic, immunity can be our biggest weapon. With this in mind, and alongside clear directives from many government authorities to steer clear of crowded places, home exercise programs and the fitness equipment industry are well-positioned to boom. Keep, a Chinese fitness app that offers workout programs ranging from yoga to cycling, saw its ranking in the country's iOS app store shoot up from 260th in terms of downloads on the Apple App Store in mid-January, to 79th in early February. Live broadcasts of fitness classes have surged 513 percent on online sports platform PP Sport since the company launched its courses in late January. Sales of indoor fitness equipment have also seen a boost. Data from JD.com showed that during the epidemic outbreak, sales of skipping ropes rose 56 percent, dumbbells 60 percent and yoga mats soared 150 percent.
As the coronavirus spreads globally, worry and panic are also on the rise. People with a lot of background anxiety (myself included), are not easily reassured. Therefore, it is no surprise that since the start of the coronavirus outbreak, millions of Chinese worried that they have contracted the virus have turned to online health platforms to seek consultation. It should be noted that during the epidemic, newly Chinese registered users on these online platforms grew almost 10 times, with an average daily consultation of about nine times as many as normal users.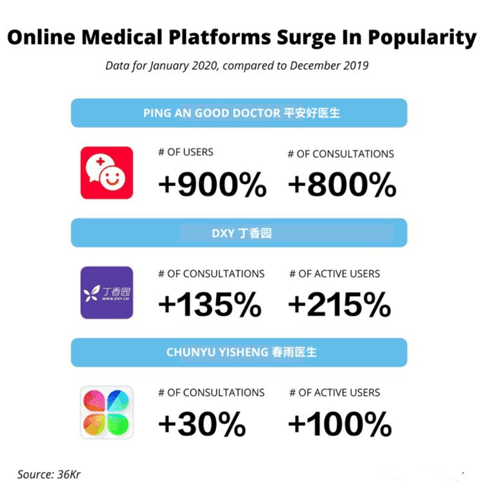 Grocery deliveries with a twist
With millions worldwide in quarantine or on lockdown, there are growing opportunities and pitfalls for food delivery companies. According to SenseTower, mobile ordering and customer loyalty apps tied to on-premise eating/drinking establishments have experienced significant declines. On the other hand, grocery delivery and recipe apps outperformed after China's government told the public to stay home as part of the most sweeping measures ever imposed. For instance, downloads for Alibaba's grocery delivery app 'Fresh Hema' peaked on February 8th, reaching nearly 100,000 downloads in a single day, compared to an average of approximately 29,000 per day during 2019.
Sign up for our free weekly newsletter
Subscribe
For obvious reasons, people are turning to contactless delivery service. According to Meituan, a major food delivery company in China, which has 5.9 million partner retailers and 700,000 daily active couriers, more than 80 percent of all orders made between January 26 and February 8 requested the contactless delivery service. That involves secure drop-off and pickup locations to avoid putting delivery workers and customers in direct physical contact. As a ripple effect of this trend, the American food delivery platform Postmates started what the company is calling a "non-contact delivery" initiative – a new drop-off option, designed to help reduce the spread of the coronavirus when its contract workers are delivering ordered meals and other goods.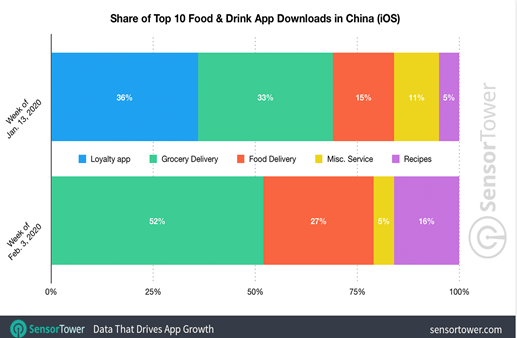 Online education and remote learning
During this outbreak, many have turned to online education and EdTech companies have found an opportunity here as worldwide traditional learning/training institutions are trying to adapt and accelerate their transformation to remote teaching. The online education sector in China is experiencing a boom as schools nationwide are suspended, according to data from research firm Sensor Tower.
The biggest winner appears to be TAL Education's Zhang Bangxin, who saw his wealth increase by $1.7 billion, giving him a current net worth of at least $10 billion. Zhang has surpassed the likes of JD.com's founder Richard Liu ($8.7 billion) and Baidu's Robin Li ($7.1 billion) to reach number 24 on China's wealth rankings. TAL has partnered with more than 300 public schools across China to stream free classes, and its providing complementary K-12 online tutoring sessions.
Other education companies are also launching more e-learning courses while developing data tools to analyze student performance and help teachers track their progress. As the virus continues its spread in several countries and as more universities and schools have moved online in the wake of the coronavirus, this trend might be a natural marketing campaign for EdTech companies.
Remote work
China's enterprise software industry has been slow to take off in comparison to the US and Europe. Nowadays, the enterprise software industry is picking up faster than ever before with remote work apps witnessing a boom as millions resort to working from home.
Downloads of indigenous work apps like Alibaba's DingTalk, Tencent's WeChat Work, ByteDance's Lark, as well as America's Zoom, jumped exponentially amid the health crisis. App rankings by Sensor Tower show that all three Chinese apps experienced significant growth in downloads from January 22 through February 20, compared to the same period last year. DingTalk: 1,446 percent, Lark: 6,085 percent, WeChat Work: 572 percent. Similarly, Tencent's business-focused meeting app, Tencent Meeting, went from 250,000 all-time downloads to more than five million since the start of the outbreak.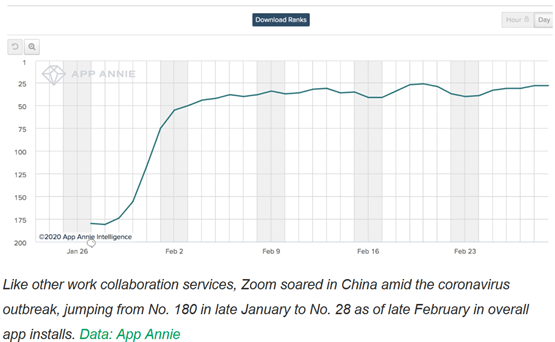 Entertainment (Gaming and non-gaming)
The mobile gaming industry in China has been experiencing an explosion in terms of downloads. China recorded 222 million downloads of various games and apps from Apple's app store since February 2, according to app analytics firm App Annie. That was 40 percent more than the average weekly downloads in 2019. While the coronavirus indeed has caused cancellations of eSports tournaments throughout China, streaming platforms have benefited greatly. China's popular streaming platform, Douyu, saw games like "Honor of Kings," "Playerunknown's Battlegrounds" and "League of Legends" become twice as popular as they were during the same period in 2019, according to the platform's streaming index. "Honor of Kings" and "PUBG" are top games right now in China.

When it comes to non-gaming entertainment apps in China, these apps became sources of not only entertainment but also of constantly updated information about the virus, covering the outbreak developments and attracting millions of followers.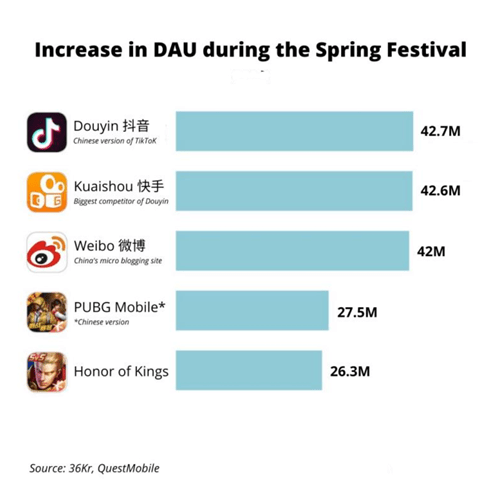 This article, originally published on Medium and reposted with permission, is the first in a series of articles highlighting different industries that are experiencing change due to the coronavirus.
Related posts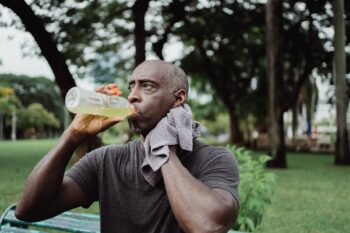 Startup Helping You Get Heart Healthy By Measuring Your Sweat
December 04, 2023