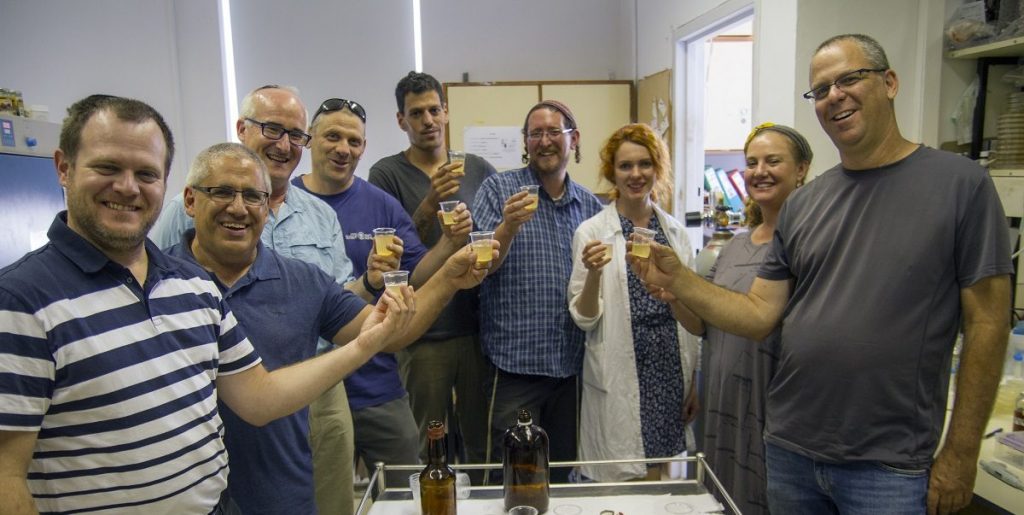 A team of Israeli microbiologists, archeologists, and beer experts say that they have successfully brewed a high-quality beer made with yeast from approximately 5,000 years ago – in the time of Pharaohs.
The yeast was obtained from ancient pottery believed to have contained beer from that period, and others, in an innovative process detailed in a new report in mBio, a journal published by The American Society for Microbiology.
In the study, authored by over a dozen scientists from The Hebrew University of Jerusalem, Tel Aviv University, Bar-Ilan University, Ariel University, and the Dead Sea and Arava Science Center, the researchers wrote that they "developed a pipeline of yeast isolation from clay vessels and screened for yeast cells in beverage-related and non-beverage-related ancient vessels and sediments from several archaeological sites," finding that "yeast cells could be successfully isolated specifically from clay containers of fermented beverages."
The scientists say that a majority of previous studies of ancient organisms were based mainly on the analysis of ancient DNA, and that attempts to recreate ancient beer and wine were made using "modern ingredients combined with modern domesticated commercial yeast (predominantly Saccharomyces cerevisiae) and not with the actual microorganisms that might have been used in the production of these fermented beverages."
These results, they wrote, "open new and exciting avenues in the study of domesticated microorganisms and contribute significantly to the fields of bio- and experimental archaeology that aim to reconstruct ancient artifacts and products."
The team was led by Dr. Ronen Hazan and Dr. Michael Klutstein, microbiologists from the School of Dental Medicine at the Hebrew University, and Dr. Yitzhak Paz from the Israel Antiquities Authority.
Paz called the study a "real breakthrough," asserting that "this is the first time we succeeded in producing ancient alcohol from ancient yeast… This has never been done before."
Sign up for our free weekly newsletter
Subscribe
In all, the scientists isolated six yeast strains from 21 beer-and mead-related ancient vessels dating back to the reign of Egyptian Pharaoh Narmer (roughly 3000 BCE), Aramean King Hazael (800 BCE) and to Prophet Nehemiah (400 BCE) who, according to the bible, governed Judea under Persian rule.
The pottery was sourced from a number of different sites including En-Besor in the northwestern Negev desert, a site with Egyptian activities in southern Canaan during the late 4th millennium BCE, Hamasger Street in Tel Aviv where archeologists had found basin fragments typical of Egyptian-style breweries, an area called Philistine Tell es-Safi/Gath in central Israel, and Ramat Rachel, located between Jerusalem and Bethlehem which served as the residence of the local representative of the Assyrian, Babylonian, and Persian empires and the largest Persian site in the Judean kingdom.
The researchers cleaned and sequenced the full genome of each yeast specimen and turned them over to Dr. Amir Szitenberg at the Dead Sea-Arava Science Center for analysis, who found that the yeast cultures were similar to those used in traditional African brews, such as the Ethiopian honey wine tej, and to modern beer yeast.
They then tapped local Israeli beer expert Itai Gutman to make the brew, sampled by Ariel University's Dr. Elyashiv Drori, as well as by certified tasters from the International Beer Judge Certification Program (BJCP). The testers, according to a joint statement, "gave the beer a thumbs up, deeming it high-quality and safe for consumption."
"The greatest wonder here is that the yeast colonies survived within the vessel for thousands of years—just waiting to be excavated and grown," said Dr. Ronen Hazan of the Hebrew University's Hadassah School of Dental Medicine. "This ancient yeast allowed us to create beer that lets us know what ancient Philistine and Egyptian beer tasted like."
Hazan said the beer "isn't bad," and "aside from the gimmick of drinking beer from the time of King Pharaoh, this research is extremely important to the field of experimental archaeology — a field that seeks to reconstruct the past."
Professor Aren Maeir of Bar-Ilan University's Department of Land of Israel Studies and Archaeology gave an apt summary of the findings, saying they "paint a portrait that supports the biblical image of drunken Philistines."
Related posts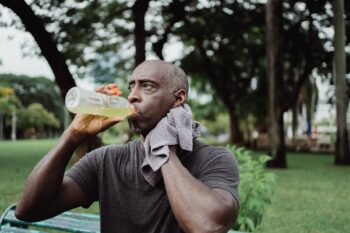 Startup Helping You Get Heart Healthy By Measuring Your Sweat
December 04, 2023