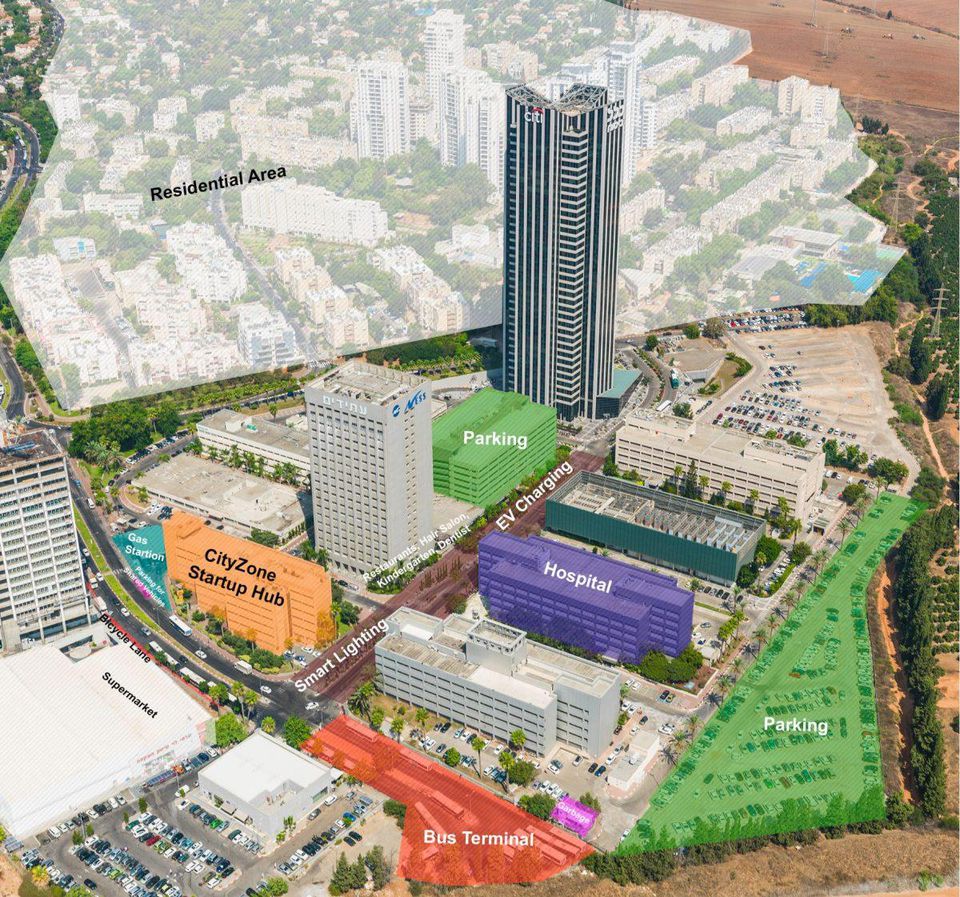 It's been five years since Tel Aviv was crowned the "World's Smartest City" at the Smart City Expo World Congress in Barcelona, Spain in 2014, besting 250 competing locations including London, New York, and Amsterdam. Since then, the city appears to have made it a personal mission to live up to the name, advancing efforts for digital initiatives and smart transformation that serve as a blueprint for other municipalities.
One of these initiatives, which has mostly been kept under wraps so far, is Tel Aviv's CityZone project, a mini-city-within-the-city at the 20-acre Atidim High-Tech Park where advanced technological solutions for smart city ventures are vetted and tested. The project is run in partnership between Atidim, the Tel Aviv Municipality, and Tel Aviv University.
CityZone is described as a "living lab" for these tech solutions at an ideal site: the Atidim Hi-Tech Park is home to some 100 high-tech companies and other businesses and includes large open areas for parks, over-ground and underground car lots, a gym, a day care center, a synagogue, and a soon-to-be-completed hospital. Thousands of people work in the area every day, making use of resources such as water, electricity, garbage collection, and of course, parking.
SEE ALSO: Tel Aviv Is Looking To Take Its Smart City Efforts To The Next Level
"It's a microcosm of a city," CityZone said in a statement last week ahead of the official inauguration of its offices and lab in a ceremony attended by Tel Aviv Mayor Ron Huldai, Tel Aviv University President Joseph Klafter, Atidim Park CEO Aviv Sagi Niv, and CityZone Manager Gaby Kaminsky.
The event also drew CityZone's corporate partners including the Renault-Nissan-Mitsubishi Alliance and Dell technologies, venture capital funds managers, and startup representatives.
"The purpose of this lab is to better understand the future of the city, which challenges it will face, how we should address them, and how to promote technological solutions for smart cities," Kaminsky said at the gathering.
Atidim Park, Niz explained, represents a "unique ecosystem that connects people, companies, and sectors: municipal, academic, and private."
Speaking to NoCamels late last year, Kaminsky said the project began when the city of Tel Aviv realized it needed a space "to test technology and projects."
Up until November 2017 when CityZone was set up, "Tel Aviv was testing throughout the city and it was sporadic and not consistent. It wanted a center, one place where it would have the ability and the flexibility to test technology which may not have gotten regulatory approval yet," Kaminsky tells NoCamels.
"Here at CityZone, we are testing the technology before it is implemented throughout the city, from projects related to sensors, cameras, communications, and infrastructure," he explains.
The project has generated "a lot of user data," he says, for which the first customer was the Tel Aviv Municipality, but researchers and scientists focused on urban areas, transportation, and smart city tech are also slowly getting access.
On Tuesday, CityZone officially announced the launch of its startup program, a full-year initiative that will offer entrepreneurs subsidized working spaces at Atidim, mentorship from the relevant departments at the Tel Aviv Municipality, and access to real-time, real-life data, which Kaminsky says is of "real value to early-stage startups," since it will help with product or service development.
CityZone, Kaminsky says, will not take equity nor will it invest any money, in the participating startups.
Sign up for our free weekly newsletter
Subscribe
The value here is that "the startups get to develop something and even potentially reach a paid pilot with the Tel Aviv Municipality," he says.
Kaminsky says CityZone is hoping to host up to 15 startups, mostly early-stage, "and maybe even tap into entrepreneurs [with ideas] who don't even know they are a startup yet."
So far, three startups and one project have been selected after a careful vetting process. They are: EdgeCase, a startup founded in 2017 with offices in Israel and the US that developed an AI-powered synthetic data platform for data labeling (training data for machine learning); Moodify, a Ceasaria-based startup also founded in 2017 that developed an Empathic Car system that "feels" and responds to drivers' needs; Trailze, an award-winning Tel Aviv startup that developed a mobile application to make outdoor navigation and guidance accessible and free; and an initiative called "Help is on the way" (Ezra Baderech in Hebrew) which connects aging or elderly residents with volunteers who can provide on-demand assistance. The service began in Tel Aviv and expanded to Jerusalem, Lod, and Beersheba.
Liora Shechter, chief information officer (CIO) for the Tel Aviv Municipality, said at the gathering that addressing the needs of the elderly population was among some the city's biggest challenges. She added that further solutions are also being sought for monitoring security incidents or major sanitation situations across hundreds of city cameras, as well as encouraging shared and autonomous transportation services or Mobility-as-a-Service (MaaS), and developing cybersecurity systems for smart cities.
Tel Aviv Mayor Huldai emphasized (correctly, to anyone who's ever been to the city) that the transportation issue was a top priority and challenged entrepreneurs to develop solutions that would lead to a decrease in the use of private cars.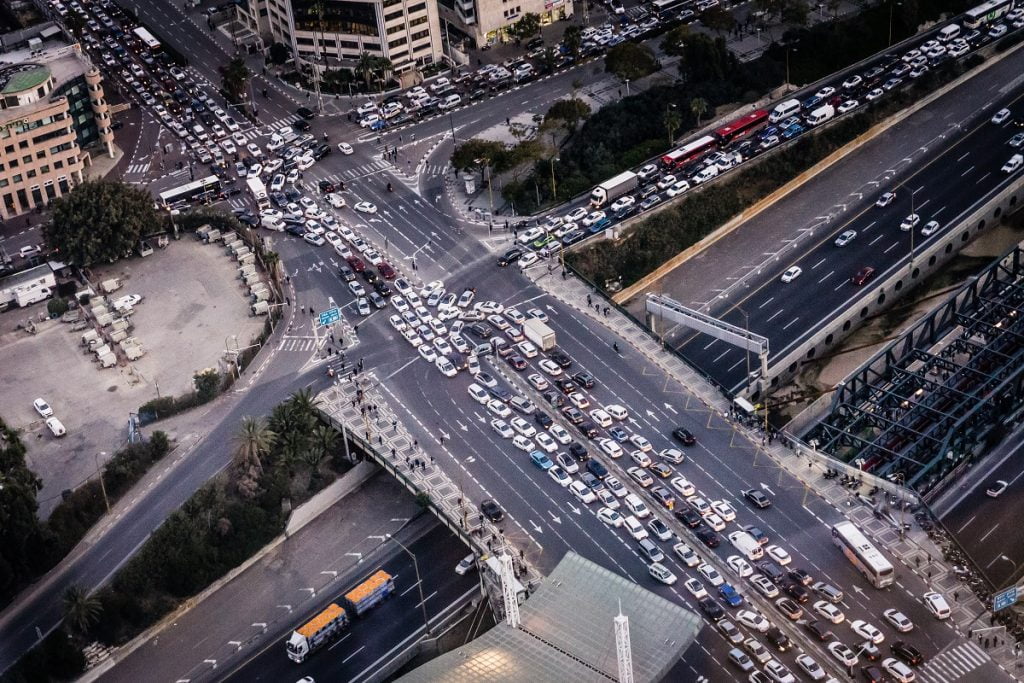 (An initial pilot for this major feat is already in the works. German auto giant Volkswagen and Israel's Mobileye, the advanced driver assistance systems firm acquired by Intel in 2017, announced late last year that they are joining forces to deploy Israel's first driverless, electric ride-sharing service in Tel Aviv sometime in the coming months.)
SEE ALSO: First 'Smart City' Cyber Conference In Tel Aviv Hosts 80 Municipal Delegations From Across the World
Meanwhile, the Renault-Nissan-Mitsubishi Alliance is setting up an innovation center at Atidim Park in partnership with CityZone and will be a major participant in the living lab.
Antoine Basseville, the Director of Alliance Innovation Lab Tel Aviv, said "joining CityZone was a natural step for Renault-Nissan-Mitsubishi as a key part of the local [innovation] ecosystem."
The Franco-Japanese strategic partnership of auto giants will collaborate with relevant startups for ventures such as commercial products for in-vehicle platforms, and vehicle communications systems, Kaminsky said.
CityZone also has international municipal partners, including the city of Berlin with which it will share data and pilot solutions for urban challenges, and where the startups can test prototypes in both ecosystems.
Kaminsky tells NoCamels that CityZone is "looking for solutions that will apply to all cities, not just Tel Aviv," and is aiming an international network of living labs that will become a "comprehensive ecosystem for smart cities."
Related posts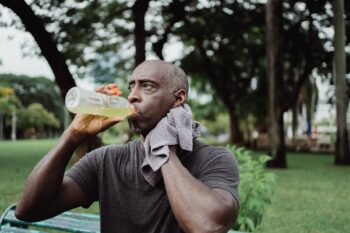 Startup Helping You Get Heart Healthy By Measuring Your Sweat
December 04, 2023