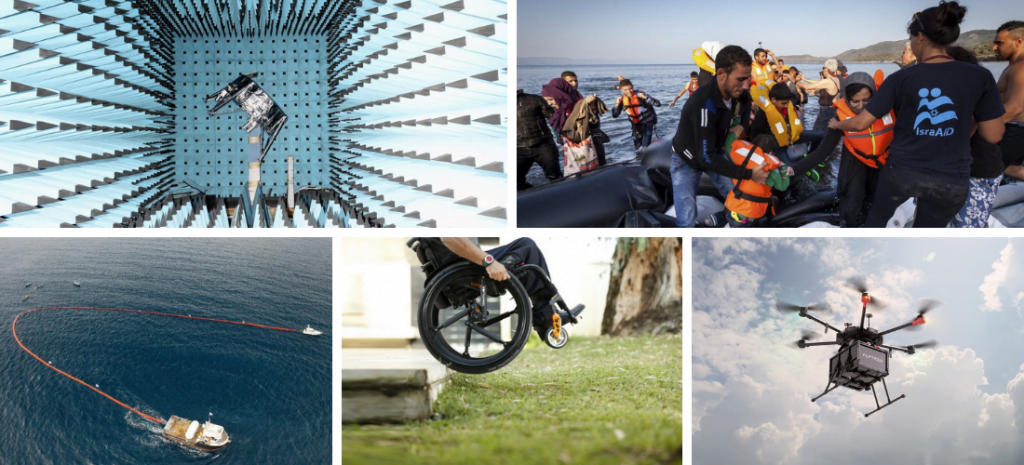 Israel's leading role as a breakthrough technological innovator spans across fields ranging from medical research and cybersecurity to automotive and robotics.
The country's know-how and entrepreneurial spirit also extend to social challenges and generally improving quality of life. In 2018, a number of Israeli initiatives have had a deep impact on the lives of people around the globe, and are on track to change the world with innovative solutions and services.
As 2018 comes to a close, NoCamels highlights fifteen startups and companies that have contributed to making the world a better place this year and will likely be doing so for years to come. Here they are, in no particular order.
IceCure: Destroying cancerous tumors with ice
Caesarea-based IceCure Medical, a biomedical company, developed groundbreaking technology that turns cancerous tumors into ice balls.
Founded in 2006, IceCure has advanced the concept of cryoablation, a process which uses extreme cold to freeze and destroy diseased tissue used by medical experts for years, to develop technology that could be applied to cancer tumors. The treatment involves streaming liquid nitrogen in a closed circuit and then freezing the tumor with a unique needle developed by IceCure. The company says the healthy tissue remains untouched.
IceCure touts the procedures as non-invasive, safe, and a viable alternative to surgery. The system had specifically been developed to treat fibroadenomas, which are the most common type of benign breast tumors, typically seen in young women aged 15 to 30.
Earlier this year, IceCure reported great success rates following clinical trials across the US. Using the IceSense3 system, IceCure said doctors performed the procedures on 146 patients affected by early-stage breast cancer, a majority (103) of whom were under monitoring for almost two years. The company reported that out of the 146 women, one saw the cancer recur.
IceCure announced this summer that it will begin commercial treatments at Elisha Hospital, a private hospital in the northern Israeli city of Haifa, on patients using the ProSense system, one of its two cryoablation systems.
SpaceIL: Taking Israel to the moon
Israeli startup SpaceIL was founded in 2010 by engineers Yariv Bash, Kfir Damari and Yonatan Weintraub, as part of a Google Lunar X international challenge to build, launch and land an unmanned spacecraft on the Moon, a competition that never actually had a winner nor a given out prize.
The startup has vowed to launch Israel's first spacecraft to the moon, a mission that is now planned for February 2019. The upcoming launch would make Israel the fourth country in history — after the US, Russia, and China — to complete a controlled lunar landing. Israel's moon-bound spacecraft, dubbed "Beresheet" (the Hebrew word for Genesis), will carry a digital time capsule loaded with Hebrew songs, stories, Israel's Declaration of Independence and national anthem as a special gift for future generations.
SEE ALSO: Israeli Spacecraft Carries Digital Time Capsule With Hebrew Songs, Stories Ahead Of Historic Moon Launch
Earlier this year, SpaceIL signed an agreement with NASA for its upcoming spacecraft launch mission. As part of the agreement, NASA will fit the spacecraft with a reflector, allow SpaceIL to receive communication services with the spacecraft through its antenna network, install a magnetometer device on the spacecraft that will conduct measurements of the magnetic field at the landing site and photograph the spacecraft as it lands from its Lunar Research Satellite (LRO).
Healthy.io: Turning Smartphones Into Medical Devices
Healthy.io aims to turn smartphones into sophisticated diagnostics devices capable of analyzing urine samples.
Earlier this year, Healthy.io announced a partnership with the US National Kidney Foundation (NKF) and Geisinger, one of the largest health services organizations in America, for a clinical trial using the smartphone-enabled home urinalysis device for chronic kidney disease (CKD) among patients with high blood pressure.
The Israeli startup's app will enable users to conduct a urinalysis test at home and securely share results with their clinicians to monitor the presence of albumin, which indicates kidney damage. Part of the clinical trial will be to "examine the effect of mailed, Healthy.io smartphone urinalysis kits (Dip.io test) to improve albuminuria screening compliance and detection of albuminuria," the company said in a statement.
Healthy.io CEO Yonatan Adiri said the company was "proud to pioneer its 'adherence as a service' platform with such forward-looking institutions as Geisinger and the National Kidney Foundation, adding that its "mission is to use advanced computer vision and patient-centric design to let clinicians empower their patients at scale without additional cost or effort." He went on, "We lean on the spread of digital technology and efficient logistics to offer on-demand testing delivered directly to the home. With a smartphone in your pocket, the point of care becomes wherever you are."
Adiri has said before, "If you can text, you can test."
IsraAID: Bringing disaster relief and aid to those in need
Israeli-based humanitarian aid agency IsraAid has become synonymous with a rapid response to humanitarian crises. Its medical teams, search and rescue units, post-trauma experts, community specialists and other professionals have led international responses to disasters and civil strife in a total of 49 countries to date since it was founded in 2001.
In October, German Chancellor Angela Merkel has presented IsraAID with the German Federal Government's Integration Prize, in recognition of the Israeli humanitarian NGO's Brückenbau ("Bridge Building") project, an initiative which provides psychological support in Arabic to refugees in Germany. The annual Integration Award is the German federal government's highest honor in that category.
IsraAID has played a significant role in rescue and response for large-scale disasters including the 2015 Nepal earthquake, 2013 Typhoon Yolanda in the Philippines, and the 2011 earthquake and tsunami in Japan. They deployed teams to the Philippines during its recent typhoon and the Indian state of Kerala during the disastrous flooding. IsraAID has also deployed a team to the Indonesian island of Sulawesi in October following the devastating 7.5 magnitude earthquake and tsunami, which killed more than 1,400 people.
SodaStream: Taking on plastic waste
SodaStream, the Israeli developer of at-home carbonated beverage units for sparkling water, has built a solid reputation as an environmentally conscious drinks developer, advocating strongly for the discontinuation of single-use plastic bottles within the industry and promoting reusable ones. The company has said "the use of one soda bottle in Israel is an alternative to 3,833 bottles and disposable cans per family over three years."
As part of its strong environment-focused approach, SodaStream launched an initiative in October to rid the waters of plastic, only nine percent of which is recycled. The company built the "Holy Turtle" – a massive contraption designed to clean plastic waste from open waters as part of an ambitious clean-up operation led by SodaStream CEO Daniel Birnbaum. The device was piloted in the Caribbean Sea, off the coast of Roatán, Honduras.
SodaStream was acquired this year by beverage giant Pepsi for an estimated $3.2 billion. Birnbaum most recently announced the planned opening of a manufacturing plant in Gaza set to be operated by a sub-contractor.
Softwheel: Reinventing the wheel
Reinventing the wheel – again – this year is Tel Aviv-based Softwheel. The company has developed an in-wheel suspension technology for the mobility sector. Its innovative suspension systems are engineered for use in wheelchairs, bicycles, and vehicles.
In wheelchairs, the system reduces pain for riders and increases their comfort to significantly improve their daily lives. And in cars, Softwheel's systems enable the fusion of the suspension, e-motor, steering, and brakes into the vehicle's wheels to provide a significant reduction in volume, weight, and energy consumption of vehicle platforms for EV, hybrid, and autonomous vehicles.
Softwheel recently signed a $4.5 million deal with the US Department of Veteran Affairs to provide wheels for 2,000 wheelchairs over three years. The wheel tech is said to reduce pain for wheelchair riders and increase comfort. In August, the company also announced that it signed a new R&D and manufacturing partnership with Japanese automotive and transportation equipment maker Musashi Seimitsu Industry, marking its entry into the automotive industry.
The latest deal with the Japanese multinational comes on the heels of an April strategic cooperation agreement with Linamar, the second largest Canadian manufacturer of auto parts. The latter has expressed the intention to set up a production line for SoftWheel products in North America.
SoftWheel was founded in 2011 by Gilad Wolf, a farmer who broke his pelvis four years prior and found himself in a wheelchair for three weeks.
Wolf told NoCamels in 2014: "When I was wheeled to the synagogue one day, I was in agony when we went over some Ackerstein stones (a traditional stone used for sidewalks in Israel, which has many grooves). I work with tractors and I noticed that tractors have a simple and ingenious airbag-based shock-absorbing construct. So I put two and two together: I built a wheelchair and combined a similar construct for each wheel. It made the wheelchair experience completely different. I took the idea and started to roll with it."
Eviation Aircraft: Giving regional transport a lift
Eviation Aircraft, founded in 2016, is an Israel-based aerospace company that seeks to transform the regional travel industry through an innovative, all-electric, 9-seat aircraft – in other words, aerial rideshares, or "Uber meets Tesla in the sky."
The thinking is that while Uber's plans to combat inner-city traffic congestion with the flying taxi concept is groundbreaking, where does this leave families, entrepreneurs, executives, and others who seek an efficient, cost-effective way of traveling between cities without having to deal with traffic in a busy airport or getting on a large, full aircraft for the short journey? And can this be booked via a smartphone app?
The company has been building its battery-powered aircraft, dubbed the "Alice," since mid-2017 and will start test runs in 2019.
CEO Omer Bar-Yohay says Eviation Aircraft services will make regional trips cheaper than a train ticket and better for the environment.
Sign up for our free weekly newsletter
Subscribe
In April, the company was selected as the winner of the transportation category of Fast Company's 2018 World Changing Ideas Awards.
Aidoc: Disrupting radiology with AI-powered algorithms
Tel Aviv-based Aidoc is an artificial intelligence-powered software that analyzes medical images to identify the presence of diseases. It assists radiologists in expediting problem-spot detection through specific parameters such as neuron-concentration, fluid-flow, and bone-density in the brain, spine, abdomen, and chest.
The company says its solutions help to significantly improve the radiology workflow and enhance the diagnostic process, thus saving lives. The company's software can be applied to full-body imaging, and outside the US, has been commercialized since December 2017.
Aidoc was founded in 2016 by Guy Reiner, Elad Walach, and Michael Braginsky, graduates of the elite Israeli military program Talpiot, which trains recruits with advanced abilities in science and technology to become research and development experts.
Aidoc was named among TIME Magazine's 50 "genius companies" in 2018.
Flytrex: Taking drone deliveries mainstream
Another company reaching new heights in 2018 is Flytrex. Founded in 2013 by Yariv Bash, best known as the co-founder of SpaceIL, and Amir Regev, Israeli drone logistics startup Flytrex provides autonomous on-demand urban drone delivery services. Not an actual drone maker, but rather a developer of the software that controls them, Flytrex is prepared to deliver everything from sushi and beers to retail goods in as little as four and a half minutes, the company says.
Flytrex has launched its delivery services in Reykjavik, the capital city of Iceland, in collaboration with AHA, one of the country's largest e-commerce companies, expanding its delivery routes from one to 13. The company was also selected in May to participate in the Unmanned Aircraft Systems (UAS) Integration Pilot Program established by the Federal Aviation Administration (FAA), aimed at expanding testing of commercial drone operations through partnerships with private entities. Pairing up with North Carolina's Department of Transportation, this allowed them to take on the challenge to establish the first drone-based delivery service in the United States.
Most recently in September, the company teamed up with King's Walk Golf Course outside Grand Forks, North Dakota, and EASE Drones, the US drone services provider, to launch the first golf course delivery system in the US.
Hippo Insurance: Making insurance less of a headache
Founded in January 2015 by Israeli-born Assaf Wand and Eyal Navon, Israeli Insurtech startup Hippo Insurance allows homeowners to get a quote and purchase home insurance online in a minute or less, the company says, and obtain smarter coverage for household goods like appliances and consumer electronics.
The company earned particular attention this year as Northern California was affected by devastating and quickly spreading wildfires, which claimed the lives of over 90 people. As the catastrophe unfolded, Hippo contacted its customers in active wildfire areas to offer help from booking hotels to covering temporary living expenses. It was also able to preemptively file claims for more than 80 percent of its impacted customers before they even reached out to the company themselves. Forbes also reported that the startup, using maps and artificial intelligence, "canvased" all 14 million home in California to develop a specific fire zone footprint against the wildfire," and "wanted to ensure its customers had enough time to evacuate."
SEE ALSO: Israeli Founded InsurTech Startup Hippo Secures $70M, Helps Clients Hit By California Wildfires
Earlier this year, Hippo raised a $70 million funding round, bringing the total amount raised to date to $109 million.
Watergen: Making water out of thin air
With some 2.1 billion lacking access to safe, readily available water, one Israeli company based in Rishon Le Tzion has set out to make drinkable H2O from air. WaterGen's patented technology extracts moisture and humidity from air to generate water that is safe to drink.
Just like Hippo Insurance, WaterGen has contributed its know-how this year to assist in the rescue and recovery efforts in the massive wildfires in Northern California. A WaterGen emergency response vehicle (ERV) made its way to the area, carrying an atmospheric water generator known as a "GEN-350." "Providing the police and firefighters with the basic necessity of drinking water allows them to serve and help for longer periods of time," said CEO of WaterGen USA, Ed Russo.
In 2017, two of the company's products – industrial scale Atmospheric Water Generator (AWG) Large Scale and the highly mobile water generator Gen-350 – were donated to the American Red Cross and FEMA to assist in the aftermath of hurricanes Harvey and Irma. More recently in November, WaterGen was selected as CES' 2019 Best of Innovation Award and Honoree recipient for its Genny water generator.
Lishtot: Taking water technology to the next level
Another company in the clean water technology field made the list this year. Co-founded in 2015 by Dr. Alan Bauer and Netanel Raisch, Jerusalem-based company Lishtot, Hebrew for "to drink," has developed products able to effectively and rapidly detect 20 different contaminants in drinking water – without ever touching it. The company has developed the TestDrop Pro, a keychain-like, handheld device embedded with a sensor that, when placed in close proximity to a cup of water, instantly determines whether water is safe to drink. The device, sold at a retail price of $49.95, blinks blue if the water is safe and red if it's contaminated.
The Lishtot technology platform uses electric field sensors to determine the quality of a given water sample. The company has also developed an app, which allows users to report problems to utility companies and search, based on location, for data about any contamination events, as well as add videos, images, comments and access their testing history.
SEE ALSO: Lishtot's Handheld Gadget Allows You To Instantly Check If Water Is Safe To Drink
The startup made international headlines this year with its innovative tech, snagging first place in January at the Startup Night competition at the CES 2018 annual conference, the largest tech and innovation tradeshow of its kind. Lishtot was also recently named one of TIME Magazine's 2018 Genius Companies and was among 18 Israeli companies selected in April for the India-Israel Innovation Challenge, which supports Indian and Israeli entrepreneurs in partnering for digital health, agriculture and water technology solutions in India.
GalaPro: Making theater accessible to all
Founded in 2015 by Dr. Elena Litsyn and Hagai Pipko, Israeli startup GalaPrompter, which developed the app GalaPro, has made it a mission to make theater and live performances accessible to everyone in their own language and customize the experience of live shows viewers, especially those with visual and hearing disabilities. The app provides smartphone users with subtitles in different languages, closed captioning, audio descriptions, dubbing and amplification services, allowing all theater lovers to enjoy theater and film performances. All content is provided in real time on the app, which is designed in a way that is not supposed to distract other patrons in the audience.
The app is already being used at prominent Broadway theaters and notorious shows like "Chicago", "School Of Rock" and "Pretty Woman." According to an agreement reached by the company with theater organizations, GalaPro's services are set to be implemented at all Broadway theaters by the end of 2018.
Most recently in October, the New York City Mayor's Office of Media and Entertainment (MOME) announced a partnership with the company to install the GalaPro software in qualifying off-Broadway, not-for-profit and independent New York City theaters. As part of the agreement, the Mayor's Office set to provide up to $100,000 to cover the cost of installing GalaPro software. GalaPro is also the receiver of the prestigious Sapolin Award, which was given out by New York City Mayor Bill de Blasio earlier this year for the company's breakthrough technology.
Aleph Farms: Introducing the world's first lab-grown, slaughter-free steak
Aleph Farms made international headlines this month as it unveiled the first slaughter-free steak grown from animal cells to deliver "the full experience of meat with the appearance, shape, and texture of beef cuts," essentially announcing what it says is the first prototype of lab-grown steak in the world.
Aleph Farms, previously Meat-the-Future, was co-founded in 2017 by Israeli food-tech incubator The Kitchen, a part of the Strauss Group, and the Technion-Israel Institute of Technology, alongside Toubia and Professor Shulamit Levenberg, the startups' chief scientific officer. It set out to make lab-grown meat a reality.
"We're shaping the future of the meat industry — literally," said Aleph Farms co-founder and CEO Didier Toubia. "Making a patty or a sausage from cells cultured outside the animal is challenging enough, imagine how difficult it is to create a whole-muscle steak.
"At Aleph Farms, this is not science fiction. We've transformed the vision into reality by growing a steak under controlled conditions," he added.
TrigoVision: Bringing the automated shopping experience to everyone
Looking to reshape the shopping experience amid the global race in automated retail set off by Amazon Go, is Israeli computer vision startup Trigo Vision. Founded by Michael Gabay and his brother Daniel Gabay, Trigo Vision emerged from stealth mode in July and raised $7 million in seed funding to begin rolling out its sophisticated store checkout-free software.
The startup developed an advanced retail automation platform, which identifies customers' shopping items, aiming to create an accurate and seamless checkout process. The system recognizes that the customer wants to buy an item when he holds it or puts it into his shopping cart. If the customer puts it back, the system will register this and delete it from his purchase list. Trigo's technology, which the company says has a 99.5 percent accuracy rate, combines a ceiling-based camera network with machine vision algorithms to identify the customer's correct shopping items while they are in the store.
In November, Trigo Vision announced a partnership with Shufersal, Israel's largest supermarket chain, that set to incorporate Trigo's automated retail platform into over 272 Shufersal stores, VentureBeat reported. The company is also in talks with major European and American stores.
Related posts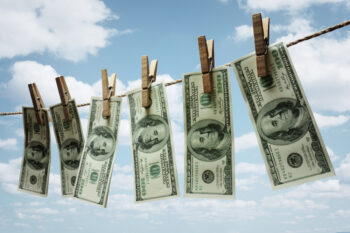 AI Money Laundering Watchdog That 'Senses' A Financial Crime 
September 24, 2023