A number of US response teams operating in Florida during this month's Hurricane Michael, a Category 4 storm that wreaked havoc with 155mph winds and claimed the lives of 36 people across four states, partnered with Israeli-founded drone and augmented reality startup Edgybees for critical situational awareness during rescue missions throughout the 10-day ordeal.
The California-based Edgybees, which developed a real-time platform that relays vital information over video captured by drones to help lead rescue efforts in natural disasters and public safety incidents, says it communicated closely with affected clients in the lead-up to the hurricane to make sure its solutions could be deployed speedily after the storm hit the Florida Panhandle earlier this month.
Combining 3D mapping, data, and live video from UAVs and other aerial platforms, the company's technology and services are already being used across the US by first responders, search-and-rescue teams, police and fire departments, and even US telecommunications services to comb through damage, including in the aftermaths of hurricanes.
"Before a hurricane is about to hit and a number of departments are preparing for rescue efforts in various parts of the country, our customers come to us wanting to download the software for their flying drone, helicopter, plane," CEO Adam Scott Kaplan tells NoCamels. After the software is downloaded, he explains, the emergency personnel on the scene can transfer the information from the drone to a smartphone, tablet, or to the command center, giving the search-and-rescue team the ability to cooperate with those departments for rescue missions.
"When you're in a situation like a hurricane, there are a lot of places you cannot get to. You need to fly a drone to get awareness of what is going on there," Kaplan explained, "What is the situation? Are there people there? What is the damage? Our software provides 'situational awareness' for those kinds of circumstances," Kaplan said.
SEE ALSO: This Israeli Startup Combines Drones, AR Tech To Help Save Lives in Emergency Situations
During Hurricane Michael, response teams in Florida's Alachua Country Fire Rescue, and Missouri's Task Force 1, deployed to help rescue efforts in the area, all used Edgybees' software solution for rescue and damage assessment efforts.
Some of the information overlaid by the AR tech on video was used by Verizon Wireless telecommunications services in the area to help find damaged electronic infrastructure, so teams could fix damaged cell phone towers and re-establish communication between networks in the area, Kaplan also said. By October 17, a majority of the service had been restored in areas most impacted by the storm, Verizon Wireless President Ronan Dunne tweeted, writing that network operations continued "to improve."
The startup founder, who described Edgybees tech to "Waze up in the air," says the maps provided by the software has been used by emergency response teams during Hurricane Irma last year to locate people who were stranded near washed out bridges, to pinpoint destruction during Hurricane Florence last month, and by over 15,000 firefighters during the Northern California wildfires last October.
Sign up for our free weekly newsletter
Subscribe
From drone racing to drone search-and-rescue 
Edgybees first began as a drone racing game devised after a spell of boredom in 2016, Kaplan told NoCamels in March. The former co-founder of Tonian Systems and an executive for companies like Xennex and Digital Guardian was introduced to drones by pal Menashe Haskin, a graduate of the IDF Intelligence Corps Unit 8200 who had also managed the development of Amazon Prime Air. Together with robotics and drone expert Nitay Megides, they collaborated with Da-Jiang Innovations (DJI), a Chinese drone company, and by 2017 released First Response, a drone-flying app helping to direct and orient responders in emergency situations and disaster zones.
The responders already had the drones, but Edgybees tech provide the real-time mapping solution that would help them identify important information like the location of victims, distress signals and points of interest.
The company raised $5.5 million in a seed funding round led by Our Crowd in February 2018, with participation from the venture capital arm of Motorola Solutions, a firm Edgybees Kaplan refers to as "the biggest company in public safety", Verizon Ventures, 8VC, NFX, and Aspect Ventures.
Since the expansion of its software to help emergency workers, the company has grown in both its Palo Alto headquarters and its Israel office in Beit Herut, where team members regularly test the company's innovative AR technology software on various types of drones.
SEE ALSO: At Annual Summit, OurCrowd Highlights Its Key Role In Some of Israeli Tech Scene's Biggest Deals 
Kaplan told i24NEWS he wants Edgybees to be a solution people can use "wherever you have data that you can visualize very accurately – this is in the public safety space, in helping people to make a positive impact or in sports or defense and also in the automotive."
"The plan is to expand our real-time augmented reality (AR) technology to additional verticals including defense, smart cities, automotive, and broadcast media, not to mention CCTV and body cameras. We are also expanding the depth and breadth of the platform to allow millions of developers to build on top of our platform," Kaplan told Verizon Ventures in March when asked what the future holds for the company.
Video of damage during Hurricane Michael provided by AFP news agency. 
Related posts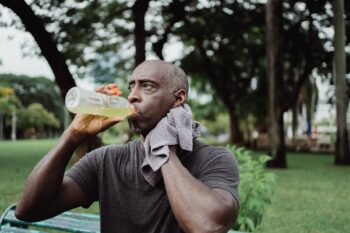 Startup Helping You Get Heart Healthy By Measuring Your Sweat
December 04, 2023