Beachgoers in Israel must often contend with two nuisances in the long summer months: jellyfish and garbage.
Jellyfish usually swarm the waters to terrorize bathers beginning in July (and sometimes even in June) and their gelatinous remains can be found dotting the shoreline for the next two months.
The plastic waste, meanwhile, is a permanent feature on the beach and in the water during those months, much to the dismay of those who care for the beach experience. Plastic garbage thrown away by beachgoers makes up a staggering 92 percent of the waste found in Israel's seawaters, whereas the global average is only 75 percent, according to a 2015 study by the University of Haifa cited by The Jerusalem Post.
SEE ALSO: These 4 Israeli Startups Are Leading Sustainability Efforts In The Food Sector
Globally, the world has produced some 6.3 billion tons of plastic waste since the 1950s, only nine percent of which has been recycled and another 12 percent incinerated, and the majority of it ends up in the ocean, according to an Economist report this year. In 2016 alone, plastics production worldwide totaled some 335 million metric tons.
Israeli scientists have been working alongside international researchers to find an innovative solution to help minimize plastic waste in the seawater, also known as microplastics following a degradation process, using jellyfish.
Dr. Dror Angel, from the University of Haifa's Department of Maritime Civilizations, has been leading a team of researchers looking into how jellyfish could be used to isolate microplastics in seawater and ocean water by creating a filter made of jellyfish mucus. The research is part of the Go Jelly project, an international consortium of technology developers, business analysts, fishing companies, research institutes, and scientists working with a number of universities and research centers worldwide to "promote a gelatinous solution to microplastic pollution." It is funded by the European Union's Horizon 2020 research and innovation program.
According to Dr. Andy Booth, a senior research scientist with a Norway-based research organization that has partnered with Go Jelly, ridding a marine environment of microplastics is an extremely difficult task, mainly due to concentration. Plastics from a decade ago are still present and still more plastics are being released into the environment every day, he said, adding that some microplastics are buoyant while some sink, making them harder to retrieve.
Since January, Dr. Angel and his team have been closely looking at the role of jellyfish-produced mucus and whether it could be used as a trapping agent to develop a filter for use in wastewater treatment plants and industrial processes to dispose of waste.
Dr. Angel tells NoCamels that the research mainly focuses on such plants since they could help prevent much of the output of microplastics into marine systems.
"The use of plastic in urban [environments] is ridiculous. We use a lot of plastic and we release things into the environment constantly, especially after using a washing machine [for example]. We aren't just releasing it to the ground around us, it is being released and treated by wastewater [plants]," he says.
Sign up for our free weekly newsletter
Subscribe
Dr. Angel also describes a cyclical process that affects other industries. "There is a huge amount of re-used wastewater or treated water in Israel – we use the water for irrigation and there's an 'enrichment' of microplastics in the soil which of course could go back to the sea, or the plastic could travel into the things we cultivate in agriculture."
With the project still in its preliminary stages, the research team has so far gathered a number of various plastic particles for testing. The second part of the project involves removing a large number of jellyfish from the sea, which Dr. Angel jokes will instantly help solve that nuisance for Israeli beachgoers.
Dr. Angel emphasizes that a proof-of-concept for the idea behind the project already exists as scientists in France have successfully extracted mucus from jellyfish for use it trapping nanoparticles, according to a 2015 study published in Scientific Reports, a science journal published by Nature Publishing Group.
And jellyfish in the Mediterranean Sea have shown to produce an unusually large amount of mucus, he says, which is promising for the development of a future filter.
But the team faces a number of questions: Can the scientists reproduce the mucus-extraction process? How long can the mucus be worked with during the testing stage? Hours, days, weeks? What would the disposal process for the particles look like after they are gathered?
SEE ALSO: Genetically Modified Bacteria Could Eat Away The World's Massive Plastic Problem
According to a 2018 study, jellyfish are more likely than other marine life to ingest plastic debris, but "we don't know if the plastic just got stuck on them or if the jellyfish were actually eating the plastic," Dr. Angel explains.
Hence, if jellyfish were proven to willingly ingest plastic, it could have a great impact on the maritime environment, he indicates.
For the moment, Dr. Angel and the team are waiting on the next jellyfish season. "As soon as the jellyfish come back, we're going to collect them and [start] tests," he says.
Related posts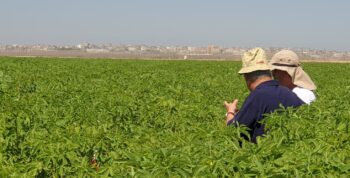 'We Keep Going': Cleantech Firm Resolute After Hamas Horror
November 05, 2023