It is summertime and that means there is oodles of time to enjoy the outdoors, get a hands-on feel of the environment, and learn about nature. And in Israel, getting a feel for the land is essential.
"Israel is rich with environmental organizations, local community groups committed to the environment, neighborhood and school efforts that involve opportunities for kids to literally get their hands dirty in the mud, in sand, with trees and with nature," says Gidon Bromberg, Israeli Director of EcoPeace Middle East.
There is no shortage of environmental activities on offer. Field schools around the country, KKL-JNF, botanical gardens, Israel Nature and Parks Authority and others offer a host of outdoor activities year-round highlighting local nature and the environment.
SEE ALSO: Noah's Ark-Shaped Natural History Museum To Curate 5 Million Specimens
"Israel has a very long tradition of connecting young people to the land. From tree planting to the required annual hike that all school kids must partake in to the building of environmental field schools all over the country that enable school kids to spend time out in nature and use them as bases for learning about the environment," Bromberg tells NoCamels. "So, Israeli kids are really quite privileged — and I say that because I know the situation for kids in the region, for Palestinian kids and Jordanian kids — there is simply no parallel of opportunities that Israeli kids have to learn about the environment and literally get their hands dirty."
There are also indoor activities beckoning visitors to their air-conditioned interactive exhibits.
The recent opening of the Steinhardt Museum of Natural History in Tel Aviv is the latest museum to present Israel's treasures of nature.
"The museums are an added value of enrichment; they don't replace the need to be outdoors. They further enrich and allow young minds – and not just young minds," says Bromberg. "The main feature of these museums is they are there to enrich and build on the experience of the outdoors."
So, if you need refuge from summer's soaring temperatures and high humidity index, join NoCamels on a tour of five of Israel's "coolest" nature museums and experience the outdoors indoors.
Steinhardt Museum of Natural History, Tel Aviv
From the moment you step into Israel's newest museum, the Steinhardt Museum of Natural History, you can really feel our beautiful living planet. Dozens of bird specimens hang from the ceiling and welcome visitors into this museum of life.
The Steinhardt Museum of Natural History opened its doors in July 2018. The museum's mission is to "inspire acquisition of knowledge, to promote understanding, and to reinforce our bonds with nature and our place within it – for the benefit of future generations."
This is the place to come face-to-face with a liger; find out why beetles are the largest group of animals on earth and learn about how living organisms interact.
"Kids tend to see themselves as the center of the universe; everyone needs to take care of [them]. But learning about the environment is understanding that we're actually a very small part of what's on the planet, on what's around us," says Bromberg.
"There's a leadership aspect of learning about the environment: taking responsibility for what's around me, to make sure the water I drink is clean, the air that I breathe is fresh, that there are open spaces and wildlife and biodiversity, flourishing in areas around me as well. The environment helps you gain a sense of perspective in time and place, that you are not the center of the earth.
It helps young people become the type of responsible adults that we want to flourish in Israel and the region."
Sign up for our free weekly newsletter
Subscribe
Museum of Natural History, Jerusalem
This museum of natural history, located in a historical building in the capital's affluent German Colony neighborhood, is one of the oldest museums in Israel, operating since 1949.
While its Tel Aviv counterpart is far more up-to-date, this place of learning nonetheless hosts some 20,000 visitors a year (according to its website) to permanent exhibits on dinosaurs, geology, nature, mammals and the human body. The last leopard seen in the Judean Desert can be seen here (stuffed, of course).
The museum also hosts rotating exhibits dedicated to the environment and its subtopics, including, earthquakes, animal migration and the like.
Man and the Living World Museum, Ramat Gan
Since 1983, this museum has been a go-to educational center for schoolchildren and families looking to learn more about the living world. Fossils, taxidermy animals and birds, skeletons and live reptiles share space in this 1,000-square meter museum, which is located in the Ramat Gan National Park. Permanent exhibits include early human species, dinosaurs, how muscles work, the brain and nervous system, and man and his environment. (English link)
Museum of Human Sciences and Environment, Petah Tikva
This museum focuses on us, humans, and our place in the world. Permanent exhibits include displays on human anatomy, biology, senses, the brain, muscles, and our nervous system. The museum also highlights our role in keeping the environment healthy and ourselves healthy.
Interactive exhibits are divided into themes including water, air, motion, and nature. The museum runs workshops on how to integrate science, art and environmental learning into our day-to-day lives. (English link)
Biblical Museum of Natural History, Beit Shemesh
This edutainment center is part zoo, part museum and part education center. It was set up to showcase mammals, birds, reptiles and insects from the biblical times.
SEE ALSO: With Advanced Laser Tech, Sensors And Sounds, King David's Journey Comes Alive In Jerusalem's Old City
While the Steinhardt Museum of Natural History organizes its displays according to principles of biology and evolution, the Biblical Museum of Natural History exhibits its collections of taxidermy animals, old bones and skulls according to biblical themes.
The museum, which opened in 2014, claims to have the world's largest collection of exotic shofars.
Viva Sarah Press is a journalist and speaker. She writes and talks about the creativity and innovation taking place in Israel and beyond. www.vivaspress.com
Related posts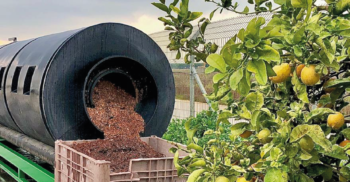 Compost Drum Turning Muck Into Money, Shrinking Israeli Landfills
September 19, 2023