By Ido Levy, NoCamels
April 18, 2018
12
minutes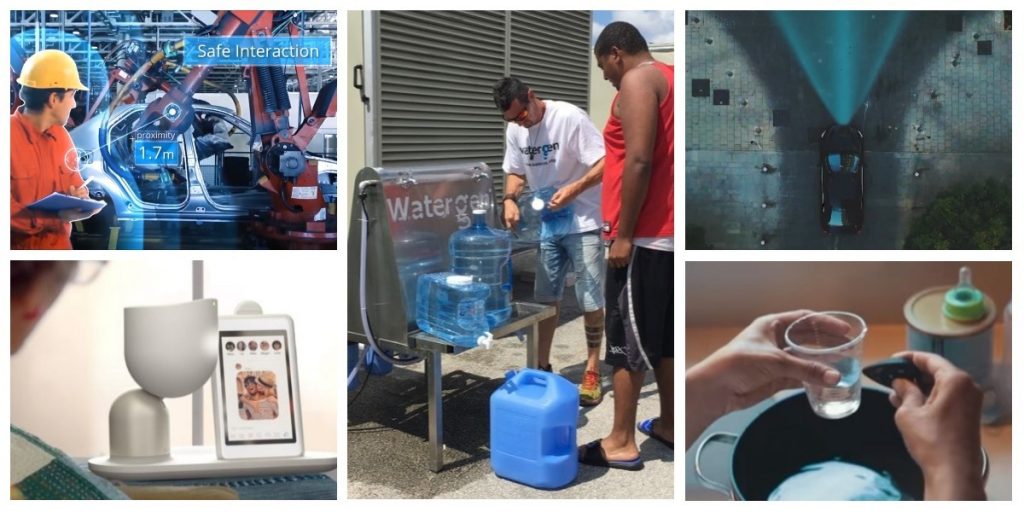 Israel has over the past two decades soared to become the nation with the highest number of startups per capita in the world. With over 8,000 currently active startups and established companies, and innovation across a number of fields including medical, agricultural, automotive, cloud computing, cybersecurity (and much more), Israel is a powerhouse for pioneering tech and has certainly earned its moniker "Startup Nation."
In honor of Israel's 70th anniversary, celebrated on Thursday, NoCamels is highlighting 13 of the most cutting-edge Israeli innovations with a real-world impact over the past year.
Water-Gen: Extracting Water From Air
Israeli entrepreneur and former combat reconnaissance commander Arye Kohavi and a team of engineers founded Water-Gen in 2010 after developing technology that extracts water from air through a series of filters.
Water-Gen's original goal was to provide easily accessible water to militaries around the world. Following Water-Gen's acquisition by Michael Mirilashvili, a Russian-Israeli billionaire and vice president of the World Jewish Congress, the company shifted its focus tackling water scarcity around the world and answering the needs of civilians following natural disasters. Last year, Water-Gen sent four water generators to Texas and Florida in the aftermaths of Hurricanes Harvey and Irma, respectively, working with the American Red Cross and FEMA (Federal Emergency Management Agency) to provide clean and safe drinking water.
SEE ALSO: Innovation Nation: Twelve Israeli Inventions That Are Changing The World
Although still more expensive than desalination, Water-Gen's method has the potential to revolutionize global responses to natural disasters and contamination, and could provide an answer to water shortage and scarcity, where some 1.1 billion people worldwide lack access to water.
Last month, the US Environmental Protection Agency (EPA) announced that it has signed a cooperative R&D agreement with Water-Gen the test the company's technology as a way to improve "access to potable water during shortages or contamination events," according to a report citing a statement by EPA head Scott Pruitt.
Lishtot: Making Drinking Water Safe
Another startup in the water tech category making waves is Lishtot, Hebrew for "to drink," which develops products able to effectively and rapidly detect contaminants in drinking water – without ever touching it.
As of 2017, over two billion people worldwide lack access to safe drinking water according to the World Health Organization and an estimated 842,000 people die every year as a result of unsafe drinking water. Entrepreneurs Natanel Raisch and Alan Bauer founded Lishtot in 2015 with a grant from the Israel Innovation Authority to address this problem.
Lishtot's TestDrop and TestDrop Pro test water quality within a few seconds via a handheld keychain device that tests a sample electronically and returns a blue or red light to indicate whether a water sample is good to drink or not. They can test for 20 contaminants including E. coli, lead, arsenic, mercury, copper, chlorine, and protein at EPA and WHO standards.
The Jerusalem-based company also developed the Lishtot App, which allows users to report problems to utility companies and search, based on location, for data about any contamination events, as well as add videos, images, comments, and access their testing history. "We want to create a platform for drinking water quality data and information like nothing that exists today," Raisch told NoCamels earlier this year. "People have no idea what's in their water and it's the second most essential resource that nearly everyone on the planet pays for in one way or another. We think people deserve to know more about the water they drink and we hope to cement Lishtot as the place everyone goes for info about their water."
The TeStraw, a pen-shaped device currently in development, will give users an accurate indication of exactly what types of contaminants are in the water sample, as well as the specific concentration level. Another upcoming device is the TestPipe, an advanced water-monitoring product that checks the quality of tap water in residential homes. Currently undergoing further development and research, the TestPipe is set to fit easily under any sink and connect to a LED-light display on the kitchen faucet that, at any given moment, makes sure the tap water is not contaminated.
In January, Lishtot snagged first place at the Startup Night competition at the CES 2018 annual conference, the largest tech and innovation tradeshow of its kind, in Las Vegas.
Lishtot was also among 18 Israeli companies selected earlier this month for the India-Israel Innovation Challenge, which supports Indian and Israeli entrepreneurs in partnering for digital health, agriculture and water technology solutions in India. Riasch flew to India with Prime Minister Benjamin Netanyahu to represent the company and its principles.
Vayyar: Seeing Through Walls
Yehud-based Vayyar Imaging has developed a radio frequency-based technology that can "see through" objects and liquids and yield 3D imaging of what is behind them .
Raviv Melamed, Miri Ratner, and Naftali Chayat founded the company in 2011 originally to create more advanced solutions for breast cancer detection.
As Vayyar continued to innovate, it expanded into other sectors, including security, automotive, retail, elderly care, construction, and agriculture. One interesting field it has entered is the smart home sector, developing an application that monitors home occupants' movements and vital signs, which it unveiled at CES in January.
Late last year, Vayyar raised $45 million in Series C funding and was named among Business Insider's 50 startups expected "to boom" in 2018, as well as NoCamels' "superhero startups" of 2017.
Moovit: Disrupting Urban Mobility
Tel Aviv-based Moovit developed an app that provides real-time information on the fastest public transportation routes (buses, trains and underground) and has grown to include 120 million users in 80 countries. Moovit also sells transit data analytics to municipalities and public transport operators through its Smart Transit Suite, a platform that provides real-time information on people movement, optimal routes, wait times, locations of buses and trains and other data for network managing. Moovit says it generates more than a billion movement data points a day with crowdsourcing from users and 180,000 local editors spread across the world.
In February, it announced that it raised $50 million in a Series D funding round led by Intel Capital, the investment arm of Intel, and would partner with Mobileye – the Israeli-founded company that developed sensors for self-driving cars and which was acquired by Intel for over $15 billion – to incorporate its public transport data into Mobileye's navigation system. Mobileye co-founder Amnon Shashua, senior vice president at Intel Corporation, and CEO/CTO of Mobileye, joined Moovit's Board of Directors as an observer.
"The combination of Mobileye's and Moovit's technology and data will be instrumental in making cities ready for autonomous vehicles" said Shashua at the time.
Together, Moovit and Mobileye are poised to reshape urban mobility.
GlucoMe: Bringing Digital Diabetes Care To The World
Yarkona-based GlucoMe developed comprehensive a digital diabetes care solution for patients and medical professionals.
GlucoMe's platform consists of "a Smart Glucose Monitor, Insulin Pen Monitor, Mobile App and cloud-based Digital Diabetes Clinic," in which "glucose measurements and insulin intake are automatically recorded by the patient's smartphone and analyzed in the cloud, providing treatment recommendations for each patient, enforcing adherence and enabling digital or face-to-face intervention for the right patients at the right time," the company says.
In January, the company signed an exclusive contract with India's Apollo Sugar, Apollo Hospitals Group's nationwide chain of diabetes clinics to integrate the GlucoMe digital diabetes care solution into a national diabetes home-care program.
This week, it announced that it was launching its platform in Central America, starting in Guatemala, Panama and the Dominican Republic, in partnership with Norwegian electronic medical record (EMR) company DiaMan.
GlucoMe was founded in 2013 by Yiftah Ben Aharon and Dov Moran, also the inventor of the USB memory stick and one of Israel's leading entrepreneurs. GlucoMe's innovation is a significant step toward realizing the promise of digital and telehealth.
Healthy.io: Turning Smartphones Into Medical Devices
Another pioneer in the digital health field is Tel Aviv-based Healthy.io, which aims to turn smartphones into sophisticated diagnostics devices capable of analyzing urine samples.
This week, Healthy.io announced a new partnership with the US National Kidney Foundation (NKF) and Geisinger, one of the largest health services organizations in America, for a clinical trial using the smartphone-enabled home urinalysis device for chronic kidney disease (CKD) among patients with high blood pressure.
The Israeli startup's app will enable users to conduct a urinalysis test at home and securely share results with their clinicians to monitor the presence of albumin, which indicates kidney damage. Part of the clinical trial will be to "examine the effect of mailed, Healthy.io smartphone urinalysis kits (Dip.io test) to improve albuminuria screening compliance and detection of albuminuria," the company said in a statement.
Healthy.io CEO Yonatan Adiri said the company was "proud to pioneer its 'adherence as a service' platform with such forward-looking institutions as Geisinger and the National Kidney Foundation, adding that its "mission is to use advanced computer vision and patient-centric design to let clinicians empower their patients at scale without additional cost or effort." He went on, "We lean on the spread of digital technology and efficient logistics to offer on-demand testing delivered directly to the home. With a smartphone in your pocket, the point of care becomes wherever you are."
Adiri has said before, "If you can text, you can test."
Innoviz Technologies: Making Autonomous Driving Safe
As autonomous vehicles are set to become part of our future, entrepreneurs in the industry have been looking for ways to make autonomously driven cars safe enough for mass commercialization and use. Founded in 2016 by former members of an elite technological unit of the IDF, Innoviz Technologies is part of a new crop of startups in automotive tech trying to realize this goal.
Sign up for our free weekly newsletter
Subscribe
Innoviz produces 3D remote sensors based on light detection and ranging (LiDAR) that have been taking the market by storm. In 2017, Innoviz raised $73 million in Series B funding including from two of the world's largest automotive suppliers, Delphi Automotive and Magna International. In November, Innoviz was named an CES 2018 Innovation Awards Honoree for its InnovizPro High Definition Solid State LiDAR, and was included in NoCamels 2017 list of "superhero startups."
At this rate, Innoviz may become the key to success for the autonomous vehicle industry.
Intuition Robotics: Bringing Digital Companionship To Elders
Intuition Robotics first made headlines in 2017 for its ElliQ social companion, an AI-powered robot companion meant to improve the lives of the aging population. The small tabletop robot helps the elderly connect to the outside world and keep active and engaged. ElliQ can suggest content to watch, give reminders about appointments, and set up chats with friends, among other functions. The device combines the convenience and ability of a smartphone with the accessibility and interactivity of Amazon Echo's Alexa, having the features of a mobile and operating through interactive voice command like an Alexa.
Intuition Robotics was founded in 2015 by Itai Mendelsohn, Dor Skuler, and Roy Amir. In 2017, it raised $20 million, including $14 million from Toyota AI Ventures, the investment arm of the Japanese auto giant. It was named the Best of Innovation Winner in the smart home category at CES 2018.
Last summer, the Ramat Gan-based company opened an office in San Francisco as it looked to recruit staff and ramp up testing of its product.
SEE ALSO: Nine Israeli 'Superhero' Startups That Made The World A Better Place In 2017
ReWalk: Enabling Paraplegics To Regain Mobility
Yokneam-based ReWalk Robotics has appeared on nearly every list that includes top Israeli innovation and for good reason. The company developed a bionic walking assistance device that allows paraplegics to stand and regain mobility. The exoskeleton features motion sensing and motor-powered legs that enable walking.
It received special attention in 2012 when paraplegic Claire Lomas used ReWalk to run the London Marathon, an accomplishment that led to her lighting the celebration cauldron in Trafalgar Square before the 2012 Paralympics.
Today, ReWalk is shifting its focus to helping stroke victims.
To this end, it developed the ReStore, a lightweight exoskeleton that costs $20,000, significantly cheaper than ReWalk's first product, which is bulkier and costs $85,000. The high price has been one of ReWalk's principal challenges, though it has ameliorated this issue by getting insurers to cover some of the costs for those who are eligible, most notably in Italy and Germany.
The first commercial application for ReStore "will be for stroke survivors, followed by Multiple Sclerosis patients and then additional applications," the company said.
Dr. Amit Goffer, a mechanical engineer, started working on designing the exoskeleton in 1998, following a road accident that left him tetraplegic. Dr. Goffer has said that he is "not a great believer in wheelchairs," citing "loss of dignity" as their worst drawback.
Airobotics: Operating Smoothly In The Sky
As the drone industry takes off, Petah Tikva-based Airobotics is producing the first unmanned drone on the global market for industrial operations. Airobotics drones are programmable and can be fully automated for, among other operations, inspection, stockpile management, and security in industrial settings. Besides industrial facilities, these drones may operate in mining, seaport, and oil and gas facilities
In 2017, Airobotics raised $32.5 million in preparation for expanding into the defense and homeland security field. It has listed Intel Israel and Israel Chemicals as its first clients and is focused on expansion in the US and Australia.
Earlier this year, Airobotics was named among 15 Israeli firms on Fast Company's 'World's Most Innovative' list. It was also named by Forbes among five Tel Aviv startups to watch in 2018.
Airobotics was founded in 2014 by Ran Krauss and Meir Kliner. It has raised over $70 million in funding.
Cybereason: Pioneering Cybersecurity Practices Around The World
This award-winning Israeli company developed a leading cybersecurity data analytics platform which includes "endpoint detection and response, next-generation antivirus, and active monitoring services."
Last month, it launched the Cybereason App for QRadar, partnering with US giant IBM to integrate its solutions with IBM security intelligence technology "to reduce risks associated with cyber threats by delivering high fidelity alerts when malicious behaviors are detected on endpoints," the company said.
"IBM is a trusted solution provider to the world and having Cybereason on the IBM Security App Exchange will help customers bring new endpoint security insights into their security analytics solution to gain a single comprehensive view into enterprise-wide risks. The threat landscape is evolving at such a rapid pace and the sophistication by which many attacks occur leave many organizations vulnerable, so we are thrilled to be working closely with IBM Security to provide another way to combat these threats," said Sam Curry, chief security officer at Cybereason.
Last year, Cybereason raised $100 million from Japan's telecommunications giant SoftBank, which previously invested $59 million in the company. The company was founded in 2012 by Lior Div, Yossi Naar, and Yonatan Amit. It is headquartered in Boston, with offices in London, Tel Aviv and Tokyo.
Lemonade: Disrupting The Opaque Insurance Industry
Israeli-founded New York-based insurance startup Lemonade has been reshaping the insurance market ever since it was created in 2015 by entrepreneurs Shai Wininger, a co-founder of Fiverr.com, and Daniel Schreiber, former president of Powermat.
Lemonade's insurance platform is powered by artificial intelligence and behavioral economics and is available in eight US states including New York, California, Illinois, New Jersey, Nevada, Georgia, Pennsylvania, and the District of Columbia, while offering renters and condo insurance in Texas and Rhode Island, and renters insurance in Ohio.
Instead of relying on brokers, Lemonade reaches customers through a mobile app, via which customers may get insured and make claims. Customers pay a flat rate and find insurance plans through automated data analyses. Unclaimed money goes to non-profits chosen by customers.
In late 2017, Lemonade raised $120 million from the Japanese SoftBank Group toward global expansion. Although Lemonade has not released details of its latest funding round, the company is thought to be valued at more than $500 million.
AngelSense: Creating A Safer World For Children With Special Needs
Israeli-founded Angelsense developed an award-winning patented GPS and voice-monitoring solution for caregivers of children with special needs, creating a safer world for them.
Angelsense was founded in 2013 by Doron Somer and Nery Ben-Azar who sought a way to keep track of their autistic children's whereabouts. The kit, complete with wearables for the child, creates a personalized timeline of the child's daily visited locations, routes, and transit speed, while parents are alerted if the child deviates from the planned schedule or if the child is at an unexpected location, and at any time can zoom-in to see the child's route on a map in real-time, the company says.
Angelsense also allows for listening in on a child's environment and surroundings to ensure safety and a two-way voice option allowing caregivers to speak to the child without the latter needing to operate anything. to "pick up" or click anything.
The solution also has an emergency function. "AngelSense's 'First Responder Alert' is without a doubt the product's flagship feature, allowing parents to alert a predefined group of trusted people, including family members, friends, caregivers, school officials and local law enforcement in the case of a lost or wandering child," the company says.
"Almost every day we hear from a parent that AngelSense has given them immense peace of mind with the knowledge that if their child was ever in danger, they would be able to help them right away," Ben-Azar said in a statement this year.
Angelsense launched in the US in 2016 and earlier this year, the company announced a product launch in Canada.
NoCamels featured Angelsense in a video story two years ago.
Related posts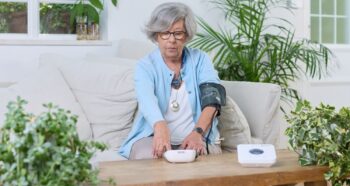 Smart Healthcare System Keeps Elderly At Home, Not In Hospital
November 29, 2023