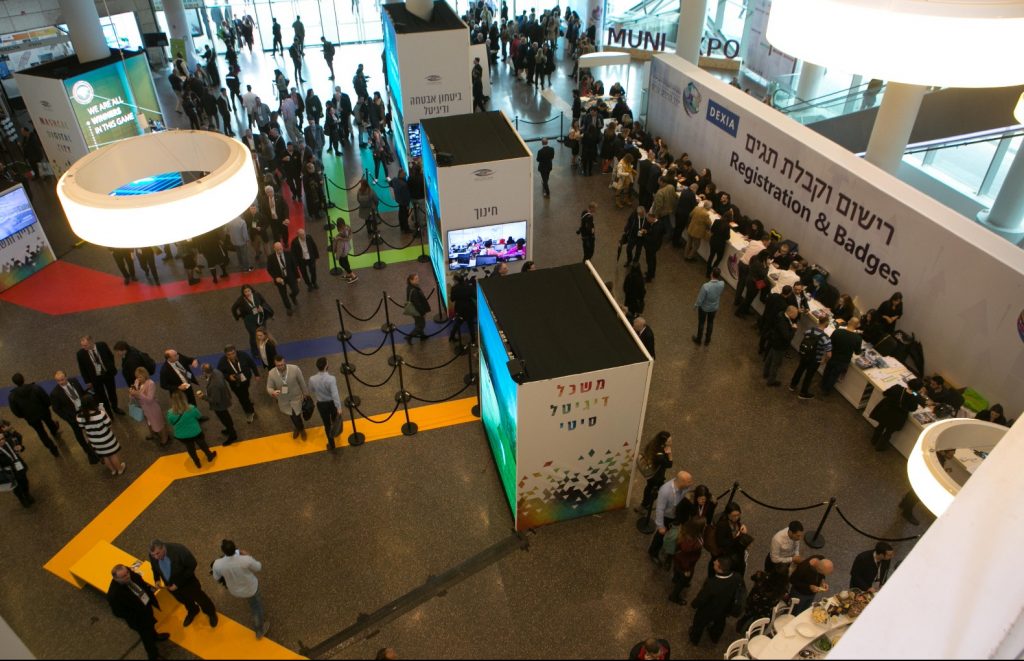 The first cybersecurity conference for "smart cities" hosted in Tel Aviv this week attracted over 7,000 people on its first day Tuesday, including members of 80 international delegations from municipalities across the world. The three-day event, initiated by Israel's Federation of Local Authorities, focused on discussing cyber threats and challenges at the municipal level as cities become increasingly connected. The conference is part of the MUNI-EXPO urban innovation event at the Tel Aviv Convention Center.
Attendees include municipal leaders, entrepreneurs, industry leaders, security experts, and government officials from Israel and abroad. The conference also featured an exhibition of over 150 Israeli companies in the fields of transportation, energy, cybersecurity, digitalization, urban design, smart engineering and infrastructure, and municipality-run accelerators.
Israeli Prime Minister Benjamin Netanyahu, Transportation Minister Yisrael Katz as well as Economy Minister Eli Cohen all spoke at the event, which also highlights joint ventures between local authorities and startups. Senior executives from multinationals such as Check Point, Motorola Solutions and Dell EMC also addressed the crowd as did Adi Soffer-Te'eni, Facebook Israel's general manager, Jerusalem Mayor Nir Barkat, and former head of the Mossad Tamir Pardo.
Pardo, who since finishing his term with the Mossad in 2016 has joined the Israeli cyber firm XM Cyber, gave some of the more memorable and grim statements of the event on the issue of cybersecurity.
Cyber, he said using a term often used by in Hebrew to mean cybersecurity or cyber threats, "is a nuclear weapon — a soft and silent nuclear weapon."
"It is cheaper [than war], there is no blood in the streets, but you can damage societies, destroy states, and win a war without firing a shot… There are no borders to cross," he said, specifically mentioning as an example Russia's interference in the US presidential elections in 2016 in favor of then-candidate Donald Trump and its hacking of Democratic National Committee emails.
"Think about how much money would have to be spent in a conventional war to cause this much chaos in a country," he said.
SEE ALSO: Israeli Cybersecurity Companies Raised Record-Breaking $814.5M In 2017
"There is a lot more chaos coming. Chaos is the biggest threat to democratic countries," Pardo warned, outlining different scenarios where hackers, whom he refers to as "hunters" with levels of sophistication that is "generations ahead," take out telecom systems, electricity grids, and power installations, and engage in advanced ransom schemes that can inflict significant damage on brands. Some of this has already happened, he acknowledged.
Cyber threats, he said, must be treated "like nuclear threats," where there is "regulation, agreement, and understanding of the threat."
Sign up for our free weekly newsletter
Subscribe
Pardo emphasized the need for more preparation and awareness but also how there is no real way to stop a determined and persistent attack. He speculated that the "next generation in cybersecurity is in [the] insurance [field]."
Pardo said despite the thriving cybersecurity sector — Israel has over 400 active companies in the field in 2017 — "we need to understand that private companies cannot be a replacement for governments."
Meanwhile, Economy Minister Cohen hailed Israel as a leader in the cybersecurity field, with Israel-based cyber firms raising a record $814.5 million in 2017. Cohen said Israeli cybersecurity and intelligence protect citizens and infrastructure in over 30 countries worldwide.
The cities of tomorrow
In the "smart cities" portion of the conference, on hand to showcase the newest innovations to make cities safer, smarter and autonomous-ready was an executive from Mobileye, a leader in the autonomous driving industry and Israel's biggest success story to date due to its $15 billion acquisition by Intel in 2017. Mobileye has developed a vision-based technology and driver assistance system for vehicles, providing warnings for accident prevention on the road.
Lior Sethon, Mobileye's deputy general manager of the after-market division, told the audience that while the appearance of autonomous vehicles on the roads is still two to three years away, the Jerusalem-based company is already working with municipal leaders around the world to prepare their cities for smart autonomous driving, through the data the company has collected and aggregated in their research.
SEE ALSO: Israel Is a Small Country, But A Cyber Superpower, Says Ex-CIA Director At CyberTech 2018
"All of this tech developed for autonomous vehicles can be used to better smart cities," Sethon said, referring to the data being collected and used for HD mapping of cities so that autonomous vehicles will soon be able to maneuver them using Mobileye sensors. "We will even be able to predict accidents before they happen," he said.
Speaking on Wednesday during the second day of the conference, Jerusalem mayor Barkat touted the Jerusalem-based Mobileye as an example of the Israeli capital's growing tech ecosystem. Barkat said Jerusalem would invest more in local initiatives and has been making efforts to attract entrepreneurs, young couples and artists to the city.
Related posts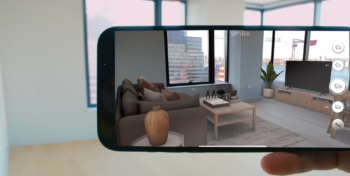 Augmented Reality App Makes Empty House Into Potential Home
October 02, 2023