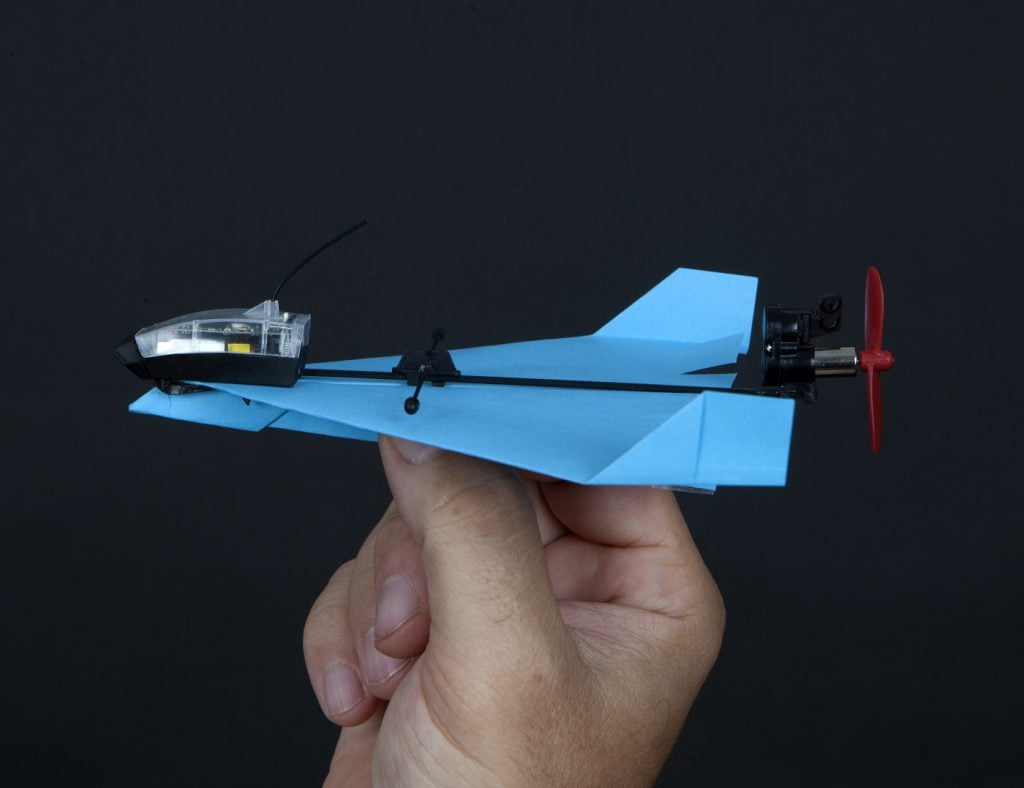 In our tech-savvy world, even a childhood staple like a paper airplane gets a sophisticated upgrade.
PowerUp Toys, a creator of remote-controlled paper planes, brings those familiar homemade paper creations to the next level by adding next-generation mobile controls. The Israeli company has developed a range of products and accessories for flying paper planes, some with added features such as video streaming and drone-like capabilities, through an in-house developed app.
PowerUp launched its first product aimed at the mass market, the Power 3.0 Module, in 2013, allowing users to power up ordinary paper planes with a small motor, controlled via smartphone and with Bluetooth functionality. With Power 3.0, the upgraded little constructs can fly for at least 10 minutes at a speed of 10mph and can climb, descend, speed up and slow down, and change directions.
The Kickstarter campaign for Power 3.0 doubled its $50,000 goal in the first 24 hours, with the company raising over $1.2 million over 60 days.
In 2016, the company unveiled the PowerUp FPV, with a live streaming video camera developed by Paris-based wireless products manufacturer Parrot SA and auto-pilot developed by Haifa -based engineering solutions company Zickel Engineering, helping to stabilize the airplane's flight during windier conditions. PowerUp FPV, the company's second Kickstarter campaign, raised half a million dollars. After the campaign, the plane was launched in early 2017. Both the PowerUp 3.0 and the FPV are available on Amazon, retailing at under $50 and under $100, respectively.
PowerUp's newest product, the PowerUp Dart, is a Bluetooth module that acts like a conversion kit, giving its flier the opportunity to control their paper plane via smartphone. The conversion kit, or DART,  gives the plane the ability to perform a number of aerobatic 3D tricks, including loops, flips, and barrel rolls. It's PowerUp's most innovative product to date and is making waves in the aeronautics field.
PowerUp founder and CEO Shai Goitein says PowerUp's airplanes have become so successful on Kickstarter, they have gone viral and are considered among the top campaigns in their category on the popular crowdfunding platform. The campaign for the PowerUp Dart raised well over $1 million since it wrapped up in October 2017. Orders were shipped to over 80 countries, with more than 90 percent being delivered before Christmas, Gotein tells NoCamels. According to Israeli news site Globes, the PowerUp Dart campaign is considered one of the most successful campaigns ever on Kickstarter
Gotein says the PowerUp Dart also raised over $1.68 million on Kickstarter and received 24,000 orders.
Goitein tells NoCamels that the PowerUp Dart is the company's most advanced project and, so far, the most fun as it allows the plane to perform aerobatic stunts.
"A plane has its own kind of character," he says, "So sometimes it doesn't do what you tell it to do. The magic is that you make it yourself."
Goitein says the PowerUp Dart is "half the size, the motor is more powerful…and in general, the fact that it can take off and land and do tricks has made it more attractive," he continues, adding that the product's retail launch will likely be in a few months.
Sign up for our free weekly newsletter
Subscribe
The plane as an educational tool 
Goitein's ambitious paper plane concept was born in 2007 based on his volunteer work with kids, teaching them about aerodynamics.
"We started this from a very simple idea. I was an aviator enthusiast for many years," Goitein told NoCamels in 2013. "What happened was that I was working with immigrant kids here, teaching them aerodynamics in the evenings. And I did some research and came upon some of the new things that are happening in micro-aviation."
The result was the PowerUp 2.0 paper airplane, a free flight battery-charged electric paper plane, with a motorized propeller enabling the plane to ascend. It came out in 2011 and is still going strong. The plane, now in its 6th year, is still used in the classroom and comes with a teacher's kit to introduce the concept to students. The kit comes with 24 PowerUp 2.0 modules, paper templates, spare propellers, batteries, charges, and a guide for instructors to use as part of their customized STEM curriculum to teach students about aerodynamics.
"Schools are the perfect environment," Goiten explains, "Kids can have contests of distance and endurance. It's a really nice, fun, low-cost way to learn about the principles of flight in science classes."
Goitein says the planes are used in 100 schools throughout the US, as the company has partnered with Project Lead The Way, an American nonprofit organization developing STEM curriculums for US elementary, middle, and high schools for after-school programs.
PowerUp plane is part of the after-school activities list at the Hiller Museum of Aviation in California and Goitein notes the company's smart planes are actively used by the Boy Scouts of America. The company has made a name for itself around the world as well, with the planes being used as part of a STEM curriculum in Australia.
"Most companies are talking about coding, robotics," Goitein says, "We're touching the old school, hardcore engineering of understanding the physics of how things work. It's so difficult today to get kids interested in things, they're always in front of a screen. This is the perfect activity because they make something with their hands, they see how it works, they go outside and they can use the app while doing it. It's a really good combination."
Goitein reveals that the company is in the midst of developing a new product. He would only divulge that it is not an airplane and that it has to do with the photography field. He says he hopes to see it launch in the next four months.
While the company didn't make it to the Consumer Electronics Show (CES) in Las Vegas in January, the biggest tradeshow of its kind, it will be showing off its latest projects at the American International Toy Fair from February 17-20 in New York City. Goitein says the move marks a shift back to toys, whereas in the past, PowerUp was part of the tech trade fair circuit, particularly because of its Bluetooth-enabled projects.
Goitein says he loves that PowerUp's smart paper planes are educational toys. "The fact is — people are actually seeing it as a tool that helps them," he says.
Related posts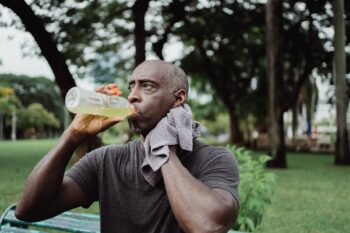 Startup Helping You Get Heart Healthy By Measuring Your Sweat
December 04, 2023