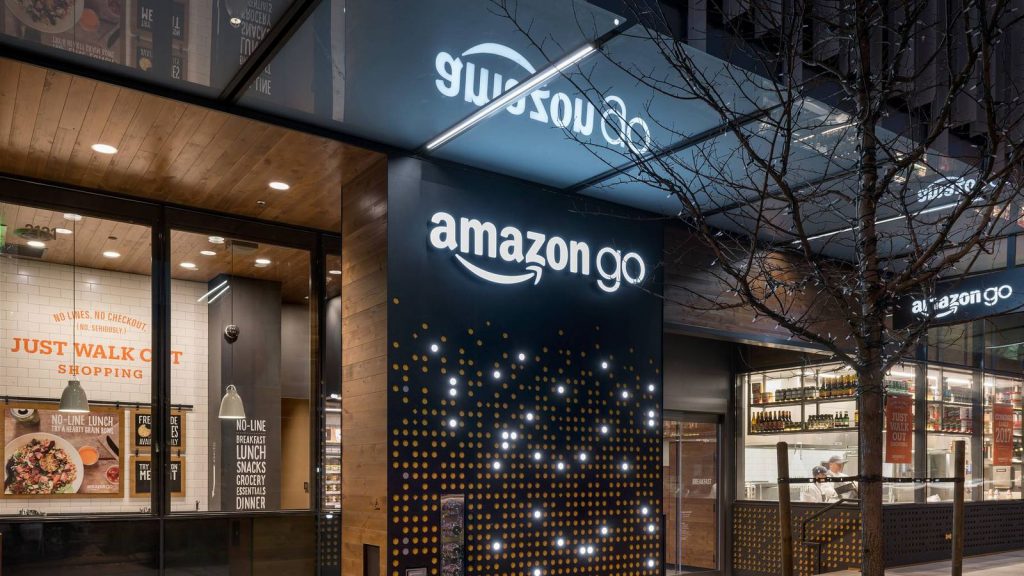 Imagine a world without long checkout lines, cashiers waiting on customers fussing with their wallets, and cumbersome shopping carts. A world where you can walk into a store, bag any items directly into a shopping bag and walk back out – without being accused of shoplifting.
That's the world Amazon has envisioned and made into a reality with the introduction of Amazon Go, its first checkout-free grocery store opening Monday in Seattle, Washington.
Shoppers scan their Amazon Go smartphone app and pass through a gated turnstile to enter, much like they would pass through an electric gate or a subway station. After picking up their items, they can leave the store through the same gate without ever whipping out a credit card and counting change. Moments later, a charge on their credit card registered to their Amazon account appears on their phones.
The store carries a lot of the same food as your average grocer, but its technology, the details of which Amazon has been keeping under wraps, is brand new and largely out of sight. Amazon will only say that it involves computer vision and machine learning software and the store is outfitted with hundreds of small cameras that record the purchases.
Though Amazon remains secretive about the system in place at Amazon Go, it's worth looking at the Israeli technologies that have already blazed a trail in this pioneering industry, whether its processing payments, creating smart fridges, or collecting customer data.
ShelfX
Like Amazon Go, ShelfX creates a self-checkout solution enabling shoppers to grab a product without waiting in line. The Colorado-based, Israeli-founded startup differs, however, in the way a customer shops. ShelfX has implemented its innovative inventory technology into a machine that holds food and drink products which customers can purchase by swiping their ShelfX card, a specified badge, or their smartphone, which has a QR code connected to a ShelfX account. The machine, which looks like a cross between a fridge and a vending machine, then dispenses the item.
Ran Margalit, CEO of ShelfX, tells NoCamels that Amazon is forcing a real change in automated retail. "They're saying retail cannot stay the way it is. They managed to have a fully attended solution on an open shelf and connect the person with the product. This is the future of retail," Margalit says.
Margalit says his company has actually been helped by the recent Amazon Go buzz. At one time, he explains, one of the largest retail chains in America called his company "too futuristic" but now that Amazon's store is launching, they've come to realize, "We're not crazy."
Margalit, an Israeli-born software developer who has lived in the US for 25 years, helped create ShelfX when he realized the radio frequency identification (RFID) and near-field communication (NFC) was already out there and he wondered why groceries and retailers were not yet adopting the tech. This was a way for shoppers to benefit from an automatic checkout process. Stores, too, would benefit because retailers would be able to streamline and redirect staff to more important tasks than scanning barcodes and manually entering items.
The ShelfX is also more personal. In many locations, the ShelfX machine can greet the customer by name, tell them what they purchased, offer discounts, and add suggestions based on the customer's profile.
ShelfX currently operates in 18 countries. Margalit says the company has 1,000 machines around the world. The company says that more than 200,000 shoppers use the technology and that it has facilitated more than 4 million transactions. Earlier this month, ShelfX had a booth at the 2018 Consumer Electronics Show (CES) in Las Vegas, the largest tradeshow of its kind in the world.
Margalit says ShelfX is looking into establishing machines with fingerprint and facial recognition. He also says that the company will soon expand on an added feature that displays a screen informing customers of nutritional values of items and a video of the product they have just swiped. This feature is currently available at the Albuquerque international airport and set to be implemented in other airports as well, he tells NoCamels.
Sign up for our free weekly newsletter
Subscribe
ShelfX has its largest deployment in Israel, with over 360 machines in different locations including Assuta hospital and various train stations throughout the country. The company is also set to include the technology in fridges at the entrance of high rise residential buildings throughout Israel. Margalit says the company is in talks with one of the building companies in Netanya to add the technology and says the addition has a tentative June 2018 launch date.
Datacrushers
James Oppenheim, a digital market and business development specialist that helped create the Jerusalem-based e-commerce revenue discovery platform Datacrushers, has his own take on the AmazonGo phenomenon.
"AmazonGo is addressing a serious real world issue most of us encounter daily — the ever-growing checkout line we all try to avoid at the supermarket, gas station, or department store," he tells NoCamels. He says the company may very well be redefining the in-store purchasing and bring the convenience back to retail stores again.
His company Datacrushers, which Oppenheim founded with the firm's current CTO Jonathan Schler, uses its automated retail tech to hit the e-commerce market rather than the brick-and-mortar grocery store scene. The platform aims to use machine learning and artificial intelligence to do away with shopping cart abandonment. Data Crushers claims it can find these online shoppers who don't complete purchases figure out where they are abandoning in the process, and eventually help the online retailer get the sale.
In November 2017, Oppenheimer told the Times of Israel, "We identify abandoned revenue on the site, we show this virtually to the merchant — and then we provide the merchant the tools to go ahead and recover that revenue."
Datacrushers uses its own conversion tools to target the shopper at the appropriate time with a campaign to drive the sale and says it has clients in the US, China, Russia, Germany, and the UK.
"Additionally, if AmazonGo does roll out successfully (as it should), we also may be witnessing a revolution in digital payments in-store bundled with extraordinary Amazon payments growth and massive consumer/shopping data collection," Oppenheim adds. "Welcome to the world of Minority Report. There's a tectonic shift occurring in "brick and mortar" and its name is Amazon Go."
Supersmart
Supersmart, a Rosh Ha'ayin-based startup, has set out to revolutionize the supermarket checkout process, through a unit that is installed within a store's infrastructure, with tech that takes the place of a cashier at a checkout counter, and is 1/3 the size. Founder and CEO Yair Cleper has gathered a team of algorithm experts, software development leaders, and retail industry insiders, to create an innovative, efficient, and cost-effective checkout tech system implemented into this unit, that allows the shopper to avoid tedious long lines. The company's state-of-the-art technologies, which include sensors and image processing, are part of this checkout system which uses a smartphone app to scan the item's barcode, at the unit which the shopper must pass their shopping cart through in order to verify the purchase. This allows for the authorization of payment through a mobile platform. The company claims the process takes less than 30 seconds and unlike Amazon Go and other retail tech startups, there is no signup.
Supersmart has already received funding from Israeli supermarket Osher Ad, which introduced the system into stores as early as 2016 after trials at other locations. They have also sold their basket solution to various stores throughout Europe and are in talks with one of the largest retail chains in the world to implement their technology into some of their stores. Supersmart is also in negotiations with local chains in Tel Aviv to implement their technology and unit, according to Cleper. He says he hopes there will be something new to report on this development by the end of the year.
They also made an appearance at the National Retail Foundation's 2018 Retail Big Show Expo in New York this month, where they were presented by their international partner Bizerba, a provider of weighing and slicing technologies.
"I'd be interested to see the reaction of the customers," Cleper said of Amazon Go in a phone interview to NoCamels, adding that he thinks Amazon Go's solution is very limited for a variety of reasons. Amazon Go, for example, does not include facial recognition as part of its technology, according to a report in Tech Crunch. "Perhaps they sensed early on that this would earn them rebuke from privacy-conscious shoppers," the report says. Cleper, too, sees a problem with privacy issues. He believes that shoppers are looking for the possibility to be anonymous, with no need to identify themselves.
As the Seattle store enters its first week open to the public, whether that is a complaint from Amazon Go customers remains to be seen.
Related posts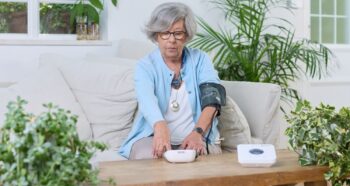 Smart Healthcare System Keeps Elderly At Home, Not In Hospital
November 29, 2023