Israel has in recent years become a cybersecurity powerhouse, as its large ecosystem of cyber startups experienced significant growth, despite an international financial slowdown that hit the rest of the industry. In 2016, over 300 Israeli cybersecurity firms raised just under $600 million in investment and funding, as concerns over security, privacy and espionage mounted. Already by September 2017, that sum was surpassed, with Israeli security tech firms having raised $626 million in funding, according to quarterly research by the IVC Research Center and law firm Zysman Aharoni Gayer & Co.
Earlier this year, after the massive hacking campaign WannaCry hit over 150 countries around the world in a single weekend, Israel came out largely unscathed, suffering only minor damage thanks to cyber experts who worked to keep the extortion attack at bay, and offered detection and protection tools.
SEE ALSO: Microsoft Buys Israeli Cybersecurity Firm Hexadite For Reported $100M
Israel's cyber market is only second to the United States and Israeli cyber startups make waves across the world. This summer, Microsoft bought the Israeli cybersecurity firm Hexadite for a reported $100 million. Indegy, another Israeli cybertech company, was awarded the Cyber Security Leader of The Year prize for 2017 by Cyber Defense Magazine and seven Israeli companies were listed among the publication's round-up of the world's top 50 cybertech firms.
We compiled a list of the hottest Israeli cybersecurity companies that gained major traction this year — and millions in funding.
1. Aperio Systems
Named the "most innovative security startup" at the 2017 annual CyberTech event in Tel Aviv, Aperio Systems stands apart in the field of Industrial Control Systems (ICS), providing security for critical infrastructure like power grids, water supply chains and oil refineries, with a focus on hardware rather than software. Whereas other companies provide solutions to threats based on operational technology (OT) and IT networks, the Haifa-based Aperio, founded in 2016, says it created a "lie detector" for monitoring systems, using its Data Forgery Protection technology to record fluctuation patterns and rhythms and detect information that appears abnormal.
Amid an ongoing cyberattack campaign targeting nuclear, energy, and other infrastructure sectors since May 2017, as detailed in a warning last week by the US Department of Homeland Security and the FBI, companies such as Aperio Systems and others that focus on ICS are being sought out for their expertise.
"What we care about is the physical equipment that is under [the] network," Aperio Systems CEO Michael Shalyt told Geektime last year. "You can think about it as three layers, the IT, OT, and the physical layer. Everyone is focusing on the digital realm, with many actors going into this field. Our approach is different."
2. Argus
Argus Cyber Security is a Tel Aviv-based company that has been raking in the industry awards, making international headlines for being on the frontlines against car-hacking. As vehicles become "smarter," and with the advent of a self-driving car no longer being a far-off fantasy, Argus works with car manufacturers and suppliers to provide cybersecurity solutions. Earlier this month, Argus was acquired by German automotive giant Continental for a reported $400 million.
Founded in 2013, Argus quickly became a global leader in the industry, raising close to $30 million until its acquisition on November 3, 2017. Earlier this year, it was named one of the Wall Street Journal's Top 25 Companies to Watch for in 2017 as well as INC.'s 20 Tech Innovators To Watch for in 2018.
Argus co-founder and CEO Ofer Ben-Noon said in a statement this month that the Israeli company "was founded with a vision to protect all vehicles on the road from cyber threats. To this end we have developed the most comprehensive automotive cyber security offering in the industry and enjoy global recognition of our leadership," adding that "joining forces with Continental… will enable us to further accelerate the realization of that vision."
3. BufferZone Security
The Tel Aviv-based Bufferzone Security provides endpoint security against malware and ransomware attacks for organizations in the financial sector. Using a patented containment approach, the company protects against evasive threats including zero-day exploits, ransomware, drive-by downloads and phishing scams.
"By isolating browsers, email and removable media in a virtual container, Bufferzone traps exploits and prevents them from harming the organization," according to the company, which also offers a "unique bridge for transferring content and data safely between the container and secure network zones."
The company was announced the silver winner in the 13th Annual 2017 Info Security PG's Global Excellence Awards in Endpoint Security and was a finalist for the 2017 Cybersecurity Excellence Awards for Anti-Malware Products. It was also among Cyber Defense Magazine's 50 top Cyber Security Leaders of 2017.
Earlier this year, the company said it tested its virtual container with the WannaCry ransomware in an unnamed European Bank, successfully trapping and blocking the attack
4. Claroty
Claroty also operates in protection and threat detection for ICS, securing electric grids, steel mills, offshore rigs and other industrial assets using models and algorithms. The Tel Aviv based company, founded in 2014 as part of Israeli cybersecurity business Team8 (itself founded by a former head of the Israeli military's intelligence unit 8200) and with offices in New York and Virginia, recently announced it was exiting "stealth mode," after operating in secret for two years, to raise $32 million in funding from backers including Innovation Endeavors, the expansion-stage VC firm, co-created by the executive chairman of Alphabet, Eric Schmidt.
Claroty CEO Amit Zilberstein said in September 2016, "the reason these critical systems are increasingly exposed to cyber threats is twofold. Industrial and IT networks are becoming considerably more interconnected in order to achieve important business goals, but industrial control systems were originally designed with safety and resilience, not cybersecurity, as primary objectives."
5. Cato Networks
Cato Networks is a Tel Aviv-based firm focused on providing network security as a service, integrating "secure web gateway, firewall as a service, advanced threat protection, next generation firewall, and secure, global SD-WAN (software-defined WAN) into a single, cloud service" called Cato Cloud. Founded two years ago by Shlomo Kramer, the co-founder of cybertech giant Check Point, and Gur Shatz, Cato Networks has raised some $50 million since 2015, including $30 million just last year.
"Cato is my third startup," Kramer told Forbes in April, "and with Cato I'm going back full circle to networking and security, which was my original interest when I started my career. The fresh look comes from looking at what's going on in the wide-area network and Internet boundary of the organization."
SEE ALSO: Cybereason, Which Helps Prevent Massive Ransomware Attacks, Gets $100M Boost
6. Cronus Cyber Technologies
Cronus provides penetration testing and vulnerability management solutions using its patented CyBot, which mimics the patterns and practices of human hackers, allowing companies to test different attack scenarios. Based in Haifa, Cronus recently won Cyber Defense Magazine's Infosec Awards for "Most Innovative Managed Security Service Provider" for 2017 and was listed as "one of 12 companies transforming the cyber industry" by CBInsights. Founded in 2014, it has raised just under $6 million in funding total, helping financial institutions, insurance companies, hospitals and large enterprises protect their networks.
Sign up for our free weekly newsletter
Subscribe
"With hundreds of installations across Europe and the US we are confident we are on the right path to a revolution in cybersecurity that will end uncertainty and create a more secure future," said Cronus Cyber Technologies CEO, Doron Sivan, earlier this month.
7. Deep Instinct
Tel Aviv's Deep Instinct claims to be the world's first cybersecurity firm to apply Artificial Intelligence's deep learning to its solutions for endpoint and mobile, raising $32 million in Series B funding earlier this year to implement the concept. Founded in 2014, it was recently named by US data processing chip maker Nvidia as the "most disruptive AI startup" out of over 800 ventures at the 2017 Inception Awards and a "Technology Pioneer" by the World Economic Forum.
"Confidence continues to decline in the ability of traditional solutions to prevent and predict threats in EPP [endpoint platforms] or mobile," Lane Bess, executive chairman at Deep Instinct, told Globes in July. "Deep learning will close the gap created by existing technology and early machine learning and AI technologies."
8. Fenror7
Listed in Cyber Defense Magazine's top 50 global cybertech firms, Herzliya's Fenror7 aims to quickly detect hacking attempts into organizations and enterprises using its Lateral Movement Detection (LMD) engine. Fenror7 claims to lower the detection time from 300 days on average to "24 hours or less."
The company, founded in 2015, has raised two rounds of funding for undisclosed amounts. A six-month pilot of Fenror7 at a German bank resulted in an investment this year, according to a report in Israel21c.
Cyber Defense Magazine said the Israeli firm "uses a brilliant model of time-based security to reduce TTD (Time To Detection) of hackers, malwares and APTs in enterprises and organizations by 90%, which is a breakthrough in our industry."
Its CEO and "Chief Hacking Officer" Yaniv Miron says he previously found zero-day exploits in Microsoft and Oracle.
9. Indegy
Indegy is another Israeli firm focused on securing ICS networks, providing real-time situational awareness and security to systems and oversight in all OT technologies "including changes to controller logic, configuration…across all vendor devices." It uses a patent-pending controller verification technology that looks into firmware, code and configuration on systems.
Founded in 2014, Indegy has so far raised $18 million and was named "Cybersecurity Leader of the Year" in 2017 by Cyber Defense Magazine.
"Our unique ability to monitor changes to process controllers in critical infrastructure and other industrial environments enables operations personnel to detect and respond to cyber threats, insider sabotage and human error before damage occurs," Indegy CEO Barak Perelman said earlier this month.
10. Minerva Labs
Minerva Labs seeks to flip the script on malware and other such threats, using deception to alter the malware's perception of its environment. The company's Anti-Evasion Platform uses tools to make the malware think it is unsafe to activate, effectively rendering it dormant until it can be removed. The company also developed a "vaccine" for malware, tricking it into thinking it has already infected the system, allowing companies to contain attacks.
The Petah Tikva-based firm was founded in 2014 and has raised $7.5 million this year in Series A funding.
In 2017, it was named Solution Provider of the Year by the CyberSecurity Breakthrough Awards in the Advanced Persistent Threat (APT) Protection category.
11. Votiro Cybersec
Votiro, another Tel Aviv-based firm, applies a patented "advanced content disarm and reconstruction technology" process to its security, which involves targeting file formats most commonly exploited via spear-phishing and other cyber attacks. The technology breaks down the files, injecting "micro-changes into a file's structure and metadata" to cleanse it of any malicious code and rebuild it into a safe, functional file. This is done in real-time and without the user's input, helping clients prevent zero-day exploits.
Founded in 2009, Votiro has raised $13 million so far including an $11 million investment in July from Australian investors as the company sought to expand in the country.
The Israel Aerospace Industries (IAI), Israel's developer and producer of systems for defense and commercial aeronautical markets, announced this year that is would use Votiro's technology in its systems.
The company was named a "cool vendor" for 2017 by Gartner, a leading American research and advisory company for information technology
Related posts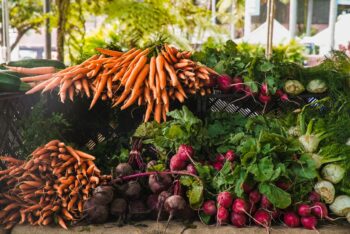 A Cybersecurity Approach To Cutting Food Waste
September 28, 2023