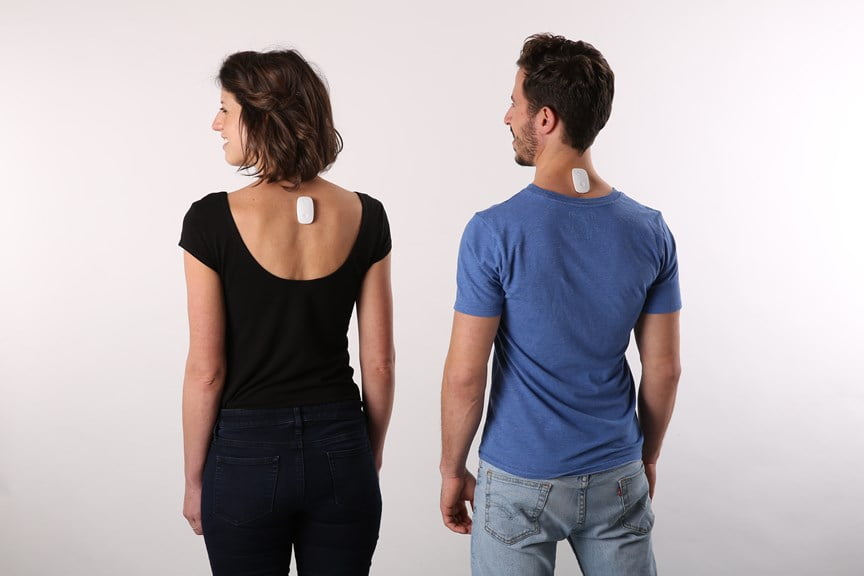 Roughly 50 percent of the labor force in the US suffers from head, back or neck pains, which negatively impact their ability to work, costing American employers about $7 billion annually. With so many of us sitting at our desks for hours every day, poor posture has become an epidemic, leading to widespread backache and other ailments.
According to Israeli startup Upright Technologies, back pain relief starts with good posture. And that's why its wearable posture "trainers," which discreetly attach to your back, train you to stand and sit upright. Every time you slouch, they gently vibrate, reminding you to correct your posture.
The company's newest gadget, "Upright GO," comes with a mobile app that tracks your progress and offers customizable training programs. Contrary to the startup's first product (Upright PRO), Upright GO is much cheaper ($59 versus $130); it is lighter and more discreet; and it's designed to reduce neck and upper back pain, as opposed to the PRO, which focuses on the lower back.
Upright GO, a small biofeedback posture trainer placed directly over the spine, is attached to the upper back with a reusable hypoallergenic adhesive. It is worn while sitting, standing, walking or driving. Using sensor technology and learning algorithms, the device senses subtle changes in posture, and vibrates to give users real-time posture feedback.
"Poor posture looks bad, and can lead to decreased confidence and back pain," Oded Cohen, founder and CEO of Upright Technologies, said in a statement. "For the past three years, our team has been working to develop a habit-forming solution to conquer the modern epidemic of screen slouch."
In tracking mode, it can be worn to accurately track and record the user's posture data while moving throughout the day, so they can see the improvement in their posture over time. Users can view their progress on the iOS and Android app by checking their stats, history and usage.
"An intuitive habit"
Custom training plans gradually train the upper back and shoulder muscles to build muscle memory, strength and awareness, with just 10-60 minutes of daily training. Ultimately, users maintain an upright position on their own.
"Everybody talks about problems related to poor posture, but little is done to improve the situation. This is where we can help," Cohen says. "By training for less than one hour a day, the body, muscles, and mind form an intuitive habit of sitting and standing after only 2-3 weeks."
SEE ALSO: Israeli Wearable Device MotionCure Relieves Motion Sickness In Minutes
Sign up for our free weekly newsletter
Subscribe
Founded in 2012 by Oded Cohen and Ori Fruhauf, the 13-empployee Upright Technologies already ran a successful crowd-funding campaign three years ago, raising $155,000 on Indiegogo, more than doubling its original goal of $70,000. Immediately thereafter, the startup sold 1,700 units to customers around the world – and realized they had hit something big.
Last month, the company launched a Kickstarter campaign, raising $528,000 in 1.5 months, 21 times its original goal. The campaign runs through May 10, with the product expected to ship this summer.
SEE ALSO: Wearable Device Livia Promises To 'Turn Off' Menstrual Cramps, Alleviate Period Pain
Studies have shown direct links between slouched posture and aches, as well as long-lasting effects on spine health, blood flow, and more. But while existing posture devices physically position the back into a straight position, "which isn't habit-building," according to the company, Upright GO works to gradually train your upper back, so eventually you will be able to maintain an upright posture on your own and only use the wearable device as a reminder.
While several clinical trials are ongoing in the US and in Israel, Upright is pending an FDA approval. However, according to a study recently conducted by Upright and Ernst & Young, after a few weeks of consistent training with the device, E&Y Israel employees improved posture and decreased back pain. As a result, more than half of the participants felt more productive and alert while at work.
Upright Technologies recently won the first-place award at the MEDICA App Competition for Best Medical Mobile Solution. The competition was part of one of the world's largest medical trade fairs. Last year, Upright presented at CES, the largest tradeshow of consumer electronics in the world, held in Las Vegas. So far, the company has raised $3 million from investors.
These funds could potentially help the company affect the health of millions, and have far-reaching benefits. Says Cohen: "Improved posture can result in more focus and productivity at work."
Photos and video: Courtesy
Related posts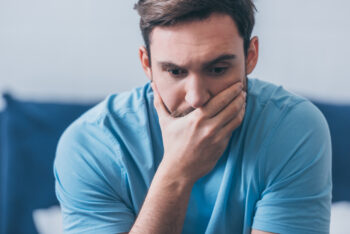 Programmer With A Stutter Creates Online Aid For Fellow Sufferers
September 21, 2023