Air pollution is a global problem, but in France it is especially troubling. According to a study published in June by France's health agency Santé Publique France, air pollution kills 48,000 people a year in France and 34,000 of those deaths are avoidable. In fact, air pollution is France's third biggest killer, after smoking (78,000 deaths) and alcohol consumption (49,000 deaths).
Given these grave statistics, it's no wonder that Israeli app BreezoMeter, which tracks pollutants and can determine air quality in nearly every corner of the world, has now set its sights on the city of light, Paris.
Air pollution is seen as a key public health issue in Paris and to tackle the problem the city recently launched an ambitious campaign called 'Reinventons nos places', 'Let's reinvent our squares.' Its goal is to improve quality of life, enhance public spaces and promote new uses for seven Parisian squares that have strong historic and symbolic value.
Pilot in Paris
In Place de la Nation square, a large scale pilot, led by Cisco, will collect noise, air pollution and usage data. The results are shared with citizens using touch screens in the square as well as with open data online. BreezoMeter, , which CNBC recently called one of the "world's hottest apps" and which the United States Environmental Protection Agency's (EPA) website recommended as a Smart City Air Challenge case study, is implementing the air quality monitoring aspects of the pilot. The Israeli company beat out several French companies for the project, becoming the first non-local company to ever be awarded such a tender.
BreezoMeter defined the number, locations and type of air quality sensors needed, and analyzed the data to provide real-time pollutant concentrations, alerts and insights about what may be affecting pollution levels. Other smart and sustainable cities can use this air quality command and control platform for urban redesign and daily operations. The data can also be used to develop sustainable transport modes.
SEE ALSO: Exposure To Pollution In Womb Raises Risk Of Autism
Air Pollution is a killer
"Air pollution has  killed 8 million people around the world and 2,500 in Israel alone last year," BreezoMeter's co-founder and CMO Ziv Lautman recently told NoCamels. According to the World Health Organization, air pollution is a leading environmental cause of cancer deaths and in most countries, the mortality rate from heart and lung diseases caused by air pollution is much higher than that from traffic accidents.
BreezoMeter's big-data analytics platform uses local air-monitoring sensors to gather real-time pollution data. The information is collected by the startup from monitoring stations around the world and is then compiled and packaged to provide up-to-date information about air quality. The startup claims its localized pollution reading is 99 percent accurate.
Partnering with Current, powered by GE
Sign up for our free weekly newsletter
Subscribe
BreezoMeter's technology is also being used by Current, powered by GE, an energy company, where hardware and software technology meet. Combining GE's LED, Solar, Energy Storage and Electric Vehicle capabilities with Current's Predix platform, Current provides a 21st-century energy ecosystem to customers. Current's goal is to make energy sustainable, resilient and reliable by creating a new world of possibilities for intelligent environments.
SEE ALSO: What's In The Air You Breathe?
BreezoMeter's software platform has been paired with traffic insights from the LED infrastructure from Current, powered by GE. This ground-level approach to diagnoses and analytics can inform cities on the overlapping traffic trends and patterns affecting the environment most. With sensors in intelligent LEDs, there are now more data points than ever before—creating more opportunities to deliver the most accurate air quality data possible. Thanks to this technology, cities change the way they monitor air quality, and citizens can breathe easy knowing their city has a plan in place. The embedded sensors inside Current, powered by GE, are intelligent fixtures which provide environmental and traffic data to the BreezoMeter Air Quality Management Platform. This enables city officials to receive data to help identify the sources of air pollution, pinpoint the areas of concern and plan a course of action to help mitigate it.
The Waze for air pollution
BreezoMeter was founded in 2014 by Emil Fisher, Ran Korber and Ziv Lautman. To date the startup has raised $1.8 million in private financing rounds. Its app is available for both Android and iPhone users.
Although pollutants are still a fact of life, the app does give consumers better knowledge of their surroundings, in hopes that they can then act on that knowledge. "We empower citizens to better plan their daily activities and to minimize their personal exposure to pollution," Lautman said in a statement.
"Daniel Elkabetz, BreezoMeter's Business Development Director, echoed that sentiment when he told NoCamels, "We see ourselves as the Weather Channel, or better yet, the Waze for air pollution."
Photos and video: BreezoMeter
Related posts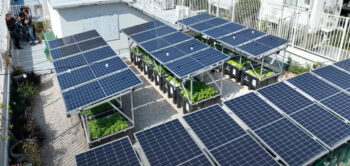 All-In-One Kit Turns Urban Roofs Into Energy-Producing Gardens
October 01, 2023