When someone is diagnosed with cancer, their life takes a complete turn, and so do the lives of those around them. There is no protocol to follow, and many families are unsure about the best way to approach the process of getting their loved ones back to full health.
Israeli app Belong helps patients and their families tackle this daunting task and get advice from people in similar situations, as well as from physicians.
SEE ALSO: Skin Cancer Breakthrough: Melanoma Cure Within Reach
Founded in 2014 by CEO Eliran Malki, CTO Irad Deutsch, and COO Ohad Rubin, Belong has already raised $1.5 million from private investors.
The app, which is currently free, provides chats with physicians and researchers; information on clinical trials; community support; and discreet medical file sharing. "It is like a hospital on your mobile," Malki says.
The idea to develop the app came after each of the founders had family members diagnosed with cancer. "We all felt there was a lack of information," Malki tells NoCamels. "Our idea was to build a solution that would help people manage the fight, to get information at the right time, from patients like them, so they can make fewer mistakes."
"Empowered patients live longer"
Malki gives the example of a man from Los Angeles whose wife was diagnosed with colon cancer. They went to three different physicians and received three different opinions. Then, the husband used Belong to ask for advice about the best approach and got feedback from patients with similar circumstances, as well as explanations from different physicians to help him decide on the best course of action.
"Our aim is empower patients and their families," Malki says. "Empowered patients live longer."
Sign up for our free weekly newsletter
Subscribe
The app is to be used on a case-by-case basis, since no one path is right for everyone. "All the information in the app is for educational information, it's not consulting or medical advice in any way," he stresses.
SEE ALSO: Israeli Researchers Make Breakthrough Discovery In Fight Against Breast Cancer
Prof. Dorit Nitzan, who was diagnosed with breast cancer, tells NoCamels that Belong's greatest advantage is "being at arm's reach with senior doctors, nurses and experts. They are accessible to all for free."
Since its launch in January 2016, thousands of patients and family members have joined the Belong network, as well as hospitals, whose patients' stress levels could be reduced by the app. The company is expected to charge healthcare providers, HMOs and insurance companies for the use of the app in the future. According to Belong, the app could save them money by better preparing patients for treatment.
The information in the app is not monitored by Belong. The app has a similar approach to services like  TripAdvisor, where people share their experiences and users are left to make their own decisions at their own discretion. Users of Belong are encouraged to seek advice and opinions and then report back to their physicians to confirm the best approach.
Belong competes not only with similar apps, such as Cancer.Net, but also with Facebook groups and other online forums. However, Malki is confident. "We are growing by 30 percent every month," he says. "We're changing the way by which people are managing the process."
Photos and video: Courtesy
Related posts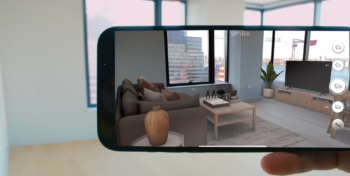 Augmented Reality App Makes Empty House Into Potential Home
October 02, 2023