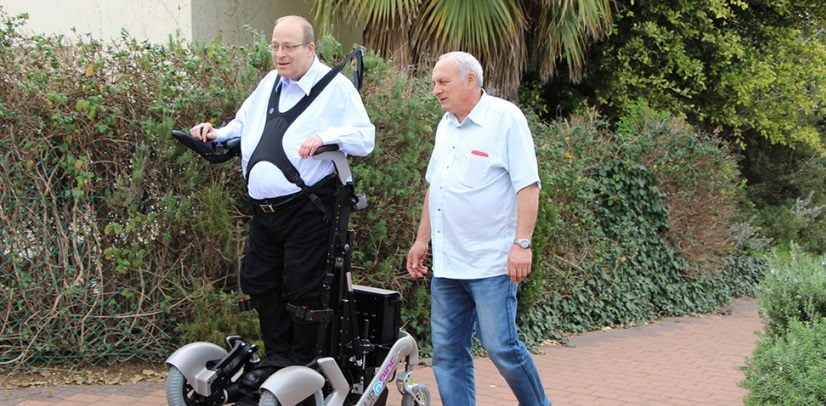 UPnRIDE, a revolutionary Segway-like device that allows quadriplegics to stand up and move around almost anywhere, is poised to change the life of thousands of paralyzed people when it will be unveiled at the Rehacare International convention in Germany, later this month.
The Israeli device was developed by Dr. Amit Goffer, who already founded the revolutionary exoskeleton ReWalk, which enables paraplegics to walk and climb stairs. His new device will help quadriplegics (people paralyzed from the neck down) to stand and be mobile.
SEE ALSO: Innovation Nation: 10 Israeli Technologies That Are Changing The World
The brain behind ReWalk, Goffer is himself a quadriplegic who does not have full use of his arms, which means he cannot use the ReWalk to walk. In fact, this incredible device can only be used by roughly 10 percent of handicapped individuals.
That is why Goffer, who is confined to a wheelchair, has been working on a more comprehensive solution over the past three years. Similar to a stand-up Segway or an electric scooter, the patented UPnRIDE moves over different kinds of terrains with the user's guidance, using a joystick operated by hand or by mouth. Automatic balancing assures a safe ride uphill, downhill, and on slanted surfaces, in both standing and sitting positions.
"Being able to stand and move is extremely important for people's physiological health and their dignity," Goffer says. According to him, the UPnRIDE reduces secondary complications of long-term sitting, lowering the need for hospitalization, medications and physiotherapy.
"Shifting attention away from the disability"

Standing wheelchairs were first created in order to facilitate better circulation and other health benefits for the wheelchair-confined, and to provide a chance for eye-to-eye social interaction. However, according to UPnRIDE Robotics CEO Oren Tamari, "most other standing wheelchairs don't allow travelling on surfaces that aren't plain."
While using the device, a set of jointed braces and harnessing straps provide support when transitioning between sitting and standing positions. Cutting-edge motion technology and real-time computing ensures automatic balancing and stability when UPnRIDE maneuvers on sloped sidewalks, parking lots and ramps, maintaining a constant center of gravity to minimize the risk of hazardous situations.
Sign up for our free weekly newsletter
Subscribe
According to Tamari, UPnRIDE, which is expected to cost roughly $32,000 (wheelchairs typically cost $15,000-$50,000) will significantly cuts healthcare expenses, by reducing the need for standing and physiotherapy apparatuses – a major cost saving for insurers, hospitals, patients and their families.
A comprehensive solution  
SEE ALSO: ReWalk, The Revolutionary Israeli Tech That Allows Paraplegics To Walk, Nabs FDA Approval
Meanwhile, the ReWalk exoskeleton already has a market cap of $73 million on Nasdaq. In 2012, one woman completed the 2012 London Marathon in 17 days using ReWalk. And, in 2015, the US Department of Veterans Affairs announced it will provide ReWalk exoskeletons for eligible veterans with spinal cord injuries.
"An extremely good feeling"
Founded in 2013, UPnRIDE Robotics is headed by Tamari and by president and CTO Goffer, both graduates of the Technion-Israel Institute of Technology, who left ReWalk to found UPnRIDE. The startup received a grant from Israel's Chief Scientist, $1.7 million in funding from Israeli crowd-funding platform OurCrowd, and additional funds from angel investors. So far, UPnRIDE has raised $3 million, and is in the process of raising another $4 million, Tamari says.
David Stark, OurCrowd general partner, tells NoCamels that "Amit's personal need for an upright mobility solution fueled his drive to develop the UPnRIDE, which will one day benefit wheelchair-bound people all around the world."
But money isn't everything; Goffer's true passion is to improve the lives of millions around the globe. Just last year, Goffer – who became quadriplegic as a result of a 1997 accident – was able to leave his home standing up, for the first time since the accident, using UPnRIDE: "It was a very strange feeling, an extremely good one."
Photos and video: UPnRIDE, Technion
Related posts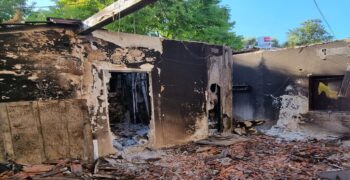 Burn Victims Of Hamas Terror Treated With Pineapple Protein
November 30, 2023