The Ethiopian government plans to build 2.4 million new apartments in the next five years, of them 900,000 units will be built in the capital Addis Ababa. In addition, eight new industrial parks will be built as part of the revolutionary initiative to industrialize the poor, rural country.
SEE ALSO: By Improving Access To Basic Necessities, Israeli Technologies Transform Africa, Save Lives
One of the architecture and engineering firms that will take part in this mega-construction project is Israeli AlefBet Planners, which recently signed a cooperation agreement with Tiret, one of Ethiopia's largest construction groups. This agreement was signed in an effort "to bridge the local gap of knowledge in the fields of high-rise construction, site and regional development, design and supply of supporting services to the community," according to AlefBet, which is expected to design hundreds of thousands of new homes for the Ethiopians.
Representatives of AlefBet Planners, one of Israel's largest design groups, recently visited Ethiopia and the sites where those new neighborhoods and industrial parks are to be built. They also met the Ethiopian urban development and housing minister. According to AlefBet, the hosts – introduced by Israeli ambassador to Ethiopia Belaynesh Zevadia – expressed their desire for cost-effective, high-quality projects.
SEE ALSO: Israeli Student Delegation In Africa To Battle Neglected Tropical Diseases
"Ethiopia's economy is growing very fast – the construction sector reached more than 30 percent growth in the past two years," AlefBet's business development manager Daphna Regev said in a statement. "The average growth rate is expected to reach 11.6 percent per year."
Since this construction capacity is beyond the capacities of the local industry, according to Regev, "the Ethiopian government is granting incentives such as land plots free of charge, fast-track design, and more."
Sign up for our free weekly newsletter
Subscribe
Contrary to Europe, North America, parts of Asia and even Israel, which are saturated with construction experience, "Africa is only on the brink of massive development," Regev said.
SEE ALSO: Facebook To Beam Free Internet Across Africa Using Israeli Satellite
Based in Tel Aviv, Israel, Alefbet Planners is a multidisciplinary design company of architects, engineers, designers and consultants. Among its projects are Sapir College and Triumph's distribution center in Israel, residential neighborhoods in Nigeria and manufacturing facilities around the globe.
Most recently, the firm helped South Sudan build a $150 million modern dairy project, consisting of five dairy farms.
Since the majority of the houses in Ethiopia are made of mud and stick or thatch walls, the Israeli firm will now help the African country take a giant leap forward towards modern building.
Photos and renderings: Rod Waddngton, AlefBet
Related posts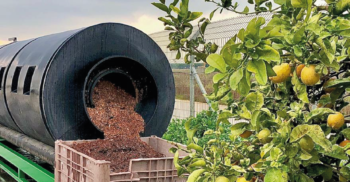 Compost Drum Turning Muck Into Money, Shrinking Israeli Landfills
September 19, 2023