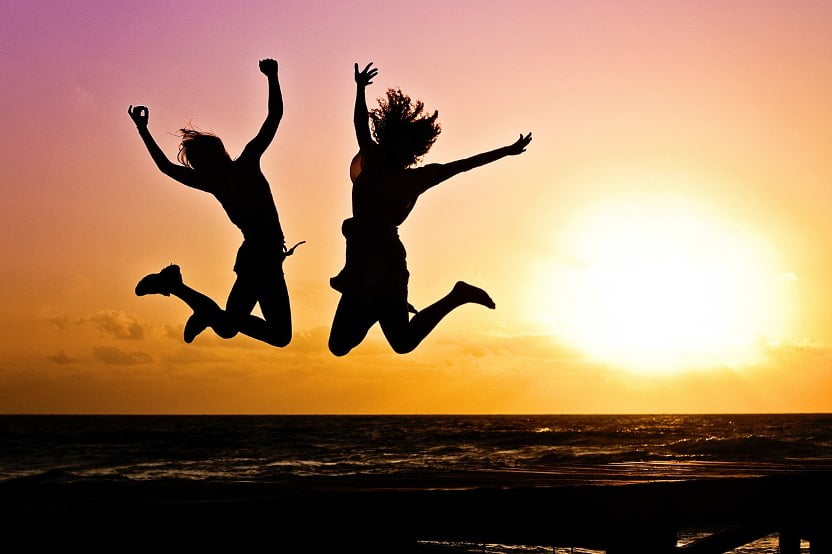 Disneyland may proclaim itself as 'the happiest place on earth', but Israel is not that far behind. According to the most recent UN World Happiness Report, Israel is the 11th happiest country in the world, ranking behind Switzerland, Iceland, Denmark, Norway, and Canada, but ahead of the US, which ranked 15th. It's no wonder, then, that some of the coolest apps that aim to make us happier, were created in Israel. 
SEE ALSO: What Top Israeli Studies Say About What Makes Us Happy
In honor of International Day of Happiness (also known as Happiness Day), which is celebrated on March 20, here are five Israeli startups that aim to bring more happiness into our daily lives:
Serenita: Don't stress, relax
In our busy, fast-paced world, one of the biggest obstacles to happiness is stress. Serenita, a new relaxation app created by Israeli startup Eco-Fusion, aims to reduce stress. Available for free on both Android and iOS, Serenita assesses your stress level and provides you with personalized breathing instructions to reduce stress within minutes.
The mobile app acquires data from the user's finger by turning the mobile phone's camera lens into a sensor (where you place your finger), and uses it to peer into the user's bloodstream. It then extracts biomedical markers regarding heart rate, heart rate variability and blood flow, and finally processes the data to assess the user's stress and focus level. Based on the data, Serenita provides exercises to treat the stress, especially breathing exercises. 
"Yoga and meditation are both great for stress reduction, but most stressed people do not practice them," Eco-Fusion founder Dr. Oren Fuerst tells NoCamels. "Serenita provides easy and effective 'bite-size treatment' for stress. As it is well documented that stress management is crucial to the path to happiness, using Serenita for just five minutes a day will certainly make you happier."
Happify: Think positive, be happier
As its names suggests, Happify is another Israeli startup seeking to make our lives happier. After entering your basic information: Gender, age, occupation, as well as your ability to cope with hardships and your level of life satisfaction, the app creates a personalized "track" for you to follow, which it says will lead to a higher level of happiness.
Each track consists of a series of games, such as "Uplift," where you get points for clicking on positive words, and lose points when selecting negative emotions. "Today's Victories", another Happify exercise, involves listing the highlights of your day and how they positively affected you.
SEE ALSO: To Be Healthy, All You Have To Do Is Be Happy
These activities are all aimed at boosting users' optimism and helping them focus on positive emotions. According to Happify, happiness is something that can be taught – a habit that the brain can be trained to maintain. The founders also claim that 86 percent of the app's users become happier within two months.
O'Daddy: Put down your phone, spend time with your kids
Most parents know the feeling of guilt when they come home late from work or answer emails on their smartphones when their kids are around. Work-life balance is already challenging enough and smartphones have made the line nearly disappear.
Sign up for our free weekly newsletter
Subscribe
"My kids are an infinite source of happiness for me and spending quality time together fills us with joy," Oded Israeli, co-founder and CEO of Israeli startup O'Daddy, tells NoCamels. "But working as a high-tech executive for many years, I saw how my work and smartphone were keeping me away from this happiness. That's why I decided to create a solution that helps working parents become more effective in their parenthood and enjoy a healthier work-life balance."
Enter O'Daddy, a new app that helps parents in four main ways: Making time for their kids, suggesting activities, helping them focus on the child, and tracking quality time. O'Daddy sends you intelligent notifications such as "leave work now so you can read Sarah a bedtime story," or "how about playing checkers with Benjamin today?"
It also suggests ideas for quality-time activities based on your kids' age, location, and preferences. Once you've found an activity, O'Daddy urges you to put your phone down, so you can enjoy more time with your kids. The app also provides suggestions to improve your family happiness.
TalkSpace: Unhappy? Talk to a professional online
If you're unhappy, often the best course of action is to talk to a trained professional. Talkspace, founded by Israelis Roni and Oren Frank, provides on-demand help or advice from a licensed therapist via a live online chat feature. Simply type in your question and a Talkspace therapist will write back to you within minutes. The process is anonymous, so you'll feel secure conversing with your counselor and participating in optional group chats. Round-the-clock access your shrink is also available. Weekly rates start at $25. 
Talkspace also provides couples therapy via its web and mobile platforms, eliminating "the powerful stigma that is still associated with therapy" through anonymity, according to the company. In addition, its members don't need to wait for an appointment, and they can request to change therapists at any time.
Vitalitix: Volunteering gives a sense of meaning
One sector of the population that is often ignored is seniors. Vitalitix is a social responsibility platform that connects seniors, caregivers and social angels, following a new phenomenon called "crowd-caring."  This app enables members to stay connected to their loved ones in times of crisis and also sources volunteers from an existing network to help out. Vitalix also acts as a record-keeping system and as a means for three-way communication between the senior and other parties. With Vitalitix, community members care for other people living near them with whom they have no connection.
Vitalitix enhances seniors' quality of life by reducing their sense of loneliness, improving their safety and allowing them more freedom to stay independent both at home and out.
There are many ways to become happier. You can spend more time with your kids or connect with a senior. Or you can simply learn to relax – with or without an app. In short: Don't worry, be happy.
Photos and videos: Courtesy of the companies
Related posts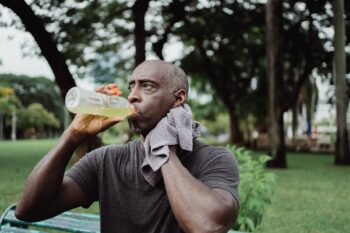 Startup Helping You Get Heart Healthy By Measuring Your Sweat
December 04, 2023