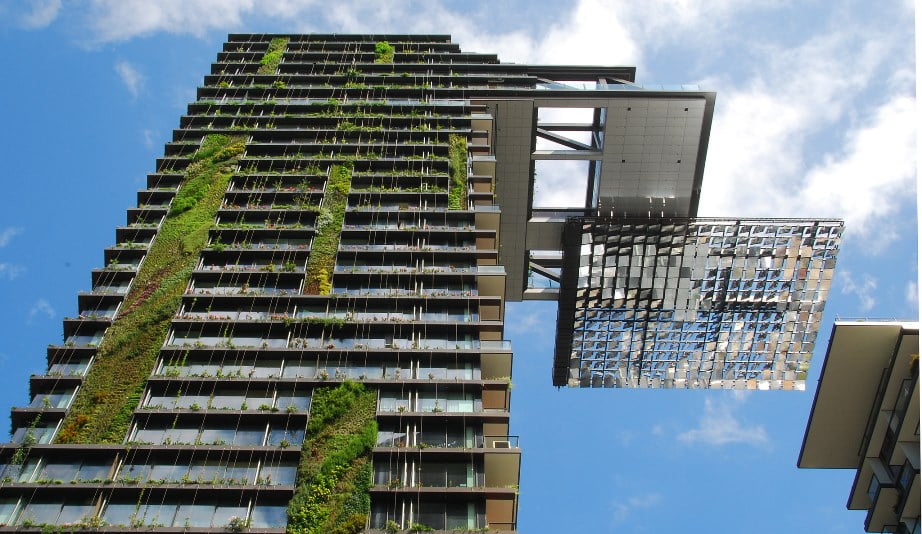 Food insecurity is a major global concern for our growing planet. Research shows that by 2050, the world will have to produce 50 percent more food to feed Earth's population. But Israeli gardening experts have decided to act now, and they're already marketing a unique system for sustainable, independent food production: Vertical gardens, in which residents of high-rise buildings can grow their own food, with minimal amounts of water and soil.
Will urban agriculture sustain the needs of city dwellers in the future? The founders of Israeli company GreenWall hope so, and that's why they're building vertical gardens around the world, allowing people to grow any plant along their walls, including rice, corn and wheat.
GreenWall is currently participating in the Expo Milano 2015, the world fair in Italy, displaying a 230-feet-long and 39-feet-tall green wall at the Israeli pavilion. This vertical garden was planted with rice, wheat, and corn.
     SEE ALSO: Ben Gurion University Warns: Increasing CO2 Levels Will Lead To Dietary Deficiencies
GreenWall, which was founded in 2009 by engineer and gardening pioneer Guy Barness, has developed an advanced technology with which it erects gardens that line the walls, both inside and outside of buildings, taking up less space compared to conventional gardens. GreenWall provides fertile soil, which is capable of growing almost every plant species with proper care. "We want to give an urban person an opportunity to grow plants in their home, using modern technology," Barness tells NoCamels.
How does it work? Well, vertical gardens seemingly defy gravity, and that's why the plants are densely planted in a vertical planting system inside small modular units, preventing the crops from falling out. These small pots can then be removed or replaced to refresh or change the design of the garden. The water reaches the cell of each plant through a special system, operated by a computer. In order to crop the yield, the wall is temporarily taken down and laid out at a horizontal position.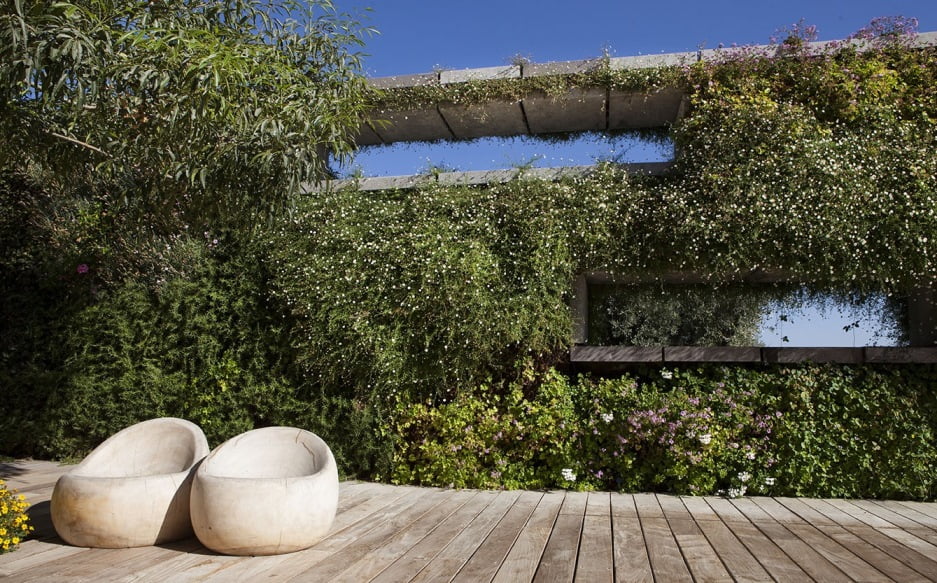 GreenWall uses cutting-edge drip irrigation technology developed by Israeli company Netafim, known for having pioneered the technique. GreenWall also developed its monitors, sensors and controls with the help of Israeli water-management company Galcon.
Sign up for our free weekly newsletter
Subscribe
Growing food while conserving water 
The technology behind the vertical structures helps control and conserve water. In comparison to conventional crop-growing methods, the vertical garden only takes 1,500 liters of water to produce one kilogram of rice, as opposed to the standard 3,000 liters. Environmentalists claim that vertical gardens may be the solution to growing crops in cities as well as in areas that are scarce in water, food and energy.
     SEE ALSO: Quest For The Perfect Veggie: Israelis Create Enhanced Strains Of Fruit And Veg
For decorative flowers and plants, vertical gardens use 90 percent less water than traditional gardens, according to GreenWall. "In the city, you don't have a lot of space, and you can use this space to grow food and a lot of other plants," Barness says. "Now, you can have a building and use the wall space to bring the nature back to the city without taking up too much space."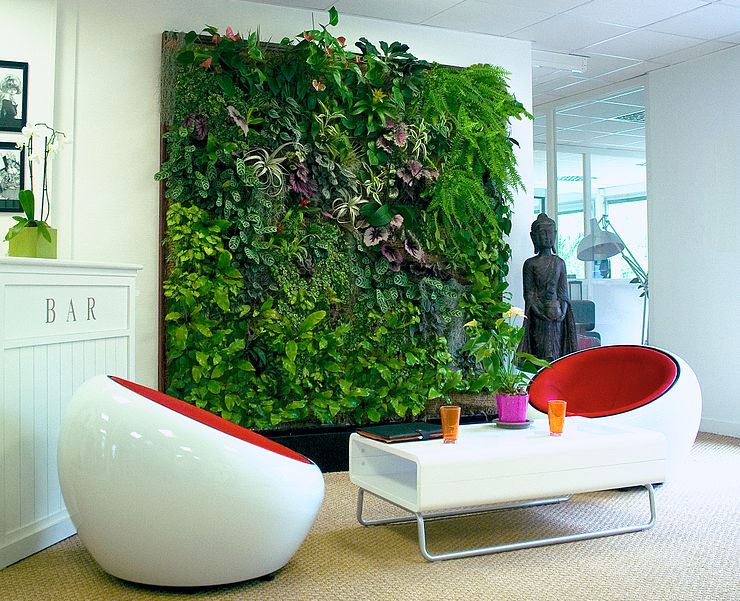 Vertical gardens have become a growing trend around the world with a variety of companies offering green wall installations: GSky, Green Over Grey, and The Living Wall. Still, Israel-based GreenWall seems to have captured the attention of large corporations: Google, Apple, Intel and Facebook are some of the company's high-profile clients, according to Barness.
Homeowners can purchase GreenWall's vertical gardens in small quantities of only a few yards in size, with a price point beginning at $650. In the meantime, the idea of the vertical oasis has already taken off around the world, with many gardens being built these days throughout North America and Europe. Barness notes this is only the beginning. "The world is now going toward a different direction," he explains. "I hope GreenWall will eventually replace the regular garden in urban environments."
Photos and video: Rob Deutscher, GreenWall, Israel Expo Milano 2015, Spaceo, Thelmadatter
Related posts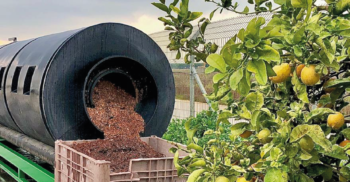 Compost Drum Turning Muck Into Money, Shrinking Israeli Landfills
September 19, 2023