By DAVID SHAMAH, The Times of Israel
August 07, 2013
2
minutes
Start-ups that give us new ways to text for free or beat traffic are great, but what this country really needs is water. Fortunately for Tel Aviv residents and visitors, there's now a start-up for that too. Despite sharp criticism from some Tel Aviv residents about the company's motives and tactics, thousands of people have been filling their bottles at watering stations set up by Woosh that dispense free cold water to all.
Related articles
The idea of Woosh is to slake the thirst of the Tel Aviv populace, while saving water and reducing the number of plastic bottles being used in the city. Pedestrians bring their water bottles to Woosh machines, register with the service, and choose the fill-up size and services they want. (Besides filling the bottle with water, Woosh machines clean and rinse bottles as well.) The water comes from the city's water system, and is chilled and filtered before being dispensed. The service is free — at least for now, while the project is in test mode.
A thirst for sucess
The trial involves seven Wooshes set up in high-traffic pedestrian areas like Rothschild Boulevard and Gan Meir, but eventually the company hopes to have as many as 200 machines around the city. Tel Aviv itself is a test site; Woosh hopes to eventually expand to other cities in Israel as well as abroad.
Woosh was the brainchild of Itay Tayas-Zamir, a water engineer who five years ago got tired of paying 10 shekels for cold bottles of water from local fast food joints and candy stores. Tayas-Zamir raised money for the project and partnered with the Tel Aviv Municipality to set up the machines. The city is paying for the water while Woosh supplies the machines, at least during the initial phase.
One of Tayas-Zamir's main concerns, he told The Times of Israel, was to ensure that people did not waste the new free water. "The water is meant for drinking, not washing socks and the like," he said. "That's one of the reasons we have a sign-up process. We feel that when people put their name to a service they are committed to it, and will be more likely to respect what they are getting."
..
To continue reading this article, click here.
Via The Times of Israel
Photo: Woosh
Related posts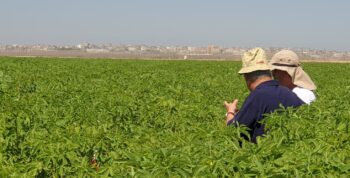 'We Keep Going': Cleantech Firm Resolute After Hamas Horror
November 05, 2023